SALT LAKE CITY — In many ways, the global pandemic has been good for second-year linebacker Sione Takitaki.
The BYU product isn't grateful in any way for COVID-19, of course — were it not for the virus, he'd be getting ready for organized team activities and his second training camp as a member of the Cleveland Browns.
Instead, Takitaki is in Utah, splitting self-quarantine and isolation between family members with his wife Alyssa, while trying to get ready for the upcoming NFL season.
But in that regard, the 6-foot-1, 238-pound hard-hitting 'backer from California doesn't feel like he's falling behind. Quite the opposite, even; since receiving his team-issued iPad with video cuts and plans for new defensive coordinator Joe Woods in the mail, he's been devouring film at intense rates, sitting down with coaches and teammates for several hours a day and spending more time in position group meetings as he readies for his second season in the NFL.
"I feel like I learn better this way, doing a video, one-on-one," Takitaki told the Browns' Best Podcast Available during a recent episode. "It's nice and quiet, and you can look yourself down and really take notes. I definitely felt this way of learning has definitely benefited me."
Anything Takitaki can do to get ready for the season will help, too. The former Cougar played in 15 games as a rookie, with one start, and totaled 21 tackles with seven solo stops after spending the offseason focused on 40-yard dash times and bench press reps.
After playing in significant minutes midway through the season, during a Week 8 27-13 loss to the Patriots, Takitaki made an impact nine of the final 10 games of the year for the 6-10 Browns, including a career-high six tackles in Week 16's 31-15 loss to the Ravens.
A key part of the turnaround? His play on special teams, he said.
"Don't sleep on special teams; it's an important thing for any organization," Takitaki said. "When you get those plays, you've got to go make a play, on kickoff, kick return, whatever it is — go do your part."
Takitaki is the latest BYU product to credit special teams for his emergence in the league, a list that includes former Arizona Cardinals linebacker Alani Fua and current New Orleans quarterback Taysom Hill. And with Woods' new defense — a scheme that allows players like Takitaki to "go out and fly around and make plays," he says — the advantage of extra reps on kick return or kickoff can't be undersold.
Neither can approaching his second season with a young defense that includes 2019 draft classmate Mack Wilson, a Browns linebacker who was Takitaki's roommate during last year's road trips.
Wilson calls Takitaki a "brother," and can easily envision why a method like the one sparked by COVID-19 might aid Takitaki.
"He kind of talks to himself a lot, and motivates everyone around him," Wilson told Browns media last year. "He's a very talkative person."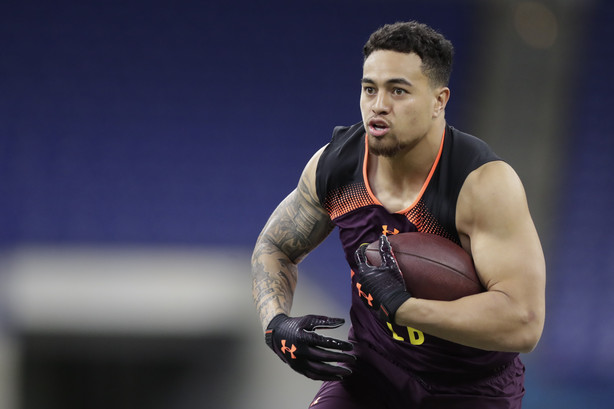 The two could prove vital in a Browns defense that is plenty young. Cleveland knows it, too; that's why they went and signed fifth-year veteran linebacker B.J. Goodson from the Packers in the offseason.
There's not a lot of experience on the Browns' defense ahead of the 2020 season, so Takitaki may be required to learn even faster than his new study habits have provided him. There's plenty of uncertainty in the linebacker room, and loads of snaps to be had.
Which, really, is just how the former Cougar likes it.
"I feel like a lot of people are counting us out," Takitaki said. "But we like that; we like having a chip on our shoulder.
"I feel like I've always been an underdog in my whole story. I just carry that with everything I do."
×
Related Stories