SALT LAKE CITY — A letter that officials in southern Utah revealed earlier this month showed that state leaders denied a request from Washington, Iron and Kane counties to move to "yellow" on the state's coronavirus recovery spectrum while the rest of the state moved to "orange" on May 1.
A subsequent request was denied by the state last week, the St. George News reported Friday. Dr. Angela Dunn, the state's epidemiologist, said Monday afternoon she wasn't aware of any current requests or plans for the state or any region to transition to yellow this week. The Southwest Utah Health Department, which those three counties are a part of, has reported 42 new cases of COVID-19 over the past five days, which is a 33% increase to 170 total cases.
As that continues to sort out, it gives a good insight into something a few Utahns have asked KSL.com about. What criteria would allow a section of the state to move up in the Utah color system and what would the restrictions look like in that scenario?
The criteria to move to yellow
In previous media briefings, state health officials have said there are three main criteria points that determine movement from red to orange, yellow and green phases. Two of the indicators are decreasing case growth rate and maintaining a large health care capacity. Transmission rate, or the average number of people infected by someone sick, is another factor. If the transmission rate is 1.0, it means that the average infected person will likely infect only one other person, Dunn explained. When a transmission rate is low, it shows that cases are declining.
The Utah Department of Health recommends that a local transmission rate falls below 1.25 before that region can move up the dial system closer to green, she continued. The ultimate goal before the state can reach its "new normal" is to get that number below 1.0.
"That's how you know it's getting under control. That means that your case rate is decreasing and you're seeing a decrease in cases every day," she said during a Monday press briefing. "That's really an important place for us to get to."
Related:
The state, and/or regions of it, haven't reached the desired numbers for a long enough period of time to move to yellow, so far, and likely won't until a lot of people have either gained immunity from the disease or received a vaccine.
There is another critical factor in the state's equation for loosening up restrictions: maintaining high levels of testing and contact tracing capacity. That means there are plenty of tests available in every region and people are reporting where they were and who else might be at risk for newer cases.
"Without testing and contact tracing, we're not going to be able to prevent the spread of COVID-19, no matter how small," Dunn said during a press briefing on May 4.
At the same time they are looking at all of those data points, health officials are also looking at new cases in every region.
"We certainly want to make sure we're not moving jurisdictions into, for example, yellow when they are starting to see an increase in the number of cases, regardless of the transmission rate," Dunn said. "So we take this whole holistic picture of what's happening in each jurisdiction before making those recommendations."
The restriction guidelines during yellow
The state rolled out public and business guidelines for red, orange, yellow and green phases when it released its "Utah Leads Together 2.0" plan last month. There have been a few tweaks since then, but it hasn't changed much for the most part.
So when the state moves to yellow or allows a region to move to yellow, what will that look like for residents of that area? For starters, it will look more similar to life over the past two months rather than to life prior to the pandemic; however, the restrictions will be a little more relaxed than the current orange stage.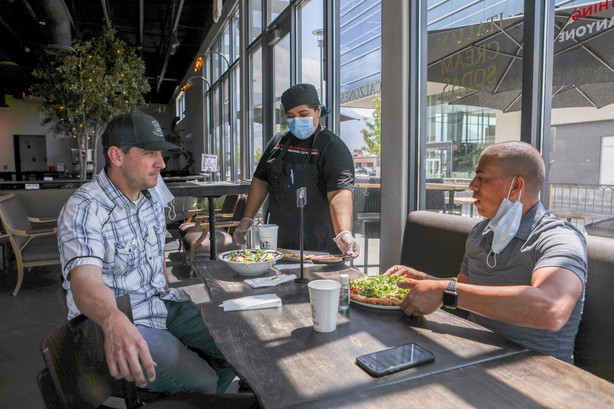 General overview: Under the state's guidelines, people should still be practicing physical distancing — staying at least 6 feet away from others — outside their homes and should still wear face coverings in situations where that's not possible; however, public group size limits would move from 20 people to 50 (with possible increases from that), public schools would be reopened (after this school year ends) and all businesses would be allowed to operate with business owners exercising "discretion with remote work and returning to onsite work."
Symptom checking for all public and business interactions would still be recommended. People would still be encouraged to follow "strict hygiene standards" when interacting with high-risk individuals and to avoid high-risk people if they have COVID-19 symptoms. Visitors would still be limited at hospitals, nursing homes or other residential care facilities. The state would still recommend that residents limit travel outside of Utah and that people quarantine for 14 days upon returning from any high-risk areas.
Restaurants and retail: In this scenario, restaurants would no longer be encouraged to primarily use carryout or delivery but dine-in seating would have to continue to have "adequate distance between tables." Wait times in restaurants should be limited to 15 minutes and individuals should be encouraged to wait outside to avoid overcrowding inside. Guests should also be discouraged from handling food at buffets or at least the tongs used should be changed frequently.
Retail businesses would still be asked to provide signage that shows the distance between others, provide one-way aisles and shoppers will still be discouraged from bringing children or strollers in stores as much as possible to limit the number of people inside a store.
All high-touch areas such as doors, handles, buttons or switches, handrails, shopping carts, check-out counters and bathroom surfaces should still be disinfected regularly under the yellow guidelines.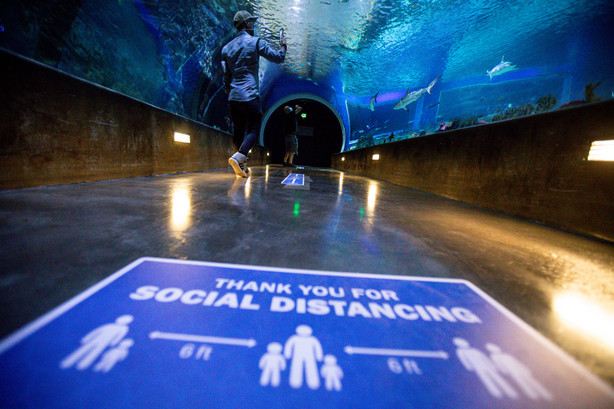 Events and cultural entertainment: Households must be at least 10 feet from each other at all times when in places like parades, convention centers, sporting events, zoos and concerts. Congregating at any point would not be allowed. Any participants, such as athletes, performers or actors, in events should have their symptoms checked and electronic tickets and playbills would be encouraged.
Hospitality and accommodations: Staff and guests would still be asked to wear face coverings when interacting within 6 feet of each other with digital check-ins and check-outs encouraged. Guests showing symptoms of the disease should stay in their rooms as much as possible and wear face coverings when outside of their room. Exposed linens and cleaning supplies should be laundered separately and all food should be served in a grab-and-go manner. Swimming pools and fitness centers can be open with frequent cleaning.
Outdoors and recreation: People heading outdoors to recreate would still have to maintain 6 feet distance from others and avoid congregating at parks, trailheads or other outdoor spaces.
Other: Daycares should still have enhanced cleaning and disinfecting; kids should be in limited groups in separate rooms — anyone who feels sick should stay home. Construction employers should ensure nobody with symptoms enters a job site and that additional handwashing stations are available. Personal service providers and clients must still wear face coverings and both should be checked for symptoms. Services must still be by appointment only with no walk-ins allowed.
A full list of the state's yellow guidelines can be found here.
Submit Your Questions:
×
Related Links