SALT LAKE CITY — City workers took to 500 North between Redwood Road to 800 West on Thursday, setting up barricades and signs reading 'No Thru Traffic' for the first day of Salt Lake City Mayor Erin Mendenhall's "stay safe, stay active streets" initiative.
With so many people unemployed, working from home and confined to their county during their free time, the city's bike lanes, sidewalks and public spaces are unusually crowded. By opening up certain streets to pedestrians and bikers, and restricting traffic to residents, Mendenhall hopes the initiative will promote recreation in a way that adheres to social distancing guidelines.
The mayor's office unveiled the program last week, launching an online survey that received nearly 6,000 responses.
"We had more responses in a one-week survey than we've ever had," said Mendenhall, though she hopes to continue to hear feedback about the program going forward.
Although a few morning showers passed through the valley Thursday, the sun came out in the afternoon bringing the walkers and bikers with it.
"We love it, it's a great idea," said Wilson Martin, who spent the afternoon walking down the middle of 500 North with his wife, Wendy.
"In so many places that we walk, the sidewalks are so narrow," added Wendy Martin, who said it can be difficult to practice social distancing while walking through the city.
Mendenhall said her office plans to announce additional streets to be converted in the coming days — as many as 10 could be considered, including 800 East, 600 East, 700 South, Kensington Avenue, 4th Avenue and more.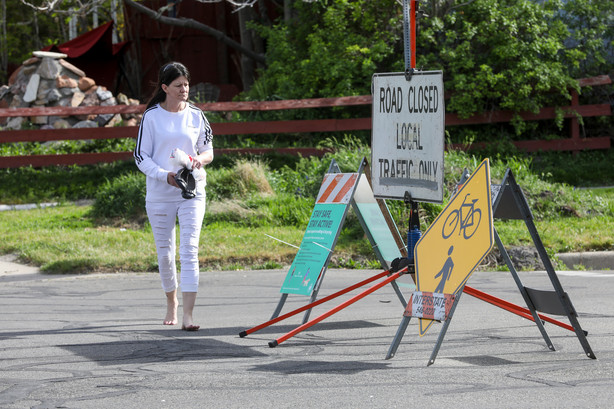 "As a team we were excited to open a street on the west side first, to make that available for families to get out and for kids to expend some energy outside the house a little easier and safer during the pandemic," said Mendenhall, noting that Salt Lake City's west side has more kids per capita than any other part of the city.
"Having kids out of school, it's created a safer environment for them to ride their bikes," said Lauren Doubrava, taking a quick break as she and her husband walked their two dogs. "I think that's really cool, I'm totally supportive of anything that gets people outside and walking more."
Doubrava said she would like to see something similar continue once the pandemic is over.
"It would be nice, as long as it doesn't affect local traffic," she said. "Definitely during the summertime, I think it would be a great initiative for neighborhood kids where their only form of recreation is in their neighborhood."
Mendenhall said it's too soon to tell whether the "stay safe, stay active streets" initiative will continue past the city's health order, although she didn't rule it out.
"We need to take it one step at a time ... we're glad people are excited about it and hoping to learn from this," she said. "Perhaps it's something we'll be able to consider post emergency."
×
Related Links