Estimated read time: 4-5 minutes
This archived news story is available only for your personal, non-commercial use. Information in the story may be outdated or superseded by additional information. Reading or replaying the story in its archived form does not constitute a republication of the story.
OGDEN — Like toilet paper, hand sanitizer disappears from store shelves almost as fast as it's stocked. That "liquid gold," however, has become a bit easier to find.
In early March, Steve Conlin, co-owner and managing partner of Ogden's Own Distillery, noticed that other distilleries around the country had begun making hand sanitizer in the wake of the coronavirus pandemic.
Initially he learned that doing so would require an industrial permit from the federal government, but as fate would have it that rule was relaxed in mid-March, allowing his establishment to launch a new product line. Known for making Five Wives Vodka and other premium spirits, he called the decision to venture into sanitizer a "no-brainer" because of the relative ease with which it could be produced at his facility.
Conlin noted that the common ingredient in both vodka and sanitizer is ethanol, which is why producing each on the same premises is relatively easy to do with a sufficient supply chain. The major difference has been that the level of refinement for sanitizer is a bit less than for liquor, he said.
"So for instance, when you're dealing with food-grade ethanol that's being made into vodka, the goal of vodka is to be odorless and colorless. And that takes a lot of processing and filtering, he said.
"(When) we made our first batch, we basically made it with the ethanol we had for vodka, so it was pretty dang clean ethanol. Now, we're not processing as much because it's just more expensive to do so and it slows down the whole process. Now you're getting a hand sanitizer (that's) more like making moonshine if that makes sense. It just hasn't been refined as much."
Less refinement allows the process to be streamlined and for increased production volume, he said.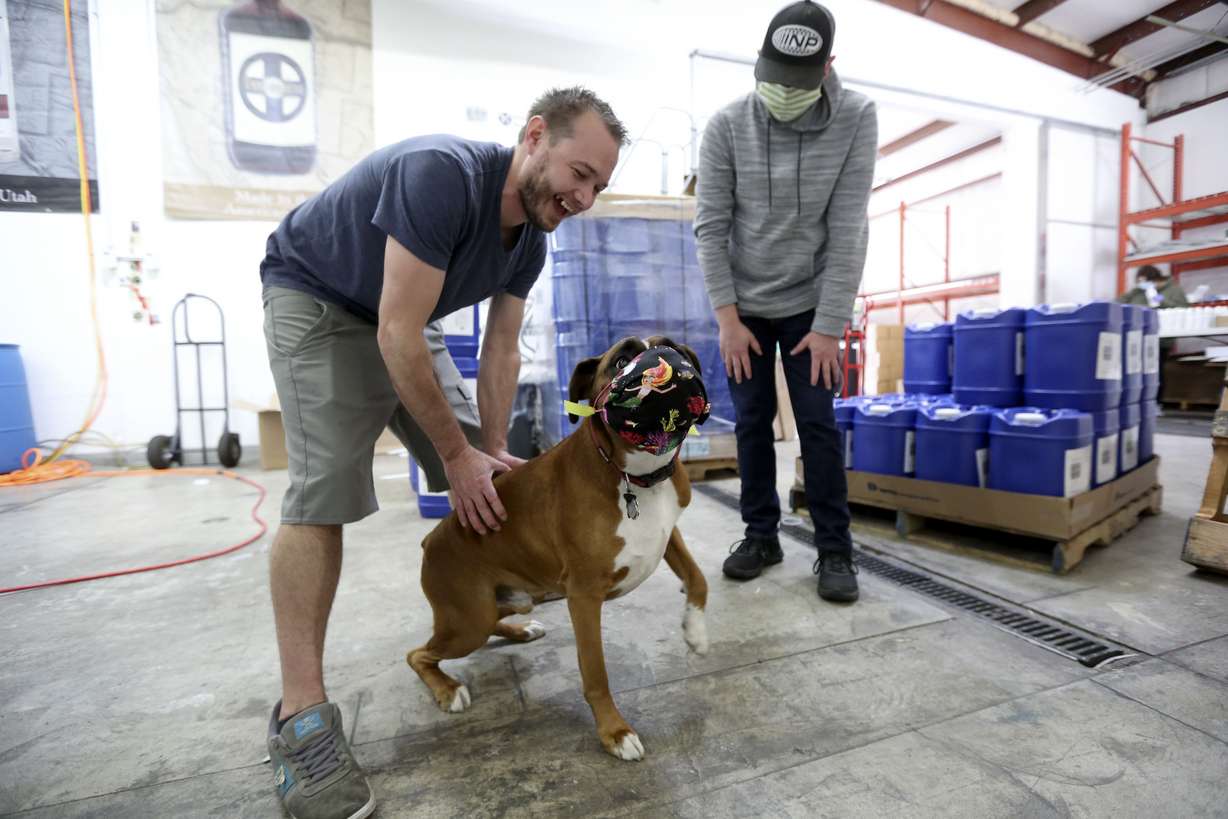 "There is a federal mandate that allows us to do this. There's a very specific recipe we have to follow. It's basically four ingredients and so it's pretty simple," Conlin said. "You just have to put it in a tank, blend it all up and put it in bottles."
The four ingredients are ethanol, hydrogen peroxide, glycerin and distilled water, he said.
"Our initial thought was, "Let's just make about 500 gallons of this and see how it goes.' So on a Thursday, we developed our packaging, got all the ingredients together, batched up about 500 gallons on Friday, opened at noon and we sold out of that 500 gallons that day within the first few hours," he said.
"So we batched up some more for Saturday and we had a line of a couple hundred people at our door on Saturday. We've just been going ever since."
Conlin said to this point, Ogden's Own Distillery has sold an estimated 11,000 gallons over the past five weeks. They have ramped up production and have the capacity of churning out 7,000 gallons per week, he said.
The big challenge has been packaging, he noted, because so many companies are packaging their products to an even greater extent than before the outbreak.
"Our bottles are whatever we can find. We package them and then we sell them. We've done 5 gallons, 2 1⁄2 gallons, 1 gallon, 16 ounces, 8 ounces, 12 ounces, 2 ounces," Conlin said. "Sold out of the 8 ounces, sold out of the 12 (ounce bottles). We have a bunch of 16 (ounces) right now and larger sizes. And we still have a bunch of 2 ounces."
Prices range from $4 for a 2-ounce bottle of hand sanitizer, $10 for a 16 ounces, and $55 for a gallon container. There are also larger bulk options for order.
Conlin said that the new business has been profitable and it's a segment they will continue producing even after the crisis subsides. The company donated the profits from March and April to the food and beverage industry.
Sales of the sanitizer and their regular spirits were up about 48% in March across all brands of their products. Through this experience, he said there have been some useful lessons learned — many of which he will carry forward in the weeks and months ahead.
"We've worked with first responders, medical people, meat inspectors from the USDA, we've been contacted by the FBI, we've worked with Hill Air Force Base — all these agencies and entities that didn't know how to handle this," Conlin said. "It's felt good to be of service to them."
×
Related Links