SALT LAKE CITY — Julian Blackmon only had one Division I football offer when he graduated from Layton High in 2016, but that one offer at the University of Utah was all he needed.
Blackmon was named a starter at cornerback his sophomore season and quickly made a name for himself, and was eventually named the MVP of the Heart of Dallas Bowl that season when he pulled down two interceptions against West Virginia. But his draft stock surged when he moved to safety his senior season and helped lead Utah to a No. 12 passing defense in the country.
His work paid off and led him to being drafted Friday.
The 6-foot, 187-pound Layton native was selected No. 85 overall in the third round to the Indianapolis Colts of the 2020 NFL draft, a virtual affair that had teams picking from their respective homes. Blackmon is the third player selected by the Colts in this year's draft and the first defensive back.
Blackmon also became the second player from the University of Utah drafted this year, joining former teammate Jaylon Johnson, who was drafted earlier Friday. Blackmon is the latest Utah defensive back (13th in the Kyle Whittingham era) to be drafted to the NFL.
"A kid who was very under recruited out of high school, in our opinion — nobody really paid a lot of attention, didn't have a lot of offers, but we saw something in him and brought him into the program and found a home for him," Whittingham said prior to the draft.
"I think he can bring a ton to an NFL team. He's an exceptional athlete, he's one of the best athletes on our football team," Whittingham added. "That change from corner to safety, I really believe, put him on everybody's radar. He was already on a lot of people's radar of the NFL, but when he made that transition to safety and was so effective and did the things he did, that really piqued the interest of pretty much the entire league."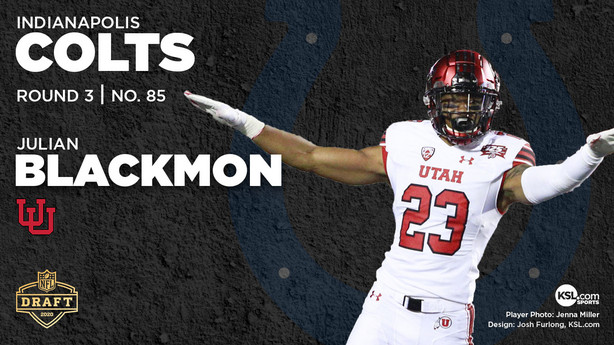 Blackmon was trending toward an early-round draft selection before he suffered an untimely knee injury in Utah's Pac-12 championship appearance against Oregon. With Blackmon out, Utah struggled to contain the pass and allowed the Ducks to score at will. As a result, Blackmon was sidelined for the NFL Combine despite earning an invite among eight other Utah teammates.
"The only thing he's got going against him right now is that knee injury he suffered in the championship game, but if someone takes a chance on him, they're going to be very, very pleasantly surprised — not surprised but rewarded — for taking that chance," Whittingham said. "His rehab is coming along great. His upside is so vast that I think that whoever gets him is going to be very pleased."
And it appears the Colts will be the ones "very pleased" by taking a chance on Blackmon.
Blackmon finished his career at Utah as an All-American and a three-time All-Pac-12 defensive back, twice at cornerback and once at safety. He started in 39 games and recorded nine career interceptions, including four and a touchdown his senior season, and 29 career passes defended.
Blackmon is set to make approximately $4.4 million in a total value contract, including nearly a $1 million signing bonus, according to spotrac.com.
Welcome to Indy, @JumpManJuice23! #ColtsDraftpic.twitter.com/w6YSTiIjcy

— Indianapolis Colts (@Colts) April 25, 2020
×