LOGAN — Jordan Love's football days aren't over yet.
The record-setting Utah State quarterback was selected by the Green Bay Packers with the No. 26 overall pick in Thursday's first round of the NFL draft.
The Packers traded up to draft Love at the end of the first round, taking the pick from Miami, who previously acquired it from Houston in what was only the fourth trade of the league's opening night of the virtual draft. Green Bay traded a fourth-round pick, No. 136 overall, to the Dolphins to move up our spots from No. 30 to No. 26 and pick Love.
As the trade worked its way through the all-conference call draft that was pulled from Las Vegas to combat the spread of the novel coronavirus, Love sat on his couch at home in Bakersfield, California, with his family. He had no idea his life was about to change.
Until he looked at his phone, a fixture in his hand for more than two hours during the broadcast.
"The moment I knew was getting the call and seeing a Wisconsin number," Love told reporters on a late-night conference call Thursday night. "That's when I knew right there.
"When the time comes, I'll have to step into the game. I'll make sure I'm ready for that."
With the Packers, Love plans to wear No. 10, the same number he wore at Utah State. There's a lot to like about where he sits — a first-round pick, with an estimated $12.4 million contract according to Spotrac, and a lack of pressure in playing behind Aaron Rodgers, one of the best quarterbacks in the league who just led Green Bay to the NFC championship game.
The moment Jordan Love found out he was headed to #GoPackGo.

🎥 @NFLpic.twitter.com/NiayaMbUHC

— KSL.com Sports (@KSLcomSports) April 24, 2020
"For me, I was just hoping to make it," Love said. "That was my goal … and figure out how to handle that.
"This is a really good situation to be in. I'm behind one of the great quarterbacks of the league, and being able to sit behind him and learn — what's better than that? I think this will be a really great situation for me."
Even without a college pro day or individual workouts — Love was the last player to meet with Miami before a league-wide shutdown on travel due to the coronavirus pandemic — the 6-foot-4, 225-pound signal caller's measurables were enough for a first-round selection.
His upside was deemed too high to pass up.
Not bad for a player who had just one Football Bowl Subdivision offer after his senior year at Liberty High School in Bakersfield, California. Utah State took a chance on Love then; the Packers will take a chance on him now.
Love is the first Aggie drafted in the first round in 50 years — since Logan High product Phil Olsen went to the New England Patriots with the No. 4 overall pick in 1970. Utah State hasn't had two draft picks since 2016, when linebacker Nick Vigil went to the Bengals and Kyler Fackrell was drafted by the Packers.
That could change in 2020, with linebacker David Woodward still on the board.
Love, who was one of 58 players invited to participate in the NFL's first-ever virtual draft, is the first skill-position player selected by the Packers since quarterback Aaron Rodgers in 2005. That year, the 21-year-old Cal graduate became the backup and ultimate successor to Brett Favre, who was 35.
Adding to the eerie similarity: both drafts were held on April 23.
Tempted to draw comparisons yet? Maybe hold off a bit, said Packers general manager Brian Gutekunst. Green Bay brought in Love with an eye toward the future, and if he can help a team that was one win away from the Super Bowl to win right now, that's a bonus.
"Right now he just needs to come in, learn and try to be the best quarterback he can be," Gutekunst said on a late Thursday conference call with reporters. "But we've got the best quarterback in the league, and we plan to have him for a while competing for championships.
"It was just the best decision for the Green Bay Packers. We're really excited to get Jordan here."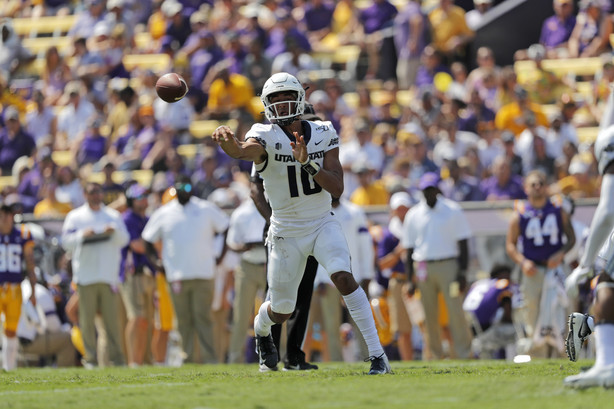 Favre started in Green Bay for three more seasons before making way for Rodgers, who led the Packers to the Super Bowl XLV title in 2011, threw for 46,946 yards and 364 touchdowns, and won two NFL MVP awards with eight more Pro Bowl selections.
Fifteen years after that fateful day, Rodgers, 36, will presumably be the starter ahead of Love, who is 21.
"They know what they're doing, the Packers, to take a chance on me," Love said. "I'm ready to come in and work, and outside opinions don't really matter to me, for the most part. I'm just ready to get to work.
"I'm already knowing that I'll be able to learn a lot from Aaron Rodgers. He's one of the greats of the game, has a lot of knowledge, and I'll be able to learn behind him … I just want to learn as much as I can from him."
Love, who played three seasons in four years for the Aggies, finished as Utah State's career leader with a historic 9,003 yards of total offense, 12 games of 300-plus passing yards, and four completions of 80 yards or more. He also amassed 8,600 yards and 60 touchdowns, tied for second in both categories all-time.
That includes a dynamic 2018 season, when Love completed 64% of his passes for 3,567 yards and 32 touchdowns with just six interceptions as a redshirt sophomore. Love earned second-team all-Mountain West honors in 2018, but saw his production decline a year later during a rebuilding season for the Aggie offense under second-time first-year head coach Gary Andersen.
The strong-armed Love has huge value for the Packers, and his potential is high.
But he also threw 29 interceptions, including 17 as a redshirt junior in 2019 for the 7-6 Aggies. Those two factors made him arguably the most polarizing draft-eligible quarterback in the Class of 2020, firmly behind top-10 selections Joe Burrow of LSU, Tua Tagovailoa of Alabama, and Justin Herbert of Oregon.
"He's a nice kid. He's a really good athlete, a natural thrower with a strong arm who can make all the throws. He has the ability to create," Gutekunst said of Love. "Obviously, he had a whole new coaching staff come in this year and a whole new personnel around him. But he's going to have to clean some stuff up. We think he'll have a chance to be a pretty good quarterback in the National Football League."
Even through those struggles, Love's former college coach never doubted he'd hear his named called by the end of the night, though.
"As I've talked to Jordan through this process, it was crazy for him — but he loved every minute of it," Andersen said. "He had a great time. I think getting to see the other kids at the combine was really good for him."
×
Related Stories