Estimated read time: 2-3 minutes
This archived news story is available only for your personal, non-commercial use. Information in the story may be outdated or superseded by additional information. Reading or replaying the story in its archived form does not constitute a republication of the story.
SALT LAKE CITY — The Utah State University Space Dynamics Lab in North Logan has delivered to NASA an engineering test unit for a major subsystem of its PACE spacecraft scheduled for launch in 2022.
Data from the PACE satellite, short for Plankton, Aerosol, Cloud, ocean Ecosystem, will help scientists better understand how the ocean and atmosphere exchange carbon dioxide.
It will also help identify the extent and duration of harmful algal blooms. According to the Centers for Disease Control, harmful algal blooms can produce toxins that can make people and animals sick and affect the environment.
The science satellite is scheduled to be lofted into orbit by a SpaceX Falcon 9 rocket launched from Cape Canaveral Air Force Station in Florida in December 2022.
"The mission will extend and improve over 20 years of satellite observations by NASA of global ocean biology, aerosols and clouds," according to a press release from USU Space Dynamic Lab.
The lab is designing, building, and assembling the short-wave infrared detection assembly of PACE's ocean color instrument. The instrument is a state-of-the-art optical spectrometer that will measure properties of light over portions of the electromagnetic spectrum.
According to Space Dynamics Lab press release, the sensor will enable scientists to view continuous measurements of light made with higher resolution than is currently available.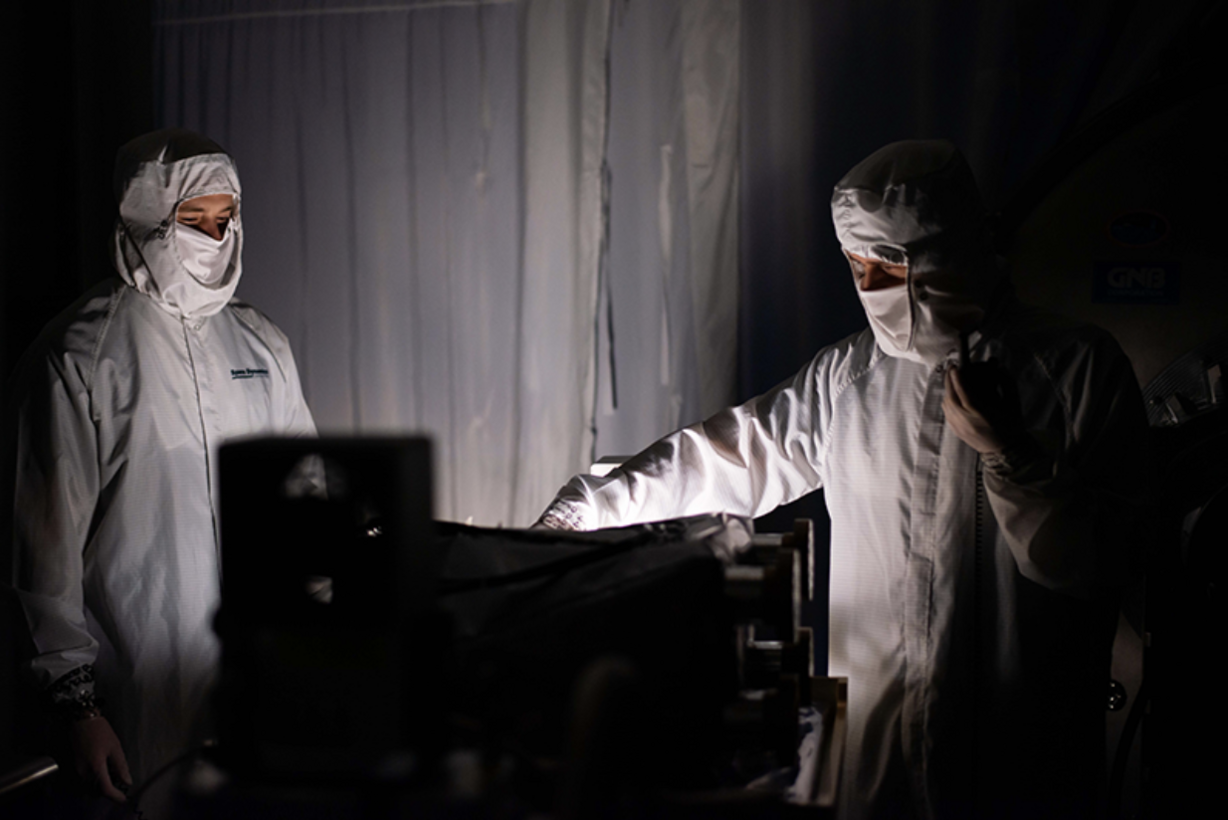 Gabe Loftus, Space Dynamics Lab's program manager for the ocean color instrument, said delivery of the engineering test unit to NASA's Goddard Space Flight Center in Maryland is a critical milestone that will enable NASA to perform several months of rigorous instrument-level testing to prove the flight design currently being built at laboratory.
"Once launched, the flight-ready instrument will image the ocean from the ultraviolet to the near-infrared spectrum, giving NASA critical information on ocean ecology with unprecedented fidelity," Loftus said in a press release.
Alan Thurgood, the Space Dynamics Lab's director for civil and commercial space, said in a press release that the lab and NASA "have a long, successful history working together to solve some of science's most interesting and pressing questions."
"We are grateful to NASA for these opportunities to support its mission to drive advances in science, technology, aeronautics, and space exploration to enhance knowledge, education, innovation, economic vitality and stewardship of Earth," he added.
According to the mission website, the total cost for NASA to launch PACE is approximately $80.4 million, which includes the launch service and other mission-related costs.
"The PACE mission represents the nation's next great investment in understanding and protecting our home planet. The mission will provide global ocean color, cloud, and aerosol data that will provide unprecedented insights into oceanographic and atmospheric responses to Earth's changing climate," the website states.
SDL is a research laboratory headquartered in North Logan and has offices in Albuquerque; Bedford, Massachusetts; Dayton, Ohio; Huntsville, Alabama; Houston; Los Angeles; Stafford, Virginia; and Washington, D.C.
×
Photos
Most recent Utah stories