Estimated read time: 3-4 minutes
This archived news story is available only for your personal, non-commercial use. Information in the story may be outdated or superseded by additional information. Reading or replaying the story in its archived form does not constitute a republication of the story.
SALT LAKE CITY — There's no certainty with sports in the era of a coronavirus, but one of the least-touched avenues is the National Football League.
Other than holding the league's annual player draft virtually, the NFL business season has continued on (mostly) as normal.
But a new wrinkle could see the newest relocation in the league — the Las Vegas Raiders — spending a season in Salt Lake City.
That was the text of a recent report at the Las Vegas Review-Journal's Vegas Nation blog. Construction is continuing mostly as scheduled at the Raiders' soon-to-be-home just off the Strip at Allegiant Stadium. But if it slows down due to the COVID-19 pandemic — a significant possibility, according to several economic projections — the Raiders could find themselves searching for a temporary home outside of Sin City.
Before signing its final one-year lease with the Oakland Coliseum, the Bay Area's second NFL team even contacted the cities of Salt Lake City, Phoenix and San Diego about a temporary relocation.
Salt Lake City is the furthest destination, but also the only one without an NFL team in its history. The market, which would presumably host at Rice-Eccles Stadium on the campus of the University of Utah, has seen several startup football leagues come and go, most recently the Salt Lake Stallions of the Alliance of American Football.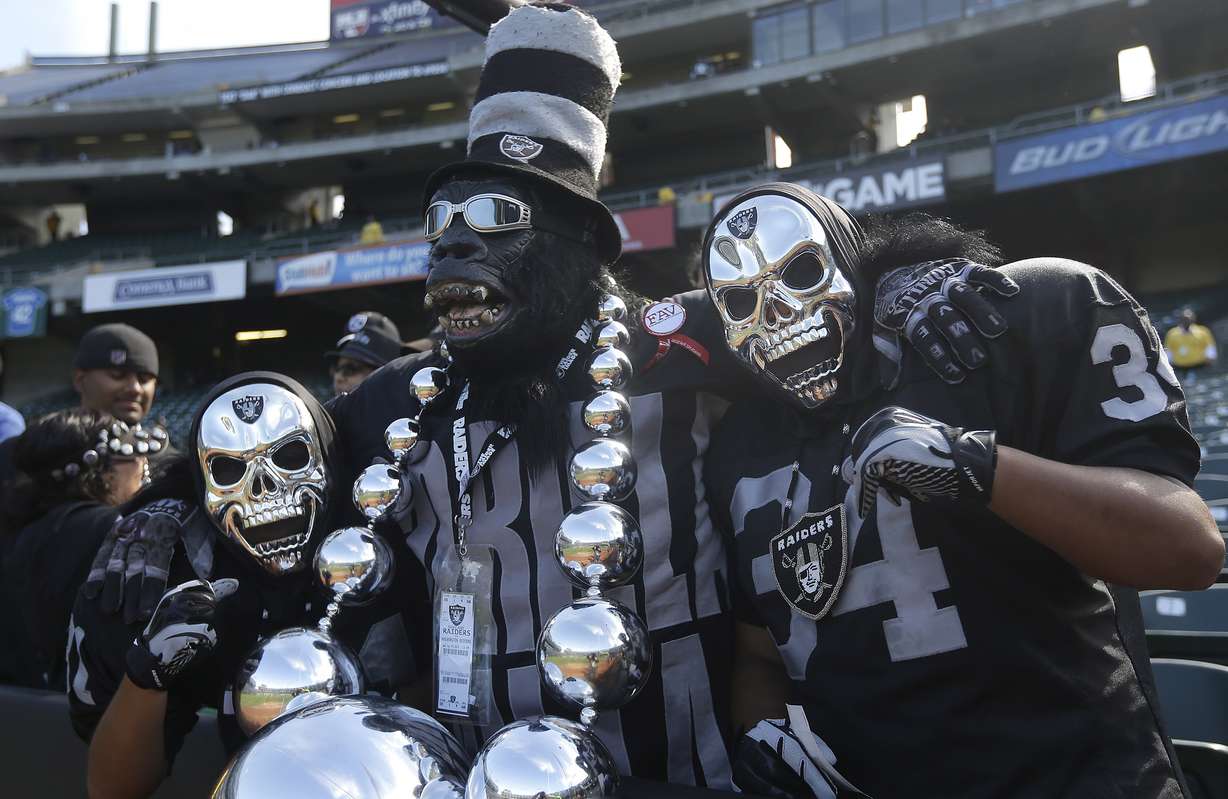 Utah is also a market that the Raiders will hope to tap, prying it away from geographically similar Denver and Arizona, or its former Bay Area rivals San Francisco. The new Las Vegas team has already sponsored a golf tournament in Southern Utah, and Utah-based Intermountain Healthcare has already signed on as title sponsor for the team's practice facility in Henderson, Nevada.
Of course, these all remain last-ditch scenarios — contingent on a variety of factors, most notably a pause or delay in construction projects in southern Nevada.
"If COVID-19 forces a delay that pushes the opening back, though, the Raiders could play all four preseason games on the road to create a monthlong window for stadium completion," writes Vincent Bonsignore of the R-J. "There is also the possibility of the Raiders playing their first few regular-season games on the road to extend that work window even further."
But officials at Rice-Eccles Stadium may be quoting Jim Carrey's Lloyd Christmas from "Dumb and Dumber: "So you're telling me there's a chance."
Love in Sin City
One reason a temporary venue in Utah may be a fancied choice for the Raiders is the amount of former Utah high school and college football players on the current roster. The list includes former BYU and Utah State safety Dallin Leavitt, Herriman High grad Andre James, and American Fork's Jordan Devey.
ESPN draft guru Mel Kiper Jr. indicates the Raiders could add another one in Utah State star quarterback Jordan Love. While Las Vegas general manager Mike Mayock said Tuesday during a conference call that he is happy with his quarterback room of Derek Carr and Marcus Mariota, the chance to bring in a talent like Love may be too much to pass up — if he's still available with the No. 19 overall pick.
"Since I'm not going to predict trades in this mock draft, I feel good about Love being here," Kiper wrote. "Now, that could change on draft day, and a team could move above the Raiders to get him. But this would be a coup for Las Vegas, which isn't tied to Derek Carr or Marcus Mariota past 2020."
Kiper also projects Utah cornerback Jaylon Johnson to be selected at No. 25 overall by the Minnesota Vikings in his last mock draft, which you can read here.
×
Related Stories