AROUND THE SHIELD — If New Orleans Saints coach Sean Payton has his way, Taysom Hill will go into the 2020 season as one of the team's best football players.
He'll also be the Saints' No. 2 quarterback.
Payton confirmed the status of the former BYU signal-caller in no unclear terms Wednesday during an interview with WWL radio in New Orleans just days after the coach revealed a positive test for coronavirus.
"It's good to be talking football right now, but it takes a backseat to what is going on in our world," Payton told radio hosts Bobby Hebert and Kristian Garic by phone, pronouncing himself "cleared" by doctors and "feeling a lot better" after his diagnosis and subsequent quarantine.
But back to football, because Payton is, in fact, a football coach.
And Hill has earned the right to play more football with the Saints, he said.
"Taysom's earned this opportunity to be our two," Payton said. "But he's also earned the opportunity to play and help us win football games as a one. Whether you call him a tight end, a receiver, a specialist, a quarterback, he's going to play. He's too good of a football player — he's one of our better football players."
Hill caught 19 passes for 234 yards and six touchdowns while lining up at wide receiver and tight end in 2019, added 156 yards and a score on the ground, and averaged 8.5 yards per touch across offense and special teams in his unique jack-of-all-trades utility role for the Saints.
In short, the Saints want him around — as a quarterback and wildcat athlete, even if it takes away another part of his game from the 2019 season.
Don't expect him to stop playing the athletic, versatile, hard-nosed football he's grown up playing, at BYU and even at Highland High in Pocatello, though.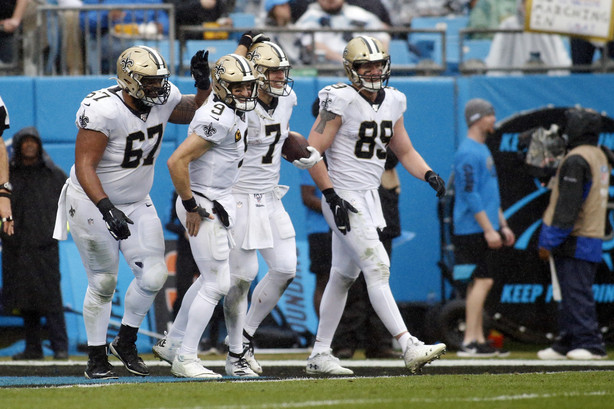 "I think the special teams stuff will be put away," Hill told NBC Sports last month. "But that's something I've always been challenged with, where if it's third-and-short near the goal line, I just want to keep a drive going. That's something I've struggled with is protecting myself and getting down. Our quarterbacks coach senses that, and when we watch film, he subtly tells me 'don't take that hit.'"
Payton also said the Saints will look to sign another quarterback after Drew Brees returned to New Orleans on a reported two-year contract and former backup Teddy Bridgewater headed to division rival Carolina.
"Because of that, you need a third quarterback dressed on the sideline," Payton said. "On any play, Taysom can come to the sideline and his finger can be pointed east and west. He's going to be our second-string quarterback, and obviously play a number of snaps at other positions.
"I think there will be another player who will be up on game days, because of what we want to do with Taysom."
Hill recently signed a first-round tender by the Saints, increasing his salary from $645,000 in 2019 to just over $4.6 million this fall, according to Over the Cap. The former BYU quarterback, who will turn 30 in August, is officially a restricted free agent with the Saints. But if another team signs him above that contract, they will have to give up a first-round draft pick under the tender agreement.
Payton also offered a plea to Americans to take the pandemic seriously, to follow the advice of doctors, public officials and local health departments to help "flatten the curve" of the virus' reach.
"We're not invincible, and everyone can certainly catch this thing," he said. "Prince Charles caught it today; it doesn't matter if you live in a castle or an apartment."
Related Story
×
Related Stories