SALT LAKE CITY — Between earthquakes and rising COVID-19 cases in Utah, this week was rough, leading Gov. Gary Herbert to declare this weekend one of "Prayer and Service in Utah," regardless of religion.
"I invite all to participate in a Weekend of Prayer and Service in Utah, March 20-22. We also encourage acts of service to happen in ways that will decrease risk of contagion," Herbert wrote on Twitter. "Whether or not you are religious, I hope you find peace or guidance this weekend."
In the spirit of the governor's declaration, we want to know what you are doing to serve your fellow Utahns during the COVID-19 pandemic while practicing social isolation.
As of Sunday evening, we are no longer taking submissions. Thank you to those who participated and be sure to check out all the ways Utahns are doing their part to spread joy while limiting the spread of the novel coronavirus.
If you're on a mobile device and can't see the updates below, click on this link.
Copyright disclaimer
By submitting a photo, you affirm you own or otherwise control each photograph/video/image submitted. Once submitted, Deseret Digital Media, the operator of KSL.com, and its affiliates shall have a non-exclusive right and license in perpetuity to use the photo/video/image, or any portion thereof, in any and all media throughout the world. This includes the removal of copyright stamps for on-air use.
See how people are staying positive in the quarantine below
Making medical masks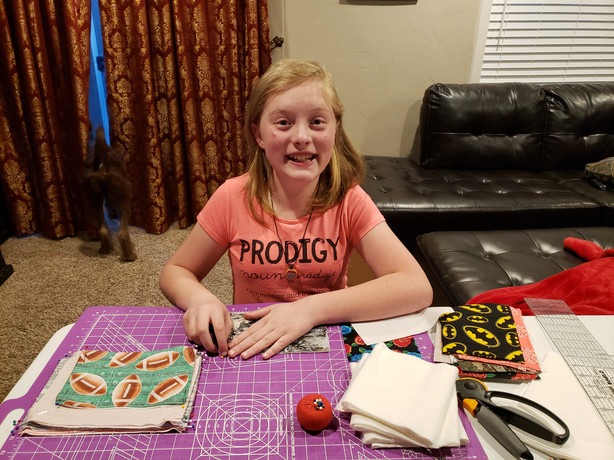 My husband works in an assisted living and skilled nursing facility. Their supply of masks for staff to wear when needed is getting very low. He researched homemade masks and asked me to make a few for him. Our 11-year-old daughter decided she wanted to make enough for all the workers there. She set a goal to make 100, and the facility director is excited to receive them. Neighbors are getting involved in their own homes by donating fabric and elastic, cutting and making kits, and sewing masks. We plan to donate the first 100 to my husband's facility, then to find neighbors in our area with high risk (like our next door neighbor who is going through chemo), and other facilities who can't get masks right now.
We've seen that there are so many people who want to help in some way. Even our children want to feel like they can make a difference in such an uncertain situation.
— submitted by Eva Radmall
Elsie Crockett in Garland is also looking for volunteer seamstress to help sew masks for those on the medical front lines.
Anyone interested can contact her on Facebook.
— submitted by Cristie Boyer
Fairy Houses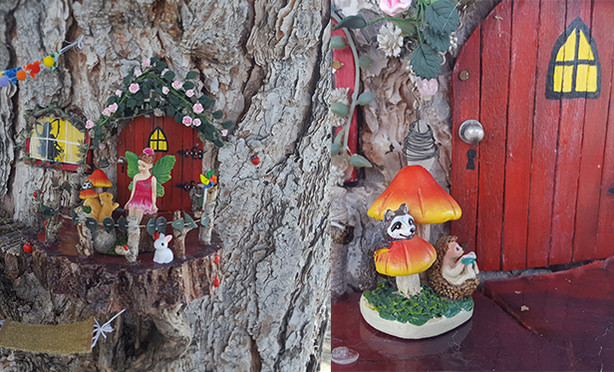 I have a fairy house in my pine tree in the front yard. The resident fairy likes to decorate for the different seasons and holidays. This spring she started early and she can often be seen out on her balcony feeding the local woodland animals.
I'd like to see my neighborhood and other neighborhoods invite fairies to their front yard. Families walking by and kids out playing can stop by to feel some of that magic. They are a lot of fun to make and they can be added to over time. It's a great way to spend time with the family and share that creativity with your neighbors. Fairy garden ideas are limitless. You can have gnomes, fairies, dinosaurs, dragons, safari animals, etc. It brings smiles to both kids and adults alike.
— submitted by Rhonda
Free financial advice
I am a Ramsey Solutions Master Financial Coach who can't go out to work with all of our current restrictions. So I was wondering how I could help from inside my house. I have a phone, a listening ear and a lot of Ramsey training to offer. If anyone is panicked about finances right now, experiencing job loss, or needing to figure out what to do with the budget with paycheck interruptions, I would be glad to have a free 30 minute call to answer questions. Feel free to fill any available slots in my calendar.
— submitted by Kerry Weaver
Together apart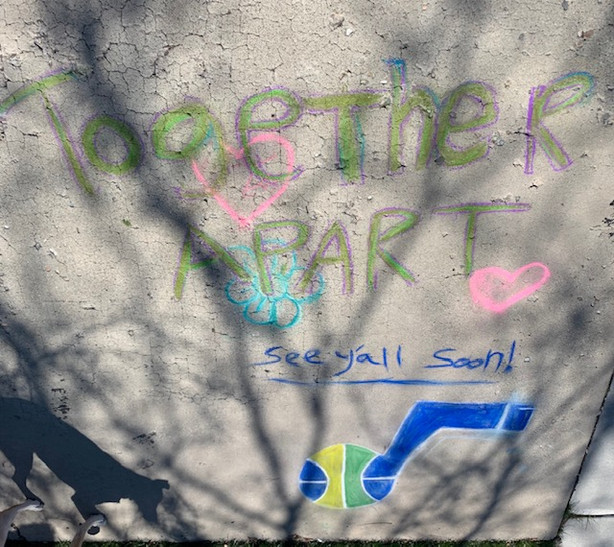 Chalk art by Olivia Perez.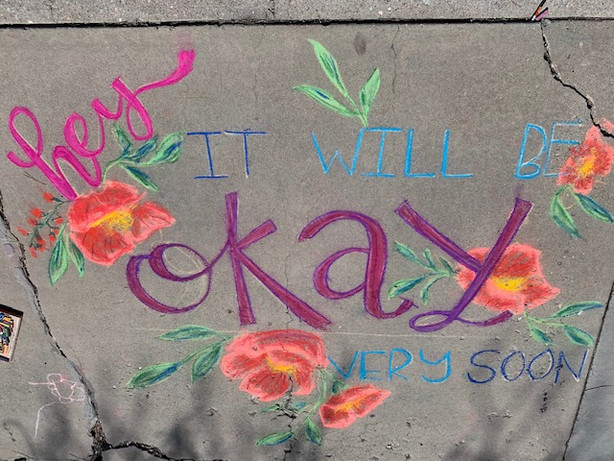 Chalk art by Alissa Jakins.
— submitted by Kris Perez
Toilet humor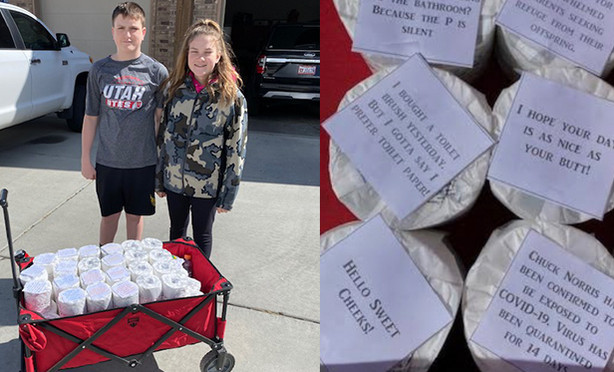 I was able to buy an extra case of toilet paper from a commercial supplier. Yesterday our family printed jokes and delivered 80 rolls to our neighbors. We wanted to bring smiles to as many as we could.
— submitted by Shauntel Banasky
Sending flowers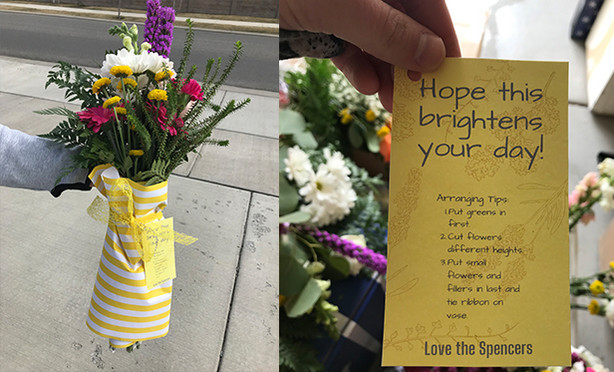 My family and I delivered bundles of flowers to our neighbors this weekend! We followed governor Herbert's words and filled out weekend with service! My grandma owns a flower shop called Ruth's Floral and business has been slow this week due to Covid-19. She decided to give us the flowers to deliver to neighbors instead of just throwing them away. We made bundles of flowers that included all sorts of flowers needed to make a beautiful arrangement and then packaged them. We included the tips on how to arrange them on a little tag attached to the bundle. We took around 13 arrangements to our neighbors to brighten their spirits! The service project was well received and we'd love to draw attention to it on the news to inspire other people to share their talents through service.
— submitted by Emerald Spencer
Santa in the summer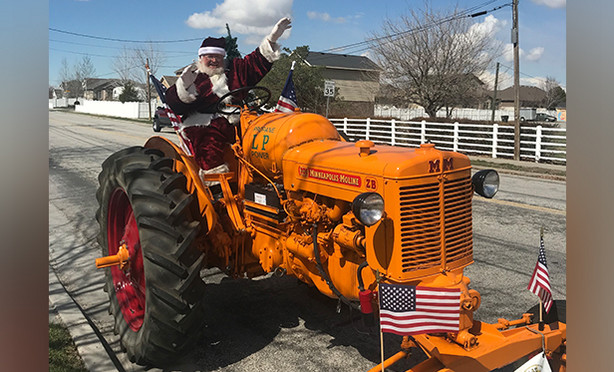 This is my Dad, Verlan Robinson from Syracuse, Utah, who goes out every Christmas Eve and spreads cheer by driving around waiving! He decided with everything going around right now he would be Summer Santa and drive around spreading cheer! Both adults and kids love seeing him and all the honks and waves he gets are awesome! So amazing to see people come together and do things out of the ordinary to make someone else's day.
— submitted by Angela Robinson
Window shapes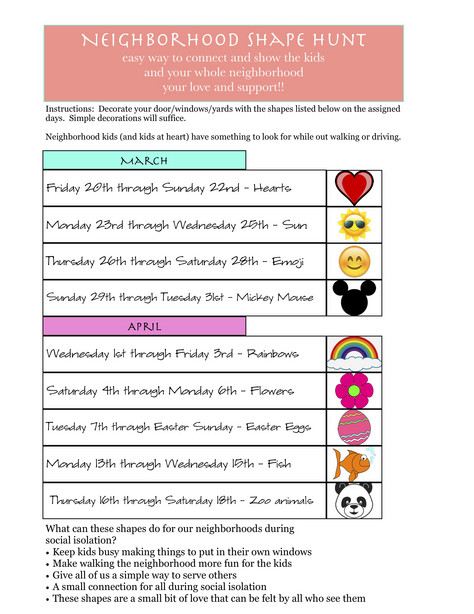 Our neighborhood has been sharing love and positivity by putting small shapes in our windows. Kids have enjoyed making and displaying the shapes and then looking for others art work while they walk the neighborhood. We started with shamrocks and right now we have hearts. We've created a schedule of different shapes for the next few weeks. The kids can almost forget that life has been turned upside down on them for a little bit.
— submitted by Denise Hansen
60 sweet messages of cheer
My kids did a project of writing happy, motivational phrases on the sidewalk. It started with a few but then they kept going to 60 sweet messages of cheer.
— submitted by Lindsay Bryner
Spreading love through service
Just wanted to share what my sweet 11-year-old daughter did. She wanted to help lift others up during this hard time without actually coming in contact with anyone. She printed off a bunch of inspirational quotes and she and my other kids ages 8 down to 5 years old went around placing them on parked car windshields. It was a simple act of service that my kids had a lot of fun with that hoped to have touched just one person's heart.
— submitted by Rebecca Jensen
Mascot in Layton
We own a kids gym in Layton and will have our mascot out Sunday 1-2 p.m. for drive by waves to hopefully put a smile on Davis County residents and our My Gym Families. Dartside Utah is joining with their mascot as well and we've invited other local businesses. Just trying to focus on what we CAN do. Seems small but My Gym is everything to some of our kids.
We also started putting small classes online so that our kids can continue some routine and normalcy, we all just want this phase to pass.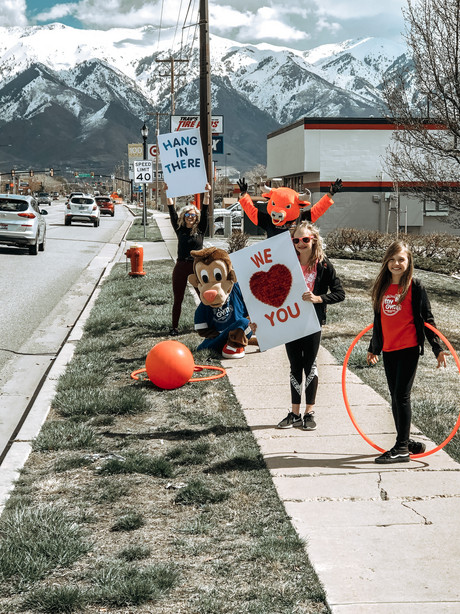 On Sunday, the mascot was a big hit today with families circling around the block multiple times. Excited to pull together more mascots and do it again.
— submitted by My Gym Layton
Sending love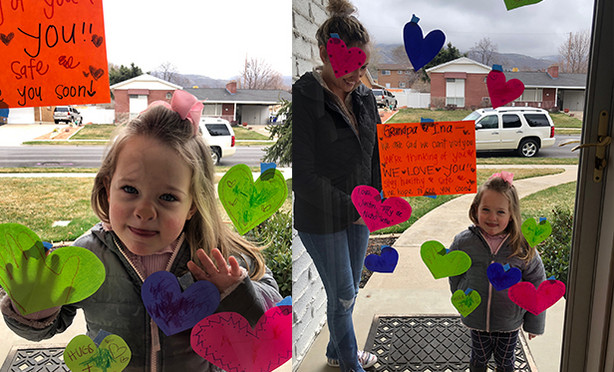 My 3-year-old daughter and I cut out, colored and wrote notes on hearts and taped them to the glass door of my 92-year-old grandpa and his 90-year-old wife. We taped them inward so they could see our creations without having to open their door My Grandpa had a bad fall a few weeks ago so he hasn't been out for a long time and now we don't even dare have any extra visitors than those taking care of him- we don't want to risk them getting sick!!! We wanted to brighten their day and let them know we are still thinking of them even though we can't visit. We waved and talked through the glass and loved seeing the big smiles they had for us!
— submitted by Tiffany
We got this friends!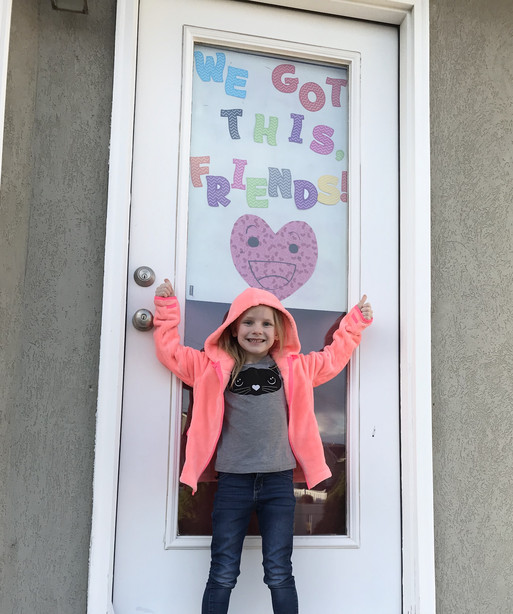 Here's how we are spreading positivity to our neighbors! It's been an incredibly rough week, but we will make it through. My 6 year old, Kaydyn, helped create this sign and it showed me that a positive outlook really is contagious. We really do got this! Stay healthy and safe 💗!
—submitted by Kourtnie Spencer
Neighbors helping neighbors
During these difficult times, like many people in the community, I wanted to reach out to my neighbors and try to be helpful and useful. I'm a computer programmer and I'd quickly assembled a website. The site is for people who are in need of deliveries and volunteers who want to help out with those deliveries. If people are in need of grocery (or any items) deliveries, they can go to the site and fill out the form. I or a volunteer will be contacting that person to make this happen. If anyone wants to volunteer to do deliveries, they can sign up on this site: nhelpingn.com
— submitted by Hoang Ha
Isolation songs
Brandon Hellberg decided to take to music to try and bring some much needed laughs.
Chalk your walk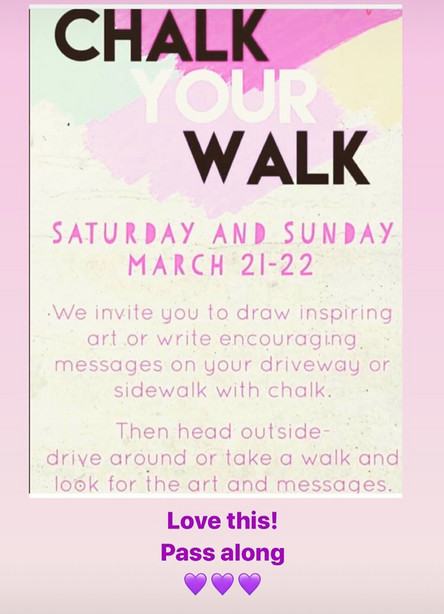 Multiple neighborhoods are doing encouraging sidewalk art so people can read kind messages and enjoy pictures on walks around the neighborhood.
Neighborhood sidewalk chalk scavenger hunt
Our neighborhood put on a "chalk the walk" this weekend where we each went out and wrote positive messages and drew pictures on the side walks for people to enjoy. My neighbor took it one step further by putting together a scavenger hunt for us with pictures of the art and messages found around the streets. A lot of people joined in on the fun and it has provided a way to feel connected during a time of distancing and for some extreme loneliness.
— submitted by Jessie O'Neal
Schools bringing joy to students stuck at home
Green Canyon High School decided to make a fun video letting its students know how much they are missed. Who doesn't love to see their teachers dancing in crazy outfits to upbeat songs!?
Radio club lives on while social distancing
The Ogden Amateur Radio club was disappointed to learn that our normal monthly meeting room had been canceled.
We were not going to give up on our monthly meeting. Instead, we exercised the privileges we all worked so hard to earn and had our meeting from the comfort of our homes, live, via two way amateur radio and our local club radio repeater.
Our meeting usually draw 35 to 50 members but today we had over 70 members and visitors.
These troubling times present us with new opportunities, we only have to look.
— submitted by Gil Leonard
Springville Library brings books to kids
Using social media to spread joy
Sunrise watch party
Will the Utah Realtor is hosting a sunrise watch party, where people from all over the world can post photos of the sunrise in their area to a Facebook event.
Let's watch the sunrise together on Sunday, from wherever you are! Then post pictures of your sunrise. It will be a new day with a new week coming. Let us take a moment to reflect on the past week, then look forward to the coming week with a new resolve for doing better.
— submitted by Will the Utah Realtor
×