This archived news story is available only for your personal, non-commercial use. Information in the story may be outdated or superseded by additional information. Reading or replaying the story in its archived form does not constitute a republication of the story.
SALT LAKE CITY — A 5.7 magnitude earthquake rocked the Wasatch Front and beyond early Wednesday morning. It was the strongest earthquake to hit the state since 1992.
Since then, about 160 aftershocks have occurred, according to the University of Utah Seismograph Stations. The largest aftershock registered at 4.6 magnitude and struck hours after the initial quake.
Experts say Utahns can expect hundreds to thousands of aftershocks in the coming days and weeks but, for some, that initial quake will be hard to forget.
We asked readers to share their stories of Wednesday's earthquake — where they were, what they were doing, how they reacted. Here's a sampling of their responses.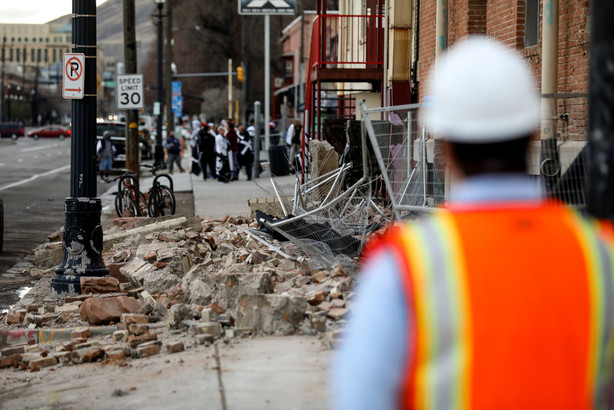 "My wife had just given birth to our daughter. We were on the 4th floor of Mckay Dee, swaying about. Terrifying and awesome."
—Hunter Timbimboo, Ogden
"I was nursing my baby in bed and the first word out of my mouth was, 'Seriously?'"
—Effie Van Noy, Herriman
"I was sitting at home, working. I think I heard the sound first. And then everything started shaking and rolling. It's hard to describe the feeling — being on a rollercoaster, that's on a boat, that's in a very choppy sea."
—Michelle D., West Valley City
"I was at the airport approaching the escalators when the earthquake occurred. I thought, 'Was a bomb detonated or an airplane crashed?' The terminal shook violently and the lights went out. I was struck with fear, but the lights quickly came on and dust poured from the ceiling. I booked it down the stairs and ran outside."
—Julia Busche, Fruit Heights
"Scrubbed in surgery in the operating room with a patient on the table. Anesthetist yells, 'We're having an earthquake!' Me and the doc covered the patient and held on for dear life!"
—Kelsey, Layton
"One of the greatest things I observed within the first hour, and during the worst aftershocks, was how neighbors threw on shoes and coats and went out to check on other neighbors all up and down their blocks. Folks checked gas meters and water lines and foundations and just the overall well-being of each other."
—Robert Goble, Magna
"I was sleeping when all of the sudden I was awakened by this intense shaking in the room. At first it felt like it was some kind of realistic nightmare, but once I opened my eyes and looked around I realized I was experiencing an earthquake for the first time of my life. It was the most frightening feeling ever. Needless to say, it was an awful way to be woken up from my deep sleep."
—Areli S., Sandy
"I live on a moderately busy street where large trucks travel frequently. Husband and I were in bed half asleep when 'a truck' drove by. A few moments in and we both realize that's not a truck. We both bolt out of bed to our daughter ready to find shelter."
—Kelsey Brown, Layton
"I was asleep when the shaking started. I leapt out of my bed, ran across the house to my sons' room (hurdling over fallen objects). I am on the top floor of a multi-story apartment. The entire building was swaying. We were without power, internet and had barely functional cell service until almost 5 p.m."
—Heidi Plumb, Salt Lake City
"I was laying in bed on my phone when I felt the shaking. I immediately jumped to the side of my bed in the 'triangle of safety' and rode it out before getting up to help the rest of the family."
—Joshua Snow Hansen, Bountiful
"I was in our South Salt Lake office. It took me a moment to understand what was happening. At that moment of realization, the power went out, and just like that I was alone in the dark, listening to trinkets fall to the floor."
—Heather Rowley, Sandy
"I was sleeping in bed next to my 1-year-old son when we both were woken up to the bed shaking back and forth. Our blinds were smacking against the window, his bouncer was swaying. I called my husband right away, who went to Walmart in Brigham, and he said he didn't feel anything!"
—Shelbee, Garland
"I was upstairs about to walk out the door to work when the entire house started violently shaking. I was in front of my 55" TV and grabbed it to keep it from falling on me, and then the power went out. The whole house was still shaking and it was pitch black in my room. So terrifying!"
—Laura Howell, Magna
"I was just waking up when the shaking started. I thought it was my brother shaking my bed as a prank, but then when the shaking got harder I was like, 'dang I think this is an earthquake.'"
—Ben Jackson, Holladay
"I was on the 8th floor of the Ken Garff building downtown with a co-worker. (The) building moves regularly but then the shaking got so bad chairs were moving, including mine. Things fell from cubicle walls (and I) got freaked out. This is my first experience with this; seems like it went on forever. Was shaking so bad when it stopped."
—Karen Chidester, Salt Lake City
"I was asleep and woke up to my home violently shaking. I immediately thought, 'This is the big one!' My fiancé and I gathered all 4 of our kids (ages 5, 8, and 15-month-old twins) and took cover for a while. We were all on edge all day. Absolutely terrifying."
—Shalice Ruesch, West Jordan
×
Related Stories