LAS VEGAS — Utah State men's basketball didn't just survive New Mexico and advance in the first game of March.
The Aggies survived a war of attrition, too.
Sam Merrill had 29 points on 10-of-15 shooting and three rebounds while being limited with foul trouble, and Diogo Brito added 15 points and seven rebounds to help the No. 2-seeded Aggies hold off No. 7 New Mexico 75-70 on Thursday night in a Mountain West Tournament quarterfinal at the Thomas and Mack Center.
Justin Bean added 10 points, 15 rebounds and two assists for Utah State (23-9), which played through 42 combined fouls. Each of Merrill, star post player Neemias Queta and freshman Sean Bairstow finished the game with four fouls.
But none of them fouled out.
The Aggies will live to see another day.
"This is a players' game," said Utah State coach Craig Smith, pointing toward Merrill and Brito. "And these two guys right here made some phenomenal plays down the stretch."
Jaquan Lyle had 20 points and three assists to lead New Mexico (19-14), and Corey Manigault added 18 points and six rebounds for the Lobos.
Utah State led by as many as 13 early in the first half, but Lyles had a game-high 16 points at the break as the Lobos forced a 33-33 draw. Just like last Saturday in Albuquerque, a comeback looked at most possible, at worst probable.
The Lobos took advantage of Merrill's fourth foul to fuel a 13-1 spurt and go up 49-43 with 13:09 on the clock. That included an 8-0 run after Merrill was forced off the court.
Merrill was hamstrung, starting point guard Abel Porter was sidelined with a sore back, and Queta's aggressive style of play was hampered by foul trouble (and a possible head injury after a vicious fall in the first half). Things were only compounded by back-to-back shots by UNM's McGee and Wegscheider to put the Lobos up by double digits, 57-46.
The Aggies looked lost. Merrill — last year's Mountain West Player of the Year and tournament MVP — had to check back in, fouls aside. It worked for back-to-back buckets, including an open 3 from Brito, followed by Merrill's and-one scoop shot with 7:32 to go to pull within 7, 60-53.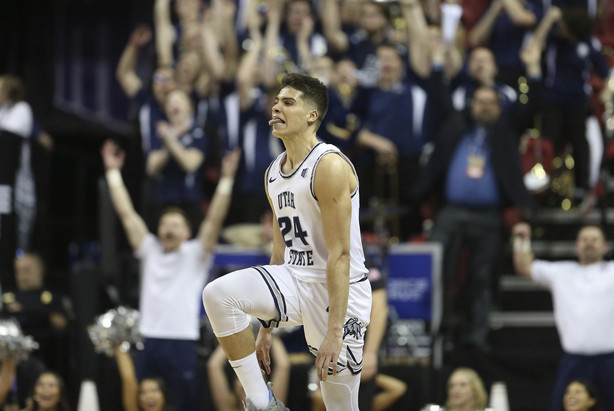 With Merrill on the floor and playing without a foul to give in the final 7:32, the Aggies outscored New Mexico 24-10 down the stretch. That included 13 from Merrill, who was 7 of 9 from the free-throw line.
"It wasn't just me," said Merrill, eyeing down Brito. "This guy kept us in range, I came back in, and we tightened up defensively. Credit to New Mexico and their crowd — they have the second-best fans in the country.
"No matter what, they show up. But you can't do it by yourself. It's a team game."
Utah State finally retook the lead on the Bountiful product's 3-pointer with 2:43 to go. The Aggies never trailed again, getting a corner 3 from Brito with just over a minute remaining and a dribble-drive inside from Bean to stay up for good.
"It was time to make some plays," Brito said. "They were going to tighten up on (Merrill), I didn't think twice, and I just let it go.
"Even when we were down 11, they had the momentum, we just had to make sure to keep our poise. We were fortunate to get Sam back in the game, too."
The Aggies will face Wyoming, which stunned No. 3-seeded Nevada late Thursday night 74-71, in the tournament semifinals Friday at 9:30 p.m. MT. The game will be broadcast on CBS Sports Network.
×
Related Stories