SALT LAKE CITY — Kaija Glasker stood in the center of her teammates, the state championship trophy in her arms, as they all jumped and screamed around her.
"MVP. MVP. MVP," her teammates yelled.
If there was a moment that encapsulated Highland's season, it was that one. This was Glasker's team — she was the sole captain, the sole senior leader, the one that took everyone under her wing and put the team on her back.
And on Saturday, she brought them all the way to the title.
Glasker scored 14 points, grabbed 10 rebounds and had three blocks as the Highland Rams beat Springville 46-34 in the 5A state championship Saturday at Huntsman Center.
It was the team's first title since 1984.
"She took these girls under her wing a long long time ago," Highland coach Kurt Schneider said. "It was so beautiful to watch her be a leader, to be the veteran out there. She has done that with these girls, she has brought them along. It's never been about getting hers, it's always about the team and getting everyone involved and getting everyone on board. She's been the rock of this group."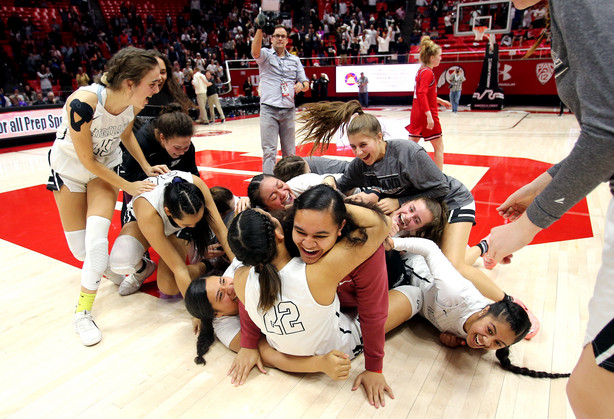 In the second half, though, she had to trust her leadership had rubbed off. With Glasker in foul trouble, she was forced to sit for longer periods than she would have liked as Springville tried to come back from what was once a 15-point Highland lead.
But her team didn't disappoint. Fighting through a physical battle to keep Springville at arm's length.
"I was very anxious you know, but I was also trying since I'm the only captain, I'm also trying to coach them up from (the bench), to be the support system," Glasker said.
She has provided that all year — and it was no different on Saturday. But she was pretty good on the court, too. Glasker was 4 of 6 from the field and knocked 6 of 7 free throws to lead the Rams to victory.
Sosefina Langi added 9 points and seven rebounds, while Lei Makaui and Bria Neeleman each had 7 points for Highland.
At the end of the first half, it was Neeleman that turned and cooly walked back to the bench.
It wasn't a walk-off, but it almost felt like it. Neeleman's 3-pointer at the first-half buzzer put the finishing touches on a 14-2 Highland run that gave the Rams complete control.
Highland had a 13-point halftime lead and with the way Springville was shooting (the Red Devils went 0 of 17 from the 3-point line), that felt pretty insurmountable. It almost felt like the coronation had already begun.
"That definitely helped us because, yeah, it's not over yet, but that just kind of got our momentum going," Glasker said. "It just like it helped us so when they did start coming back, you know, we still have that lead. We didn't have to fight our way back."
Springville was just 8 of 49 from the field but was helped by getting to the free-throw line 26 times (they made 18). The Red Devils were able to cut the Highland lead to just seven in the fourth quarter, but even that didn't put too much of a scare into the Rams.
"We persevered," Schneider said. "We got through it."
And now they are champions.
Class 5A girls basketball state tournament
All-Tournament Team
Kajia Glasker, Highland
Sosefina Langi, Highland
Kayla Jackson, Springville
Lauryn Deede, Springville
Maddison Warren, Lehi
Samiana Suguturaga, Mountain View

×
Related Stories