Estimated read time: 9-10 minutes
This archived news story is available only for your personal, non-commercial use. Information in the story may be outdated or superseded by additional information. Reading or replaying the story in its archived form does not constitute a republication of the story.
Editor's Note: This article is the third in a series interviewing Utah politicians from both sides of the aisle about how their work at the Legislature impacts the lives of young Utahns.
SALT LAKE CITY — The 2020 Utah State Legislature is chugging along in Salt Lake City, as legislators try to leave their mark before the session's end on March 12.
State lawmakers are largely drawn from older, more established generations, but the decisions they make during the session can affect young Utahns for years to come.
KSL.com recently sat down with freshman Rep. Candice Pierucci, R-Riverton, to talk about her perspective as the Legislature's youngest member and how millennials can impact the political process.
This interview has been edited for length and clarity.
How do you think your age informs your work as a legislator?
So, I'm 27. So I'm the youngest legislator, like you hit at. I would say that the perspective I have — for example, I'm on (the) Higher Education Appropriations (Subcommittee). And when we talk about college students, and we talk about workforce alignment and job placement, it's a little more recent for me.
So I got my undergrad in political science at UVU. And I graduated in 2015 with that, and then I got my MPA just last year, actually. I did it while I was working.
So when we are making these decisions regarding higher education, I feel like it's a little closer to home. I've gone through the "system" recently. And so I think that helps inform decision-making as to what our students are experiencing.
And I also think too, in terms of policy, I'm a conservative, free-market thinker. I think that informs my decision the most. But what I will say is, the way I interact with people is a little different.
When I talk to high school students, they are blown away that I'm a legislator. And there is a group, Girls Lobby, that was actually up here. That's a very diverse group of high school girls. And I walked into the room and someone said, "That's Rep. Pierucci." And someone said, "She looks like us!"
And it was a really cool experience for me that they've finally seen someone who looked like them and hopefully that they could do something like this.
I would also say my age — we have lots of varying professions up here. So mine has been largely government and nonprofit work. But for example, on tax reform: When we were talking about the food tax, right? Sometimes it's easy to say, well, it's just a few extra bucks. But when my husband and I were first married, we were working and financially operating off of my part-time student job. He was looking for a job, as was I.
And so he actually donated plasma, like most college kids do. (laughs) And he donated plasma so he could pay for groceries. So I would use a calculator shopping and stop at $27 because I wasn't sure on tax. So for me, it was very real, and it was very recent. And so I feel like that helps inform it.
And the technology, it's intuitive to us, right? We grew up with it. So it's funny, my first day in a caucus meeting, it was on how to accept an email invite. And I was laughing. (laughs) And they said, no, this is serious. So for some people, it's a little harder.
I just think that different perspectives are important. And I respect my colleagues and their experience and years of wisdom. And I think it's helpful, also, to have a fresh perspective.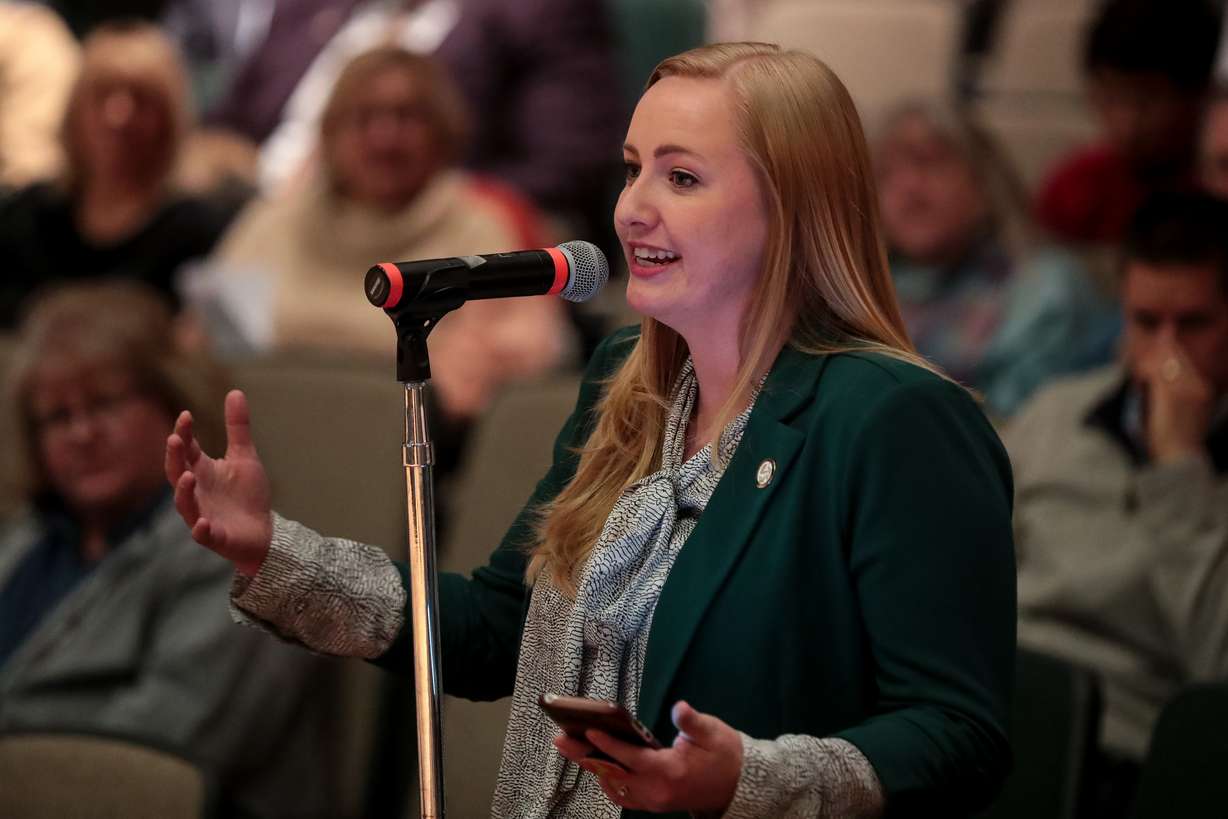 What are the biggest barriers or obstacles right now between young people and greater political participation?
I think it's understanding the process, truly. And I think what's frustrating for people is that — for example, millennials. I feel like we are great at getting fired up on social media. And I mean, Taylor Swift says something and the whole world comes — you know, it just really is a different way of thinking for a lot of people.
And if you're not engaged in the political process regularly — so an example is, you hold a rally, a massive protest. Nothing happens after. It was a great event, you know, in terms of media attention it was fantastic, but didn't feel like it actually moved the needle. And I think it begins to be frustrating for people, and then they disengage from the process.
Or say you get onto the (Legislature) website and you're totally confused about the wonky language. I just spoke to a college group of students down at UVU, and I was talking about bill numbers. And I just was saying, like, "HB," whatever number it was, "HB101" or something. And I was about 40 minutes into my presentation, and a student finally raised their hand and said, "What is HB?"
And the fact that I hadn't even thought to explain, "House Bill," "Senate Bill." It took 40 minutes for someone finally to get the courage to say, "we have no clue what that jargon means."
So I think sometimes politics can come across as wonky, policy wonky, and full of jargon. I think that's part of it.
And so what I would say for young people and millennials is engaging in the legislative process, coming to committee hearings, actually following House floor debates. And where there may be a time and place for rallies and protests, I think working, finding ways to develop relationships with your legislators and work with them closely.
Talk about why you've made your home in the Republican Party and why you think other young people should consider doing the same.
So I am a free-market conservative, and for me, the Republican Party is the party of opportunity. And what I will say is the Democrat Party has done a phenomenal job, in my opinion, a much better job at marketing and catering to our age group.
The fact that Hillary Clinton had (Pokemon Go) Pokestops when the Pokemon app was huge, right? The fact that they managed to time those with her rallies is brilliant strategy. I mean, they've just been a little bit more nimble, I think. So I think that's part of it.
And again, I think the message of inclusivity doesn't just have to be on the left, but it tends to be the drum that's beat. And so I think that, for me, the conservative party is the party of opportunity. It's the values I grew up with. And I also really am a big fan, I don't know if you follow Arthur Brooks, he's the president of American Enterprise Institute. I'd highly recommend, he wrote a book called "The Conservative Heart," essentially talking about how a lot of times we qualify things by saying "compassionate conservatism," but that conservatism is the compassionate approach. And I really, really like his approach on conservative thinking.
I'll even say this: I think the Republican Party, with our current president — President Trump, while I agree with, you know, 85% of his policy — his approach really makes it hard for people to feel like he's being inclusive. And some people like that about him. But I think for millennials it can be a turn-off. And so I think that's going to be something that we're going to have to grapple with as a party.
What's one thing that's surprised you about the legislative session so far?
So I knew it'd be crazy hours because I interned up here, so I expected that. I expected to be called an intern regularly, which is getting a lot better. Week One was rough. I was having to tell (security), you know, I'm actually a representative. I went to get breakfast and the page said, "This is only for representatives." I said, "Great, I am one," you know, trying to be friendly with people and make a joke out of it.
So I expected that. I'd say there are two things that have surprised me, which have gotten better. One is — so, I have a baby. People have lots of questions about me being a mom and whether I should be up here.
And two is — this is going to seem small, but you know right out front of the House where all the lobbyists and advocates hang out? So you get a green slip when someone wants you to come out and talk to them. I had no idea. So the first week I was taking all of them. But when you get one of those, it's like, whoosh, shark tank!
---
I just think that different perspectives are important. And I respect my colleagues and their experience and years of wisdom. And I think it's helpful, also, to have a fresh perspective.
---
I would walk out, and one person wants to talk to you, and then six other people want to chat with you. And part of it's because I'm new, so they want to introduce themselves, but I actually didn't expect that.
And so I used to be able to walk through the halls much, much faster and quicker. The underground tunnels are helpful occasionally. But yeah, those are the two things that have surprised me.
What do you perceive as the biggest challenges that our generation will face as we age into government and decision-making?
I mean, there are a lot, honestly.
From a national perspective, I think we're going to have to grapple with Social Security not being there. I mean, when we get to that age. I think that immigration is something that our generation will hopefully address rather than kicking the can down the road.
I think that student loans, student debt, education in general, higher education — I think that's one thing I've appreciated, being on the Higher Education Committee, is talking about — well, I chose the path of getting a four-year degree that for some people, tech college or something like that is a better deal.
I know, too, millennials get the rap of, well, they don't want to live in homes; they want to live in condos and apartments. I'd say part of it is actually — so studies show millennials have, you know, waited longer to get married and waited longer to have children. But now that we are, a lot of us are married and having children — yeah, we do want a home! We do want a single-family home, right? And a yard that our kids can play in. And so I think we're going to have to, in Utah specifically, look at that, in terms of our population doubling, and what does that mean for a millennial and a young family?
Correction: This article originally said Pierucci received an MBA and lives in Herriman. She earned an MPA and now lives in Riverton.
×
Related stories
Most recent Politics stories