This archived news story is available only for your personal, non-commercial use. Information in the story may be outdated or superseded by additional information. Reading or replaying the story in its archived form does not constitute a republication of the story.
PROVO'S HALFCOURT HAVEN — A lot of people are still coming down from the high of BYU basketball's 91-78 upset of then-No. 2 Gonzaga in the Marriott Center last Saturday night.
It was certainly a special night for a lot of people, from first-year head coach Mark Pope to seniors Yoeli Childs, TJ Haws, Jake Toolson and the rest of the squad, to the 18,000-plus fans in attendance inside the best college hoops atmosphere in Provo since 2011.
Some people don't have to come down, though.
Here are a few big winners from the week, courtesy of a few half-court shots — and a sack, because professional football in February is still a thing. As always, click the video above for more Great Clips of the Week.
Win a heap, do the Leap
One BYU student had the chance to win $8,000 in cold-hard cash for making a half-court shot during the Cougars' biggest win of the 2019-20 season.
No pressure, right?
So when the ball swished the net, and with a raucous student section cheering him on, that student celebrated with the Lambeau Leap.
How can you not be hyped? Because not only was cash an incentive, but so, too was, celebrating with the ROC, with an iconic jump brought to Provo — and with a giant Bro Hug from BYU's one-and-only Cosmo.
But he wasn't even the biggest winner of the night.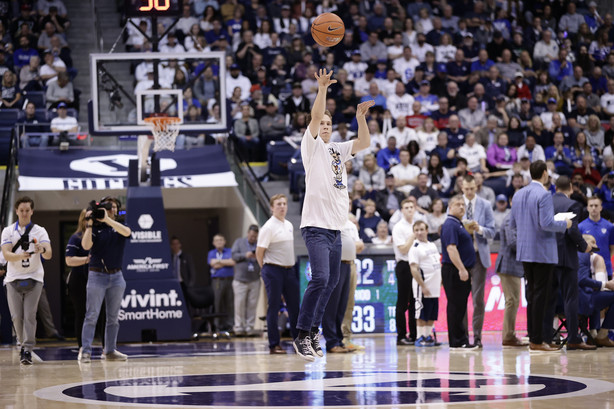 Montana State goes double-or-nothing
Up the road in Bozeman, Montana, the Bobcats offered an $11,111 reward to anyone who can up their game from a half-court shot to a full-court bomb.
The contest, sponsored by local joint Montana's Rib & Chop House, seemed like a safe bet.
Until Joe Thompson arrived.
That full-court heave wasn't just a jump shot or a 3-pointer; it took the arm strength of a minor league pitcher to pull off.
And don't think the Chop House is going to back out of the challenge; the company fully intends to pay up.
Joe wasn't the biggest winner of the weekend, either. This next one will inspire you and melt your heart.
Will Sack for Thin Mints
The XFL is filled with former NFL players looking for a chance to play pro football — "for the love of football," as the league likes to market — and get back into the NFL.
It's also filled with aspiring entrepreneurs, like this young fan who tried to trade a box of Thin Mints cookies for an official St. Louis BattleHawks football.
Seems like a good deal, right? Sure, Tagalongs and Samoas would be a nice treat, too — but is there anything better than a box of ice-cold Thin Mints pulled fresh out of the freezer? We submit there is not.
You want to know the best part about this deal, though?
Casey Sayles decided to take her up on that offer, after the BattleHawks defensive lineman earned a sack in St. Louis' first home professional football game since the Rams' departure to Los Angeles.
Blissful. Heavenly.
And three weeks into the season, the football is pretty good, too.
×
Related Stories