Estimated read time: 5-6 minutes
This archived news story is available only for your personal, non-commercial use. Information in the story may be outdated or superseded by additional information. Reading or replaying the story in its archived form does not constitute a republication of the story.
PROVO — BYU second-year graduate student Joe Wheat readily admits he's been waiting five years for Saturday night.
The No. 23-ranked Cougar basketball team will host No. 2 Gonzaga in a Top 25 showdown, two NCAA Tournament-bound squads playing on the highest level of hoops, with a national platform on ESPN to showcase themselves.
But in reality, BYU has been waiting much longer for a moment like Saturday will bring.
"For a basketball game, this is as hyped as it's ever been since I've been at BYU," Wheat said. "It's reminiscent of the Jimmer era, from what I remember as a kid."
There's an excitement in Provo over BYU basketball again, one that has been previously unmatched since the days Jimmer Fredette was leading the Cougars against Kawhi Leonard and San Diego State in a game-of-the-week atmosphere in the Marriott Center.
And that's not just hyperbole. Saturday night's game (8 p.m. MT, ESPN2) will be the first featuring two AP Top 25 teams in Provo since Jimmermania overtook the nation, with the Cougars winning 32 games and advancing to the Sweet 16 of the NCAA Tournament in 2011.
Things are coming together in ways previous years simply haven't for BYU (22-7, 11-3 WCC) — transfers, chemistry, and even injuries are all lining up into a strong season that is gaining traction nationally.
Add in the regular-season home finale against the team that has already clinched the West Coast Conference title. It's why BYU students began camping out for entry Thursday night at 11 p.m. — shortly after the Cougars' 85-75 win over Santa Clara, even.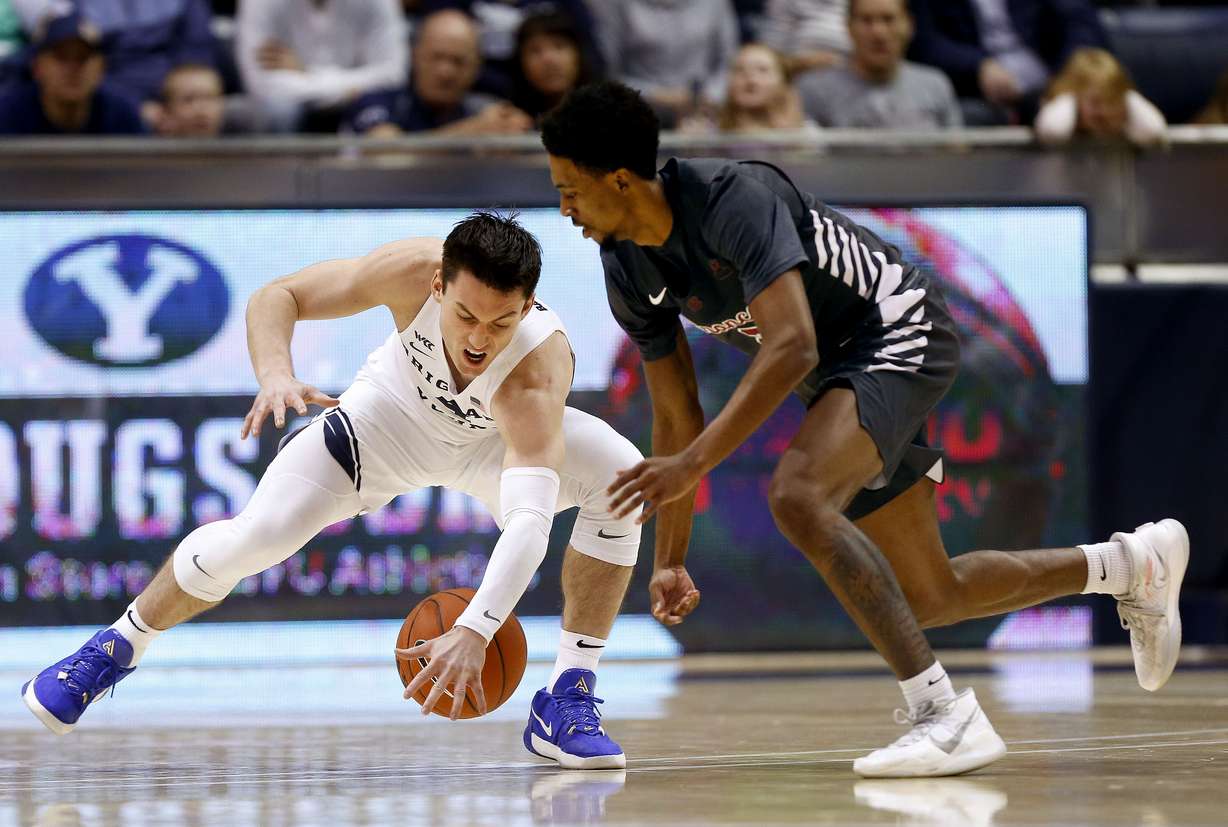 "It's all the little pieces coming together. I just want to see BYU beat Gonzaga," BYU sophomore David Colson quipped of the Zags, who won their 19th straight game Thursday against San Francisco. "That Utah game made me mad, and I think it's about time that we've won one of our big rivalry games."
What Mark Pope has done in his first season as head coach of the Cougars is nothing short of miracle work. Among the frontrunners for West Coast Conference Coach of the Year, Pope took a team largely unchanged from Dave Rose's final season, brought along Jake Toolson from his previous stop at Utah Valley and Alex Barcello from Arizona, and turned them from a rare sub-20 win team into a squad that may feel pretty good when it comes to at-large consideration for the field of 68.
But it's been a team effort, and it will take a team effort to topple the Zags and their 18-game winning streak.
"The only way we are going to get this done is if we all do this together," Pope told BYUtv. "You can go straight to the numbers, in terms of second-half free-throw percentage, and everything.
"Saint Mary's was perfect from the free-throw line without the student section behind them, and then went 4 for 9 with the student section — and we ended up winning by a bucket. The ROC makes a huge difference; we're not where we are today without the ROC. It's an unbelievable group."
Are the Cougars a finished product? Absolutely not.
But are they trending in the right direction, getting better with each game, and potentially capable of earning a spot in the Big Dance in four years — and maybe even do some damage while they are there?
No doubt.
More importantly, though, is how Pope has made the BYU student section feel like it belongs courtside. He's vocal about his love for the ROC, the misnomered Roar of Cougars that stands, screams and cheers just a few feet from the visiting team bench every week.
"At the end of every game, he comes over to the ROC, claps at us, and says thank you — and he really means it," Wheat said. "He really thinks of us like a sixth man. The players do the same thing; they interact with us, and make us feel like we are a part of it.
"That's the difference between watching the game in the stands and on TV. You actually feel like you are contributing to a win. If you don't feel that from the coaches and players, you don't go."
To Pope and his team, the student section is more than another group of fans. They have a voice, and they have meaning.
"That makes us feel like we're important," said Colson, who started camping out as early as possible, Thursday night at 11 p.m. for Saturday's game. "And it makes it worth coming out early to games, getting on the front row to be one of the loudest ones there. It feels like you are playing."
There's the team, the coaches — and the students. A sixth man that has lifted the Cougars to a 13-1 record at home, unbeaten since Nov. 9, a 76-71 loss to a San Diego State team that is ranked No. 4 nationally and the only undefeated team in college basketball.
Things are different now. At least, they feel different.
"The biggest difference," Wheat said, "is he makes us feel like we're part of the team."
How to watch, stream, listen to the game
No. 2 Gonzaga (27-1, 13-0 WCC) at No. 23 BYU (22-7, 11-3 WCC)
When: Saturday, Feb. 22 at 8 p.m. MT
TV: ESPN2
Streaming:WatchESPN
Radio: BYU Radio 89.1 FM, KSL 102.7 FM/1160 AM (Greg Wrubell, Mark Durrant)
Series: Gonzaga leads 18-6
×
Related stories
Most recent BYU Cougars stories