Estimated read time: 4-5 minutes
This archived news story is available only for your personal, non-commercial use. Information in the story may be outdated or superseded by additional information. Reading or replaying the story in its archived form does not constitute a republication of the story.
DRAPER — Geneva Rock is again seeking to expand operations, which is also reigniting blowback from some Draper residents unhappy with the mine operations that led to the company's last proposal to be rejected less than two years ago.
Under the latest land-use amendment proposal, which was filed to the city on Feb. 3, the Utah-based concrete and asphalt company seeks to expand its gravel and mining operations in the area by about 27 acres near the city's boundary with Lehi. City officials said the company is also seeking nearly 65 acres of its property for open space, which would include donating a little more than 43 acres of land near Steep Mountain to Draper — an area popular with hang gliders.
"The theory there is that Draper City will use that as some sort of conservation area, and it won't ever be developed, and they will own it," said Geneva Rock spokesman Dave Kallas.
"It will allow Geneva to complete its work," he added.
In a statement, the company said: "Geneva Rock's current application to Draper City comes after spending many months meeting with city officials, residents, and area stakeholders to listen to their ideas and develop a fair compromise. ... The rezone area will allow Geneva Rock to provide critical infrastructure materials that the community needs for growth, and will allow the company to move forward with future plans to develop its land at Point of the Mountain."
Kallas said the area requested is about 65% less than the company's first expansion proposal since an effort fell through in 2018. That proposal originally sought to grow its gravel pit by 73 acres but later adjusted that to 18.5 acres before the proposal was withdrawn. The council later voted in favor of a resolution to restrict future mining.
However, state legislators passed a bill during the 2019 legislative session that made local governments and mining companies seek solutions to land proposals before the state could swoop in and take action. Draper City Councilwoman Tasha Lowery cited that bill in a Facebook post to her constituents on Feb. 6 as something for residents to consider through the proposal process.
"I do not say that out of fear but rather from the reality of the situation," she wrote. "We were explicitly tasked by the state to work together. That is the expectation. If we fail to do so — or refuse — I do not think it would be in our best interest."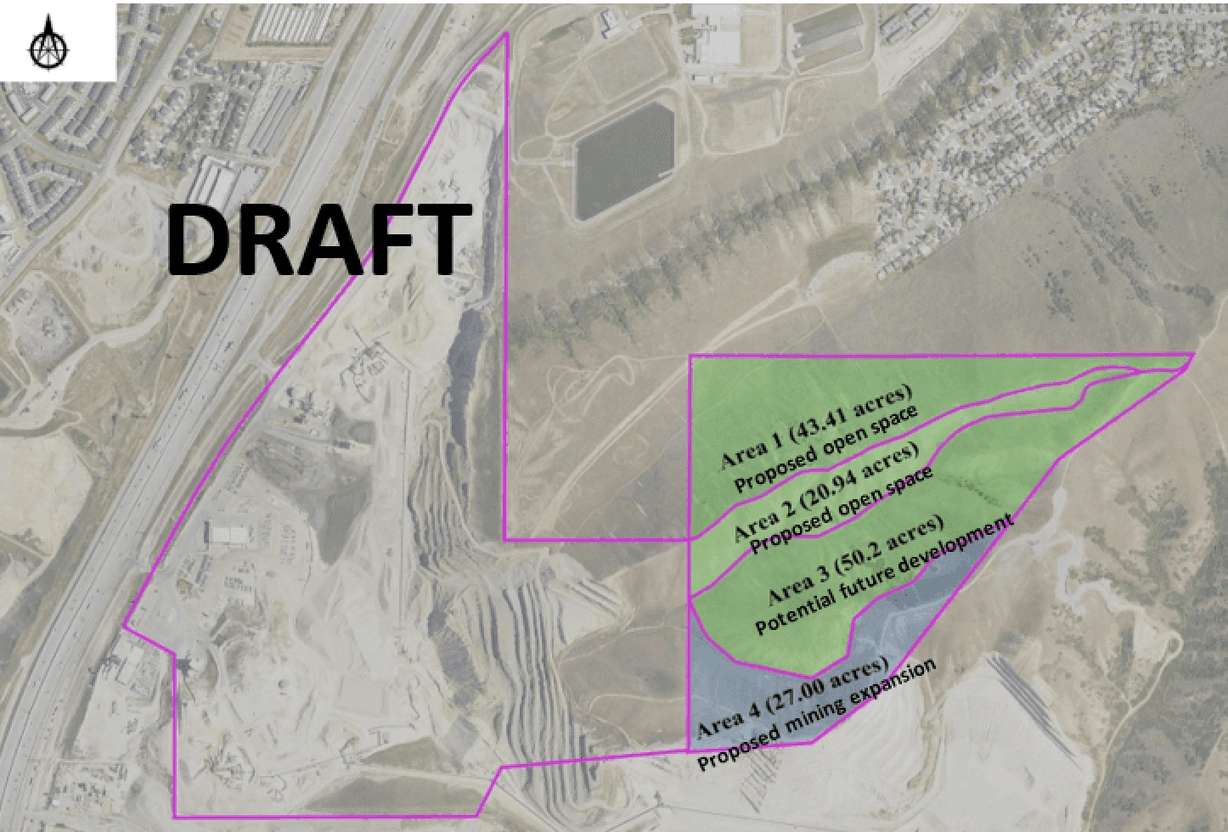 The latest proposal has already had mixed reactions after Lowery posted about it. Some are mulling over what to do, while some say they won't accept any more expansions.
Adrian Dybwad, a Draper resident who has been outspoken about previous Geneva Rock expansion projects, said he doesn't believe the city council should cave into state pressure.
He created the Facebook group "Stop Geneva Rock" in 2015, which has gained 700 members since it began. He's concerned that the latest expansion plan would add another 10 years of mining at the facility, which he said would produce more unhealthy dust that will be blown toward Draper homes.
In 2018, residents and others brought up the same concerns as Geneva Rock sought an expansion then. The nonprofit Utah Physicians for a Healthy Environment drafted a letter to the Draper City Council opposing that plan, citing worsened pollution for Draper and surrounding cities that would happen if the mine expanded.
Dr. Brian Moench, the group's board president, said ultrafine particles created by gravel pits are extremely damaging and described crystalline silicon, a type of pollution caused by rock mining, as "microscopic specks of barbed wire."
Draper residents will have a chance to hear the proposal during a planning commission meeting on Feb. 27. The meeting begins at 6:30 p.m. at Draper City Hall, 1020 E. Pioneer Road, and open to the public. Online comments can also be made through the city's website.
Dybwad said the group of residents opposed to the expansion will be well-represented when the proposal is brought up. As for Kallas, he said he believes many residents will also see the proposal as a compromise.
"There will be people who don't want to have any mining on the mountain. We understand it would be hard to convince them otherwise. But I think for most people, they will look at this application and this compromise that we've come to. They will see that this is really a fair compromise."
×
Photos
Related stories
Most recent Utah stories