SALT LAKE CITY — It isn't just the danger or difficulty of completing a freeride ski run that makes succeeding at the sport rare. The most talented skiers in the world have trouble channeling their skill into the two minute window of competitions. Some are never able to.
Freeride skiing entails cutting your own path through deep powder on an ungroomed mountain. As if that wasn't enough pressure, competitions are held at the best ski locations in the world where judges grade runs down a steep mountain, tracking the athlete's ability to complete the course without falling — all while pulling off tricks and jumps using nothing but cliffs and whatever else has naturally formed.
Following crashes at consecutive competitions and injuring his knee in training, Louis Overington of Skyline High School fell from a No. 3 ranking among American junior freeride skiers last year to barely squeaking into the Freeride Junior World Championships as the last skier admitted this year.
Overington had to change something or else he had no chance of gaining a top score.
It was then that Overington took what he was learning in his World English class on eastern philosophies and embraced a zen approach. The results are hard to argue with. He rebounded from his rough outing at last year's event to take third place in the world championshipsin) in Kappl, Austria, on Jan. 30.
"I've literally just been trying to turn my mind off at the top of the venue and just let my body do the run for me," Overington said. "That makes me less nervous and it helps me ski better."
The 17-year-old skier made a series of adjustments to his pre-run routine: Meditating for five minutes, breathing exercises and trading pump-up music like Wu-Tang Clan and 2-Pac for calmer David Bowie and Jack Johnson.
Overington said he learned in class how the more you worry about the end result, the worse the outcome will be. He found that stressing about what score he needed, how he'll ski and how the judges will grade him left him anxious. Those nerves were exacerbated by the music he was listening to, which he said caused him to "ski angry."
"In these comps, you literally have one chance to be in the right headspace, and then if you blow it, you blow it," Overington said. "Sometimes I have doubted myself when I haven't needed to, and with this whole thing I've been working on letting that stuff go and not even thinking about it, just being in the present. It makes it a lot more fun because that's kind of the point of all this, to have fun."
Overington comes from two parents who love to ski recreationally. So much so that his mom, Louise, skied while carrying him eight months into her pregnancy. His father, Bill, placed him in a backpack as a baby while going down the mountain until Overington was able to ski on his own at 2.5 years old.
When he began taking the sport more seriously and joined the Snowbird Sports Education Foundation team, he started winning competitions against older kids as soon as he was old enough to qualify at 11. Despite competing at a high level for the last several years, he hasn't lost sight of his love for the sport, or rested on his laurels.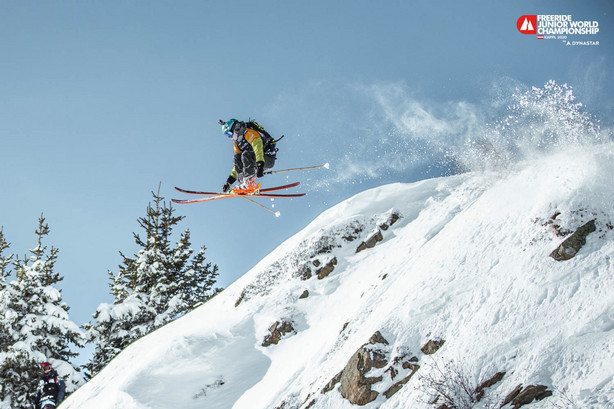 "Louis is one of the better skiers (at Snowbird and Alta) because he just likes to ski every day and chase his friends around," said Andrew Pollard, the No. 1-ranked member of the Freeride World Tour and one of Overington's coaches. "More than anything, that guy skis as much as he can after school every day and that's what makes you a good skier and the athlete he is."
Overington spends his summers in Alaska as a raft guide, and Pollard believes in addition to skiing five days a week in the winter, that also plays a large role in his ability to put his fears aside and do what he needs to finish runs on his feet.
"He's a kayaker, and I think that relates with a really good attitude on how to interact with the mountains on what you can and can't get away with," Pollard said. "He's got the best ability to find those limits — sometimes he goes past them — but to find the limit of what he's able to do as a skier."
That isn't to say Overington is completely comfortable skiing off cliffs on unfamiliar terrain. In American competitions, he's able to track the course with an inspection run to determine his plan and where to avoid. In Europe, however, it is different. The events have a similar feel to a high school football game and they want a backcountry feel with fresh snow for the graded runs, so competitors use binoculars from the bottom to make their plan and then hope they can find their way seeing it from the top.
"Oh yeah, it's terrifying," Overington admitted. At last year's world championships in KappI, he got lost on his planned course and crashed. "I ended up going 40 feet off of a cliff and double ejecting — losing both my skis and crashing."
Everything went well for him this year as he completed his run without any hiccups and wowed everyone from the judges to the commentators along the way. He picked a great route and nailed every move, including a big jump over a thicket of bushes that had the TV analysts in disbelief. He drew comparisons to his coach, Pollard, in his style and prompted the question: Is this Pollard in a younger person's body?
"I couldn't be more proud of how he skied it," Pollard said. "He chose a good line that was smart and within his ability to rip super solidly. I was stoked he was able to put it to his feet."
×