Estimated read time: 3-4 minutes
This archived news story is available only for your personal, non-commercial use. Information in the story may be outdated or superseded by additional information. Reading or replaying the story in its archived form does not constitute a republication of the story.
SALT LAKE CITY — The Salt Lake County Clerk's office opened its doors to voters Tuesday, marking the start of in-person voting for Utah's 2020 presidential primary election.
From Feb. 18 to March 2, registered voters can stop by the Salt Lake County government building between 8 a.m. and 5 p.m. if they wish to vote early.
Locations for early voting will expand Feb. 26 to include Draper City Hall, Murray City Hall, Riverton Senior Center, Sandy Senior Center, Trolley Square, West Jordan Library and West Valley City Hall.
Justin Lee, director of state elections, said the turnout for in-person voting is expected to be low.
"In the last few election cycles, early voting in person is fairly quiet since 90% of people are voting by mail at this point," Lee said.
But Tuesday was still a busy day for Salt Lake County Clerk Sherrie Swensen, who said that in addition to receiving scores of emails and calls, over 40 people stopped by the county offices to vote.
In Davis County, things were a little slower — despite opening at 8 a.m., nobody showed up to vote early. Brian McKenzie, chief deputy clerk, wasn't surprised, saying that since Davis County started mailing ballots, in-person voting has been in sharp decline.
"But there's definitely a lot of activity," McKenzie said, adding that his office has already received over 17,000 ballots. "There's a lot of excitement about this election and a lot of engagement from our citizens."
In Salt Lake County things are on par with past elections, although Swensen has noticed a spike in Democratic voters.
In January, the Salt Lake County Clerk's Office reached out to unaffiliated voters, asking if they wanted to participate in the election. Since then about 38,000 people responded, most of them requesting Democratic ballots.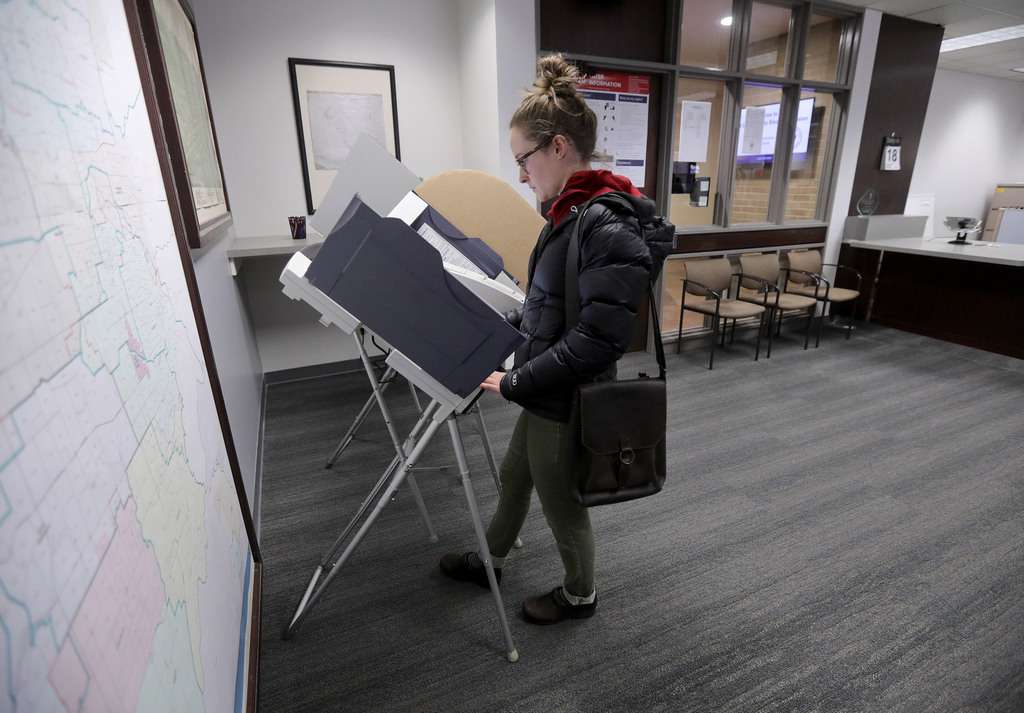 "I think there's more excitement about the (Democratic) contest because it's not a foregone conclusion as to who the nominee is," Swensen said.
The Democratic ballot will feature 15 candidates vying for the nomination. However, because ballots for people overseas or in the military need to be mailed 45 days in advance, some candidates that have since dropped out — like Cory Booker, Andrew Yang and Julián Castro — are still listed on the ballot.
Swensen urged Utahns to check vote.utah.gov before they vote to make sure they don't accidentally support someone who has dropped out the race.
The Republican ballot isn't quite as crowded, although it does include five candidates in addition to President Donald Trump.
While anyone can vote in the Democratic primary, those wishing to receive a Republican mail-in ballot had to register with the Utah GOP by Feb. 3, or can register in person at the polls.
If you haven't received a ballot in the mail, go to vote.utah.gov by Feb. 25 — the deadline to register — to make sure your information is up to date.
"We really would like to mail everyone a ballot who wants to participate in the election," said Swensen, adding that Utahns who haven't received a mail-in ballot can always vote in person.
×
Photos
Related stories
Most recent Utah stories