SALT LAKE CITY — On the night when Utah's former athletic director Chris Hill was honored, there was little drama on the court as the Utes beat the visiting California Golden Bears 60-45 to claim the team's second straight win.
Timmy Allen had a game-high 21 points and four rebounds and Riley Battin added 7 points and eight rebounds on the back end of a two-game home stretch for Utah (14-9, 5-6). Allen, who only had 5 points at the halftime break, kicked it into high gear late in the second half and scored 14 of the team's last 21 points to pace Utah to its largest lead of 19 points.
Allen has struggled to establish his offensive dominance in the last few weeks and has barely broken double-digit scores in the last five games. But against California, Allen finally hit his stride.
"I don't think it's what they do, I think it's what I do," Allen said Saturday night. "When I get to my spots and I'm strong, and I'm fully confident, I think it's what I do — I don't really think it's what the defensive team does. I was just more strong today, and just played without stress and played free, truthfully."
The Golden Bears (10-13, 4-6) struggled to get into a rhythm all night against the Utes, despite a pair of scoring droughts for the home team. California shot just 32% from the floor and had only one player in double figures in the loss — 13 points and seven rebounds for guard Matt Bradley.
The Utes built up its largest lead of the game in the second half, but allowed the Golden Bears to get within striking distance after an early scoring drought. Utah came out of the halftime break missing its first five shots before Allen scored on a transition dunk out of a media timeout.
Utah only managed 4 points in the first eight minutes of the half before the Utes went on a small run, which included making five of its next seven shots, to continue its dominance over the visiting California program. Utah's defense, which has limited teams' ability to score in the last few games, continued to keep Utah in games as the scoring droughts mounted.
"I think we've made some good strides in our pick and roll coverage — our bigs did a really, really good job. I thought our guards were solid, too," Utah head coach Larry Krystkowiak said. "I thought we made strides as a team, defensively."
California scored the first bucket of the game, but it was the only time the Golden Bears led on a night where they trailed by double-digits for much of the game. Still, the Golden Bears kept it relatively close early in the game as Utah's Brandon Carlson got into foul trouble midway through the half.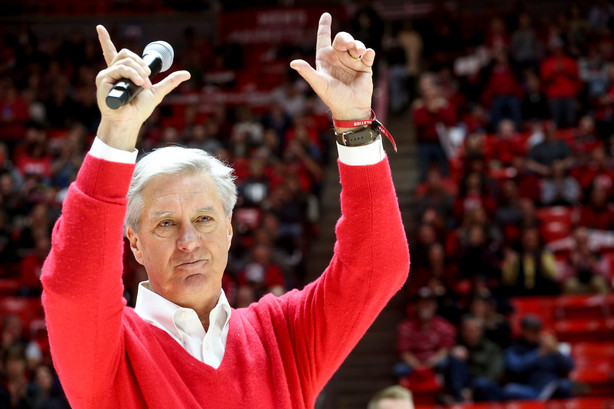 Carlson, who recorded a career-high eight blocks in a win over Stanford two days earlier, was forced to sit and watch, but that allowed Utah to go deep into its bench, which included Lahat Thioune, who scored 4 points and recorded three rebounds in Carlson's absence.
Thioune hit a buzzer-beating layup shot to close out the first half and to give the Utes its largest lead of 12 at the halftime break. Utah shot 48% from the field and had seven of its eight players that saw action score at least 4 points in the early half.
Utah was, again, without starting guard Both Gach, who has been sidelined due to an ankle injury that head coach Larry Krystkowiak called "weird" on Thursday night. It's the fourth consecutive game that Utah has been without Gach. Jaxon Brenchley, who finished with 6 points and two rebounds, got the start in his absence.
Utah honored Hill with several videos being played at timeout breaks from various coaches he hired and worked with in his 31 years as the program's athletic director. At the halftime break, the university unveiled a banner in the rafters with the No. 31 in between Andre Miller's No. 24 banner and Vern Gardner's No. 33 banner.
The Utes return to action Thursday against Oregon State in the first of a two-game road series in Oregon. The game will tip off at 7 p.m. MST and will be broadcast on the Pac-12 Networks.
×