Estimated read time: 6-7 minutes
This archived news story is available only for your personal, non-commercial use. Information in the story may be outdated or superseded by additional information. Reading or replaying the story in its archived form does not constitute a republication of the story.
PROVO — Jake Toolson was in a lot of pain.
Don't think that just because the BYU senior played all but four minutes of Saturday night's 81-79 win over Saint Mary's that Toolson wasn't hurting.
Midway through the first half, Toolson went down — for long and for hard — clutching his ankle as he rolled over it while driving the ball. Play immediately stopped. Replays showed a dislocating ankle not unlike the one Utah-born golfer Tony Finau suffered a year ago during the Par-3 Challenge at The Masters.
As he lay under the gaze of BYU basketball athletic trainer Rob Ramos and his medical staff, Toolson could barely stand to look at his foot. Really, he couldn't stand at all, as he leaned on teammate Wyatt Lowell while being carried into the locker room.
Don't think for a second that it didn't hurt.
But don't think for a second that he wasn't going to get back out there, if it was physically possible, either.
The former Western Athletic Conference Player of the Year at Utah Valley returned just moments later, and finished with 8 points, eight assists and four rebounds in the win.
"You'll never know what happened when I went underneath (the stands, into the locker room)," Toolson told BYUtv. "But whatever happened, it worked."
The Cougars are glad he came back, too. Beyond setting up his teammates, Toolson also had a block midway through the second half that may have been just as big as TJ Haws' game-winner or Zac Seljaas' game-sealing block and defensive rebound. Toolson hustled back in transition, faced a 3-on-1 and went up to swipe a shot away from Saint Mary's guard Jordan Ford before Yoeli Childs finished at the rim on the other end.
Instead of an 8-point deficit, the Cougars were down by 4 — all because of Toolson.
"The doctor said, 'You're going to pay for this tomorrow,'" said Toolson, calling the crowd of 15,212 one of the best he's ever seen in college basketball. "I think I did. But it was worth it to be able to help the team."
As important as Toolson was Saturday, imagine the Cougars' dismay when he didn't fully practice Tuesday before BYU departs for a road game Thursday at Portland (8 p.m. MT, KJZZ/Stadium).
Last year, he was one of seven players nationally rated 180-plus in field goal percentage, 3-point percentage and free-throw percentage, according to KenPom.com. Toolson shot 53.7 percent from the field, 44.8 percent from three, and 85.1 percent from the4 free-throw line, finishing fifth among 180 shooters.
And he's only gotten better in his second stint at BYU.
BYU coach Mark Pope couldn't give a definitive answer about Toolson's availability against the Pilots — he referred to it as day-to-day, without using those words.
But if Saturday taught BYU fans anything, it's that it will take a lot to keep him off the court.
"He's limping around, but he threw the football with me before practice," Pope said. "His arm is great — he was throwing a freaking laser."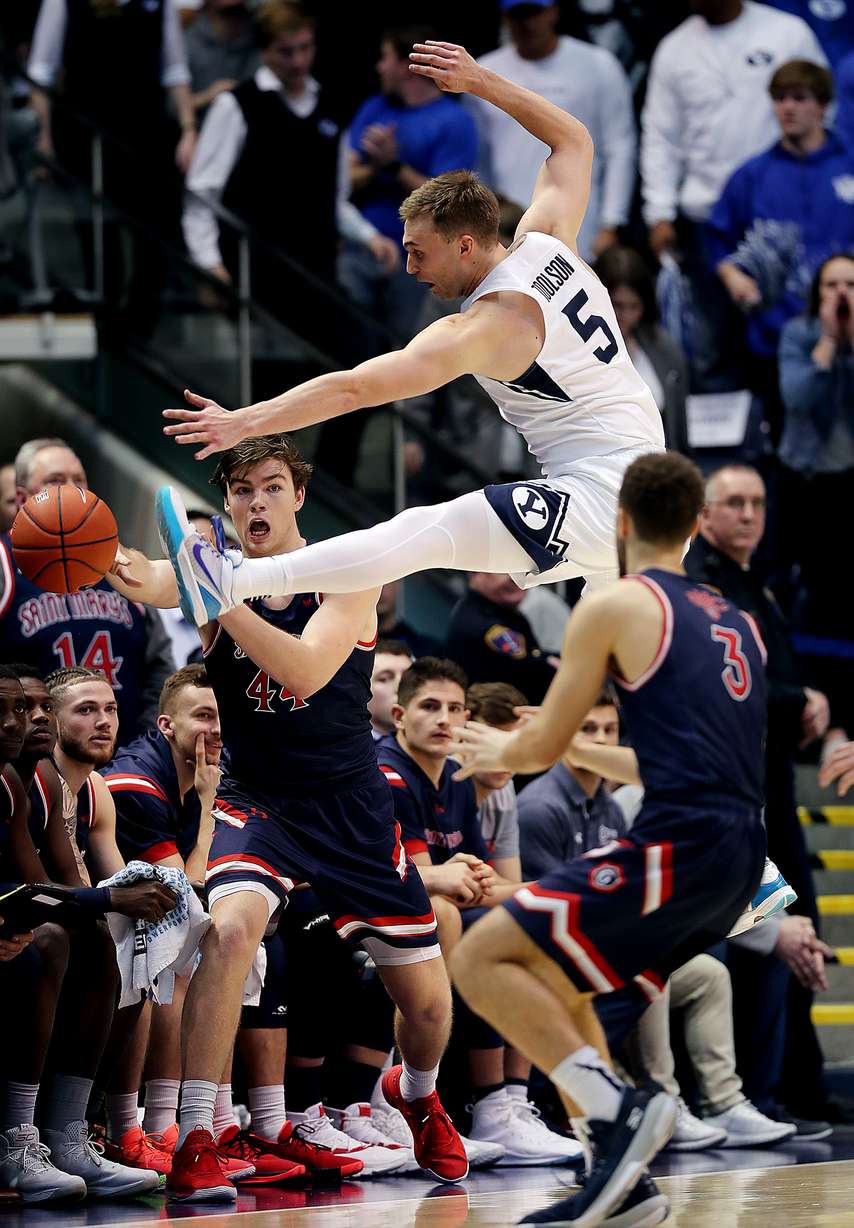 Through 24 games, Toolson has been arguably BYU's most consistent player — especially when taking Childs' various absences into consideration. He's finished with fewer than 7 points just twice — a 6-point, four-assist effort in a rout of UNLV, and a 5-point, five-rebound, two-assist win over Utah State. But even in those moments, Toolson showed the value of the 15.7 point-per-game scorer to simply do whatever his team needs him to do.
That may involve something beyond touching a ball before the Cougars' tip against the Pilots, who have lost eight of their first nine conference games, including a 96-70 loss in Provo.
BYU — projected into the NCAA Tournament field with as high as a No. 7 seed this week — simply has to take care of business the rest of their way to snap a five-year NCAA tourney drought. That includes handling teams like Portland (9-15, 1-8 WCC) and Saturday's opponent San Francisco, which edged the Cougars 83-82 on the Hilltop just two weeks ago.
New week, new challenge.
"We know that we can't take a break," BYU guard Alex Barcello said. "We're coming towards the end of the season, and obviously we have a set goal in mind of getting to the tournament and making a run. We've just got to quickly move on; it's a great win — we obviously celebrated afterwards in the locker room, and Sunday it kept going as well.
"But not we're approaching this week just like every other: it's going to be a battle, just like every week is, and we're ready to come bring it in both games."
Gav's back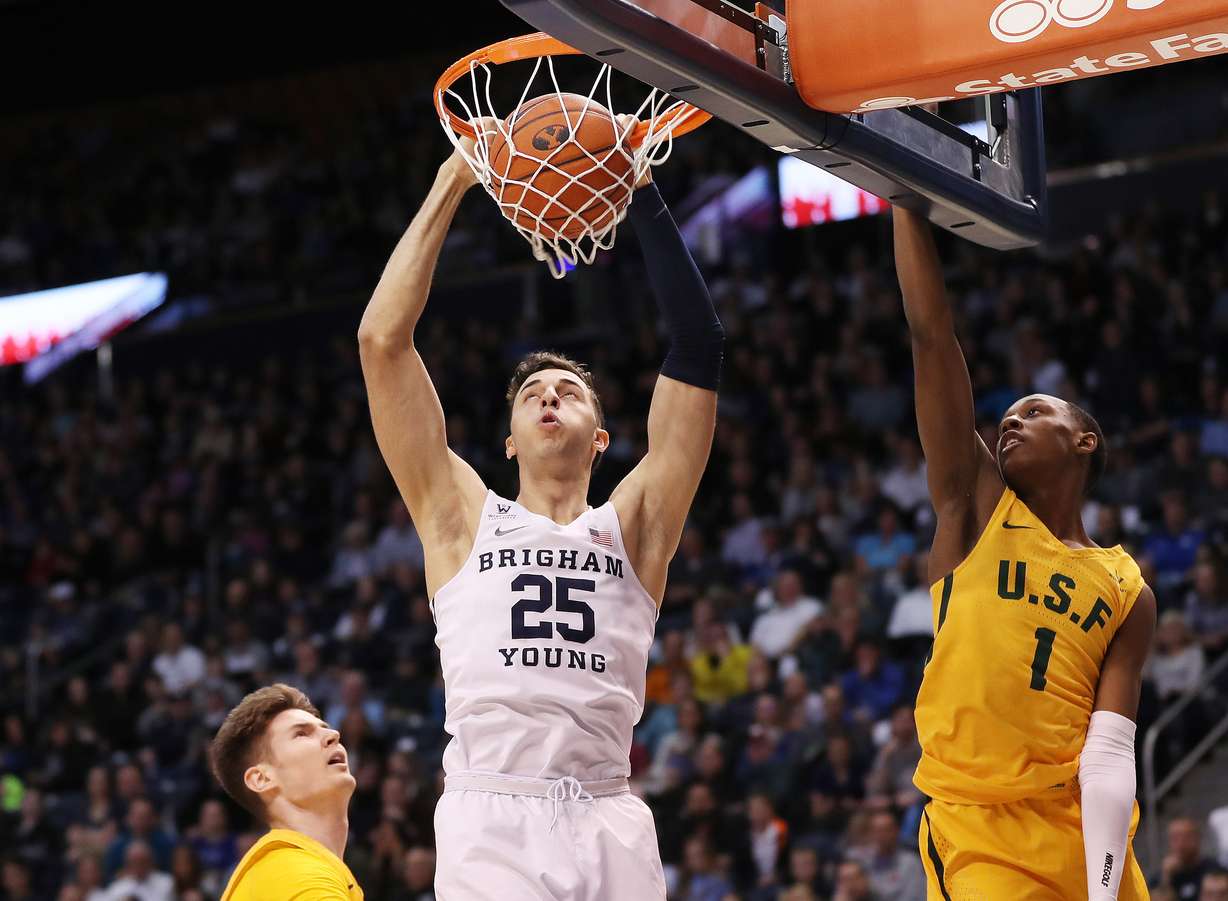 Gavin Baxter, the injured sophomore forward who suffered a long-term shoulder injury prior to the season, returned to the Marriott Center practice floor this week, donning a red non-contact jersey for most of Tuesday's practice.
Pope said the Timpview High product has been cleared to return to practice — but cautioned he may be a ways out from returning to play, depending on strength, conditioning, and other basketball-related plans.
But simply seeing him healthy was a relief to his teammates after Baxter missed the first three months of the season.
"It's amazing," Barcello said. "He's a very talented athlete and player, and we're happy that he's healthy right now and moving in the right direction."
But what did he eat?
Baxter was back, but BYU guard Connor Harding did not practice Tuesday. It wasn't about his injured knee, though.
Harding, who is on a modified practice schedule because of knee concerns, ate a bad meal recently — or at least, that's what Pope is hoping happened after the sophomore guard was found vomiting earlier Tuesday.
"You know these colleges kids eat some crazy stuff," Pope said.
How to watch, stream, listen to the game
BYU (17-7, 6-3 WCC) at Portland (9-15, 1-8 WCC)
When: Thursday, Feb. 6, at 8 p.m. MT
TV: KJZZ
Stream: Stadium (Barry Thompkins, Dani Klupenger)
Radio: BYU Radio 89.1 FM, KSL 1160AM/102.7 FM (Greg Wrubell, Terry Nashif)
Series: BYU leads 21-2
×
Related stories
Most recent BYU Cougars stories