Estimated read time: 4-5 minutes
This archived news story is available only for your personal, non-commercial use. Information in the story may be outdated or superseded by additional information. Reading or replaying the story in its archived form does not constitute a republication of the story.
PROVO — Two years ago, BYU basketball signed a scoring standout, the Gatorade Idaho player of the year from Highland High in Pocatello.
If you've forgotten about Connor Harding in the two years since signing day, it's time to get reacquainted.
The 6-foot-5 wing was a four-star recruit in high school, but fell off the radar — as do a lot of BYU athletes — while serving a two-year mission for The Church of Jesus Christ of Latter-day Saints in Atlanta.
The 2018-19 team is so far removed from Harding's recruitment that even the freshman's commitment was overshadowed by another player — Elijah Bryant, the former BYU wing now playing in Israel, who announced he was transferring to BYU from Division I Elon the same week as Harding's pledge.
But Harding is back, and reminding coaches — and fans — of the reason he was so highly regarded by head coach Dave Rose.
In a small sample size of just three games, Harding has been among the most impressive role players for BYU, coming off the bench to average 7.3 points, 3.0 rebounds and 1.3 assists in 18.17 minutes per game.
Whether it's scoring, rebounding or playing defense, Harding isn't concerned about filling a specific role for the Cougars.
"I can get some defensive stops, rebound, cut (to the basket)," he said after BYU's 82-57 win over Northwestern State. "Just make the right play and make the team better. That's what my role with the team is: whatever I can do to get us wins."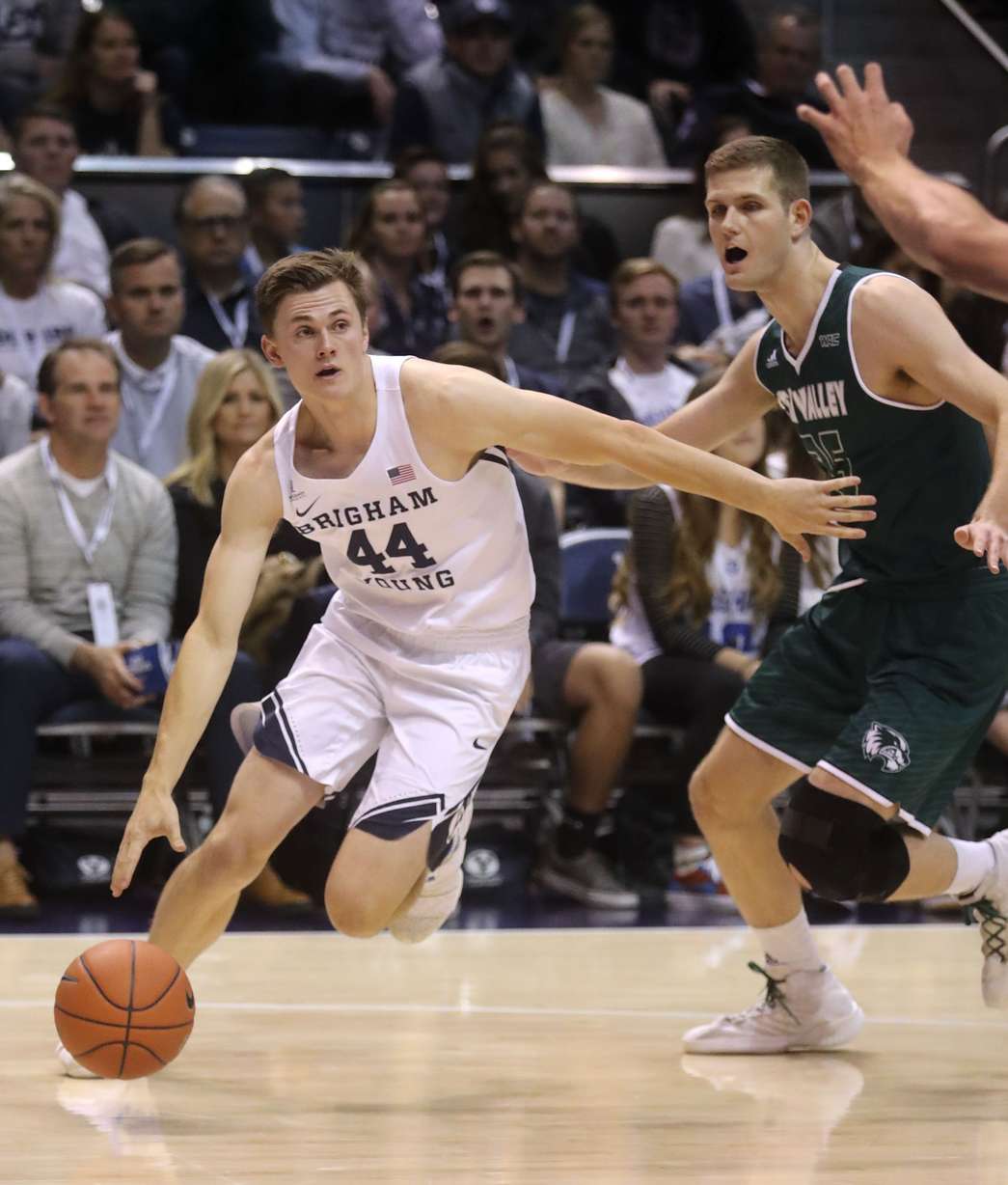 Alongside fellow freshman Gavin Baxter, the former Timpview High standout who returned from a mission in Washington, D.C., Harding is earning valuable minutes in the Marriott Center and quickly rising up the rotation.
"I think Connor's really starting to feel comfortable out there," BYU coach Dave Rose said. "You have three games, and he's playing something between 15-20 minutes. But the time he is on the floor is really productive.
"I think Gavin is having that same type of progress. Offensively, he doesn't have the effect that Connor is having. But defensively, in the post, he has the ability to execute our plan. Those two freshmen are really making strides."
BYU added three freshmen to last year's 2017-18 squad after losing key role players like Bryant. Kolby Lee, who returned from a mission early and gray-shirted during the latter half of last season, has averaged around two minutes per game in the first three games of the season.
But Harding and Baxter have taken their minutes and shined early.
"You have a handful of guys, and someone is going to take advantage of those opportunities," Rose said. "Fans forget about these kids when we sign them. But when we signed them years ago, we thought we had two really good players.
"After a couple of years off, they are getting their feet wet again, and I think they are off to a decent start."
The Cougars are in the middle of a six-game homestand, including three games this week. After Tuesday's win, they'll face Oral Roberts at 7 p.m. MST Thursday, followed by Saturday's 4 p.m. MST tipoff against Alabama A&M.
The games are part of the Men Against Breast Cancer Cougar Cup, which concludes next week with bouts against Rice and Houston. Labeled as a tournament by the NCAA, the Cup is held on campus sites and gives the teams involved a tournament-like rotation to prepare for potential postseason play.
"It's good, especially for the young guys to get in, then focus on a new team the next day," BYU forward Dalton Nixon said. "But it's a lot of fun, to just go out there and play."
It's a dream to play so much so early, Harding adds.
"That's a basketball player's dream: to have a game every single day," he said. "We're maintaining our focus on our scouting reports, and trying to bring it every single day. But that's what you want as a basketball player: go out, have fun and do what we've trained to do."
×
Photos
Most recent BYU Cougars stories