Estimated read time: 6-7 minutes
This archived news story is available only for your personal, non-commercial use. Information in the story may be outdated or superseded by additional information. Reading or replaying the story in its archived form does not constitute a republication of the story.
PROVO — It's hard to imagine anyone who had a better 24 hours than TJ Haws.
The BYU basketball senior heard his name chanted from a raucous Marriott Center crowd of 15,212 — a season high — as he walked off following an 81-79 win Saturday night over Saint Mary's.
It was a much-needed win, not only for the Cougars' NCAA Tournament resume, but also because it came on in front of a nationally-televised audience on ESPN2, a big moment in a tight spot against the second-biggest name in the West Coast Conference, a potential Quadrant 2 victory against a team that beat BYU in overtime a few weeks ago at its place.
Oh, and Haws, who had a team-high 23 points and just happened to hit the game-winner, a fall-back 15-foot-extra 3-pointer with 7 seconds left that gave BYU (17-7, 6-3 WCC) arguably its biggest win of the season — and certainly its biggest in league play.
But that wasn't even the best part. Immediately following the game, Haws jetted off to the hospital with his wife Lauren, who was scheduled to be induced and give birth to the couple's first child, a son named Tyson.
"Come on man; you can't make this stuff up," said teammate Yoeli Childs, who had 19 points and three rebounds on 9-of-12 shooting. "Before the game, I didn't want to say it to (Haws), but I was talking to Jesse Wade, and I said, 'How crazy would it be if he hit a game-winner?'
"You can't make it up. It's crazy, man. I don't even know what to say."
In four years at BYU, there's a first time for everything — Childs was held speechless.
But focusing on Haws alone only tells half the story of the Cougars' triumph in front of 15,000 of their closest friends. Important, yes, but not a complete story.
Take Childs, the 6-foot-8, 225-pound power forward who stunningly returned for his senior year for moments like Saturday.
"I remember my sophomore year (in high school), when he torched me in the state tournament. I committed here, and thought, 'I get to play with TJ Haws for four years; are you kidding me?'" Childs said. "I'm the luckiest dude ever. It's been an unreal journey, and I've loved every second playing with him."
There was Zac Seljaas, the former ace 3-point shooter who has transitioned his game — and his body — to becoming one of the Cougars' top post players (behind Childs, of course, and with all apologies to forwards Dalton Nixon and Kolby Lee).
Because after Haws' 3-point bucket, there was still 7 seconds left. The former Lone Peak star remembered when his older brother Tyler hoisted a jumper with 2.5 seconds left that gave BYU a 69-67 lead over Saint Mary's in 2013 — only to be stunned by Matthew Dellavedova's "Dellavedagger" at the buzzer that gave the Gaels a 70-69 win in Provo.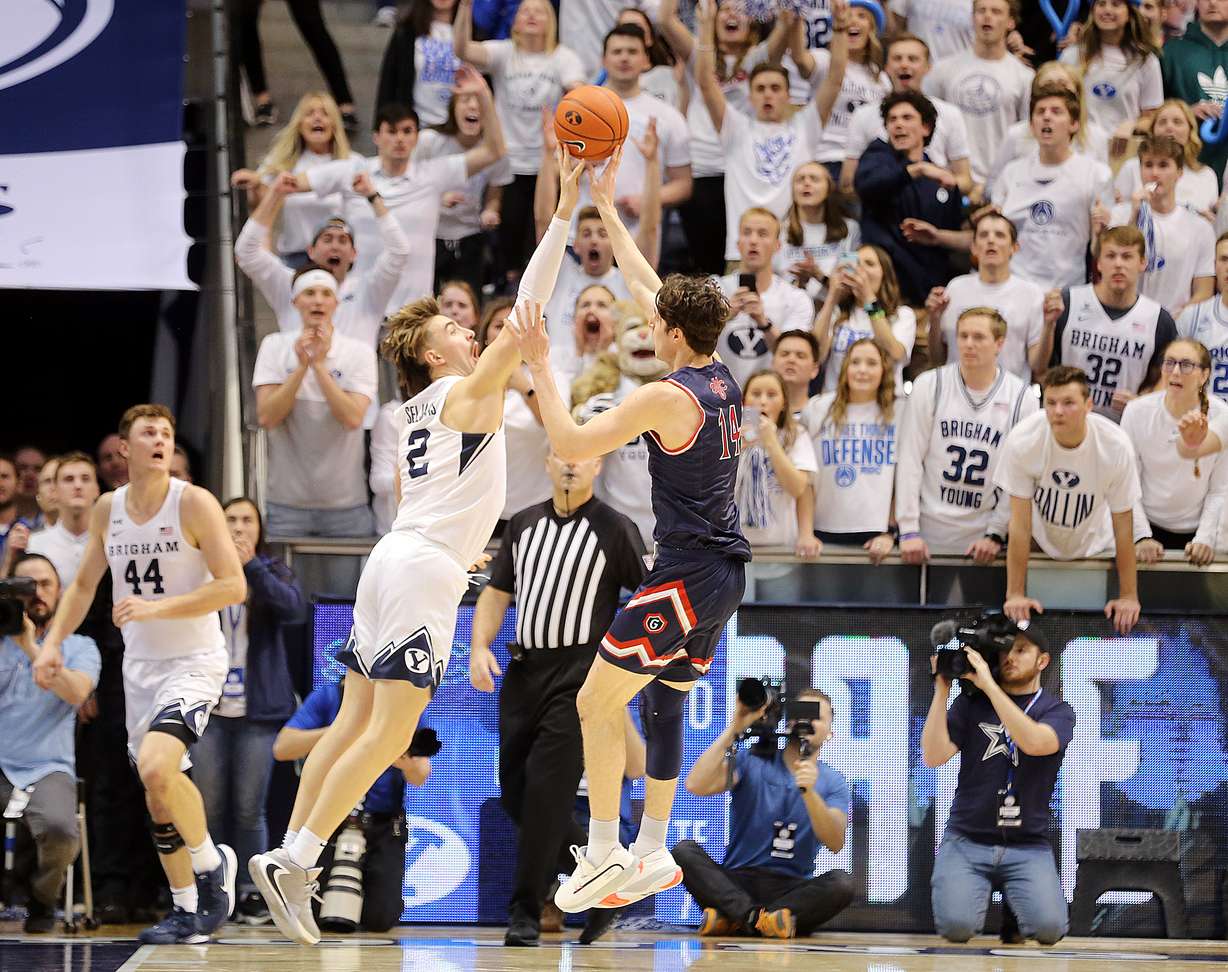 So instead, Haws ran straight back to play defense — and Seljaas worked his magic, with a tipped shot, a defensive rebound, and a last-second save against Jordan Ford and Kyle Bowen to preserve the win.
"Zac's a monster, man," Childs said. "His story has been crazy, from breaking his foot in the summer to changing himself for our team. We lose (Gavin Baxter), and he has to play the big. He puts on 20 pounds of muscle, and he just comes out and does whatever coach wants to get the win.
"When the game's on the line on the defensive end, we need him in the game."
BYU coach Mark Pope concurred with his star forward.
"As a freshman, who would've thought that we'd be subbing him in as a defensive stopper in a huge game — and that he would actually get it done?" he said. "And that's the beautiful thing about watching these players grow."
Add in Connor Harding, whose stat line will hardly stand out: 5 points, four rebounds (all on the defensive glass), an assist and two steals. But when the Cougars needed a stop, it was Harding who earned the call. The sophomore from Pocatello, Idaho, came off the bench to play 22 minutes, tied for a team-high 8 plus-minus (with Seljaas, no less), while guarding the Gaels' best perimeter players.
"If you put Connor Harding in a headline in the paper as the guy who won us the game, you're probably telling the truth," Pope said. "We couldn't stop anyone, but we'd put him in and it's unfortunate there aren't two of him.
"The defensive plays he made down the stretch with Fitts were huge. We couldn't get any stops, but he was chasing Jordan Ford all night long. He's tough."
There was Alex Barcello, who hit his own fair share of clutch shots, like 2 of 3 3-pointers en route to an efficient 8 points. Jake Toolson, who battled back from a first-half ankle injury and only missed four minutes of game time despite limping to the locker room draped across athletic trainer Rob Ramos and a pair of teammates, added 8 points, eight assists and four rebounds in his usual Swiss Army-knife way.
"It was so good to see him come back, but I wasn't surprised," Haws said. "That's the kind of dude Jake is — he's just tough as nails, and he brings it every single night. We needed him tonight, he came back, and gave a huge boost for us."
And then there was the crowd, including a student section that filled up an hour before tipoff and a near-sellout capacity that screamed and cheered and provided a real homecourt advantage.
"This is a tough place to play. It's a great place to play," Saint Mary's coach Randy Bennett said on postgame radio. "It's a great atmosphere … I don't know if there's any college basketball atmosphere better than the one we played in tonight."
Even if Saint Mary's had perhaps the best player on the night — Malik Fitts, who had 29 points, eight rebounds, an assist and two steals — the Cougars had the better team. They held Ford to 18 points on 7-of-16 shooting and kept the Saint Mary's players not named Fitts or Ford to 12 of 25 from the floor, and just two 3s.
For all the deserved mentions of Haws' game-winner and Childs' player of the year candidacy, the Cougars played team ball Saturday night.
And that's the biggest lesson Pope will take from a magical night in one Provo Marriott.
"I'm just so happy for these guys," he said. "They have been fighting for this for a long time. The standard here is so high. They've won a lot of games here, but they've been frustrated in being able to get to where they want to go at the end of the day."
×
Related stories
Most recent BYU Cougars stories