This archived news story is available only for your personal, non-commercial use. Information in the story may be outdated or superseded by additional information. Reading or replaying the story in its archived form does not constitute a republication of the story.
PROVO — Gabi Garcia Fernandez knew Friday night's tilt between BYU men's volleyball and No. 3 UC Santa Barbara was a big game.
So, too, is every game for the second-ranked Cougars. That's how they face every week, he said.
And Fernandez rose to the occasion — like he does every week.
Fernandez stuffed the stat sheet with 18 kills, 10 digs and four blocks, and Davide Gardini added 12 kills, nine digs and four blocks to help No. 2 BYU handed third-ranked UC Santa Barbara its first loss of the year, 25-16, 21-25, 25-21, 25-17, Friday night in front of an announced crowd of 4,692 fans in the Smith Fieldhouse.
"That's just what I do: I come out to help the team the best way I can," Fernandez said. "But I've got to still have a game tomorrow. Today is in the past … and we're looking forward to doing it all over again tomorrow."
Senior setter Wil Stanley dished out 42 assists with eight digs, and Zach Eschenberg supplied eight kills and seven digs for the Cougars, whose ninth straight win is the best start since opening up 12-0 in 2008.
Fernandez, who ranks No. 1 nationally with 1.00 aces per set, added three aces to move up to No. 3 in BYU program history.
And he did it all without committing a single hitting error, striking the ball at a clip of .529 to hand the Gauchos (6-1) just their second loss in Provo in the past seven meetings.
"They've got a nice record here in town, and we told the guys they would be one of the better serving teams we've faced," BYU coach Shawn Olmstead said. "They were definitely aggressive, but I like how we responded. Our ball control continues to get better and better."
Keenan Sanders had 10 kills for the Gauchos, who got nine kills each from Roy McFarland and Brandon Hicks and another 42 assists from Casey McGarry.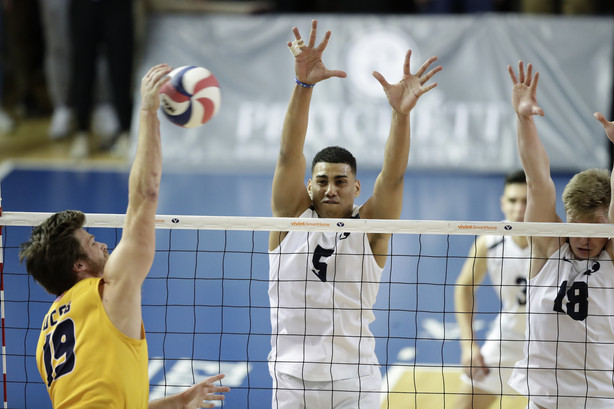 Back-to-back aces from Fernandez gave the Cougars a 15-10 advantage in the first set, their first big lead of the match. Freshman Jon Stanley then came off the bench to score two aces — and record an assist — to power a 6-0 spurt that stretched BYU's lead to 22-13.
Stanley, the younger brother of BYU's senior setter, finished with two aces.
BYU ended the set on a 9-3 run to claim the 25-16 win, hitting .538 with five aces and just two aces.
Ryan Wilcox pushed the Gauchos out to a 15-10 lead midway through the second set. But the Cougars came back, spurred on by the home crowd. Felipe de Brito Ferreira had back-to-back kills, and an ace by Gardini pulled BYU within 2, 15-13.
The Cougars could get no closer, and the Gauchos evened the match by holding BYU to just .185 hitting percentage in a 25-21 win.
Santa Barbara was scrappy in the second set — but the Cougars, in most ways, matched that scrappiness in the third.
"We told those guys that they needed to be balanced, willing to get a hand up, and not just use their balance. But those touches started at the net," said Olmstead, whose team outblocked the Gauchos 7-2. "Maybe it wasn't a typical BYU blocking night. But we got some touches, slowed things down, and that allowed our back row to do what they were doing. We've got to make some adjustments, but we knew their speed to the pins were the fastest we've seen, and that put a lot of pressure on our guys."
Fernandez gave the Cougars a 19-17 lead with his 15th kill of the match, and concluded the set with a 6-3 run to take a 25-21 win with consecutive shots by Gardini and Fernandez. BYU hit just .393 in the third set — down more than 100 percentage points from the first — but still sided out at a nearly identical rate of 81%.
The Gauchos couldn't recover.
"Every team should make a statement every week," said Fernandez, whose team will wrap up the two-match series with UCSB at 6 p.m. MST Saturday. "We're going to come out and beat you; that's our mentality.
"We've got to come out and put it on you guys, like we're No. 1 in the country."
How to watch, stream Saturday's match
What: No. 3 UC Santa Barbara (6-1) at No. 2 BYU (9-0)
TV: BYUtv
Streaming: BYUtv.org
Series: BYU leads 43-24
×
Related Stories