Estimated read time: 4-5 minutes
This archived news story is available only for your personal, non-commercial use. Information in the story may be outdated or superseded by additional information. Reading or replaying the story in its archived form does not constitute a republication of the story.
DENVER — Donovan Mitchell still has the box score from Utah's final game of last season.
The one where he went 4 of 22 as the Jazz lost Game 5 in Houston. He kept it to remember the disappointment as he walked off the court; to remember the tears he cried in the locker room.
"I said to myself, 'I'm going to do whatever it takes to come back and just be better,'" Mitchell said.
Nine months later, Mitchell's an All-Star.
Quin Snyder has always had the same advice for Rudy Gobert: control what you can. After Gobert was left off the All-Star team last year, Snyder called him to express support, yes, but to show how mad he was about the whole thing, too.
"A year ago, he called me pretty pissed," Gobert said.
But the same message was still there: control what you can and go get better.
On Thursday, the two shared a hug, as Gobert made his first All-Star team.
"What Donovan's had, and Rudy as well, is an All-Star mentality," Snyder said. "And when I say that, I mean, a real desire, the hunger. When you couple that with talent, you just continue to get better. And that's what those guys have done. It's not magic. It's not a gift. It's something you have to earn."
It was a special day for the Jazz organization. It's been 13 years since Utah has had two All-Stars and seven more since they had a pair when neither were an injury replacement. And it came via two players whose paths to NBA stardom haven't fit the usual scripts.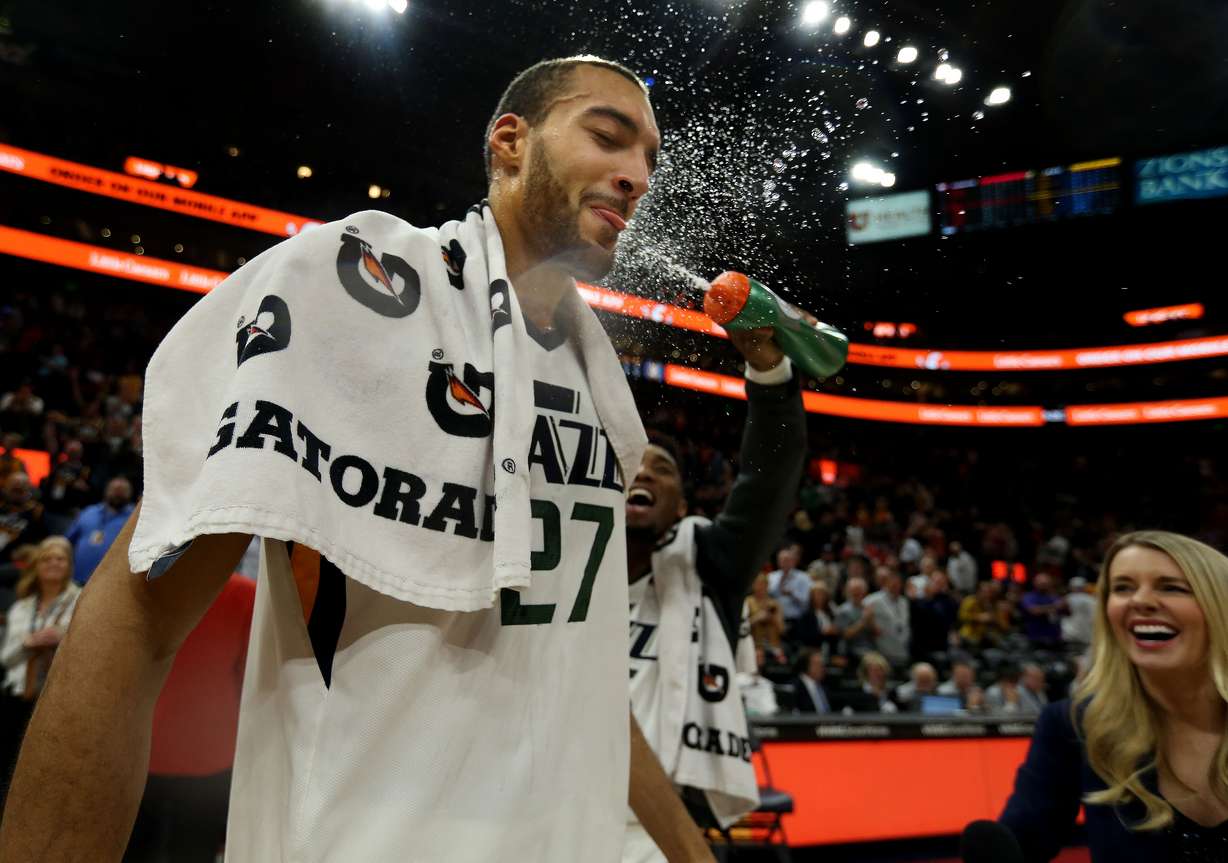 Gobert was the 27th pick in the draft, a long, athletic center that was considered by most a risky project. He didn't start playing basketball until he was 15. He wasn't a star in Europe. He was never supposed to be this good.
Mitchell wasn't a McDonald's All-American or even a surefire NBA prospect. He grew up dreaming of hitting home runs, not draining 3s. And he once questioned if he could even make it to the league, let alone thrive in it.
They've been overlooked, passed over, doubted. But they've persevered at every step. And now, they stand among the league's best.
Last February, Mitchell was shooting at a basket near a media scrum huddled around Rudy Gobert. He looked over and saw the weight of disappointment hit his teammate. There was Gobert, the intimidating and feared rim protector, breaking down as he talked about his mother and not being able to celebrate with her that he had made the All-Star team.
"You could feel it," Mitchell said. "You can definitely feel the passion behind it — of working so hard."
Gobert was laughed at and mocked for tearing up; for having the gall to show emotion about a game and person he loves and cares deeply for. But that was nothing new to Gobert. He's always had a brighter vision for himself than others have.
When he was a kid in France, Gobert was laughed at for saying he could be a professional player. Those laughs grew louder when he said he could play in the best league in the world. And louder still, when he said he could be a star in the league.
Those doubts fueled Gobert then. And they fueled him again last year.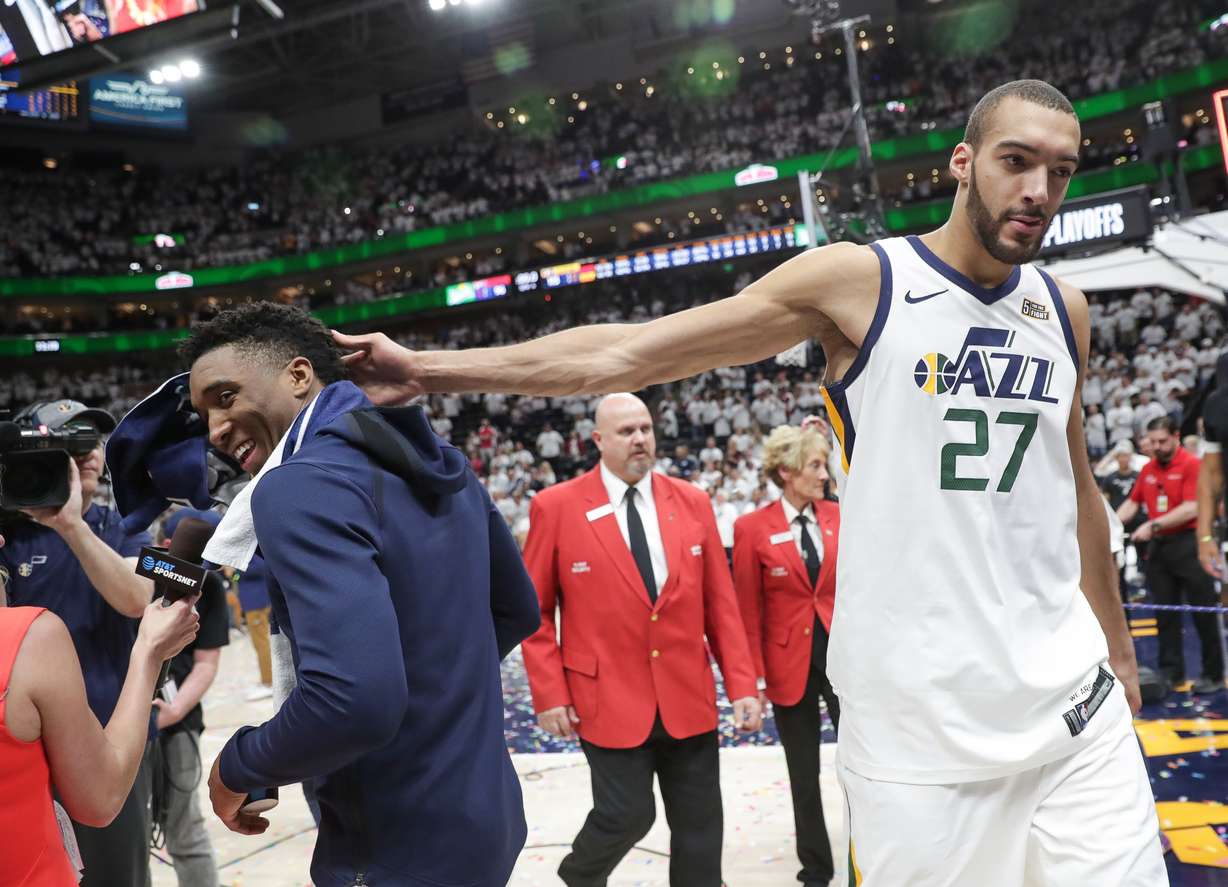 "I respect him because you can go one of two ways after last year," Mitchell said about his fellow All-Star teammate. "You can kind of let it hang over you and kind of let it really defeat you or do what he did and kick you right in the butt and he came back in and became an All-Star. I was really happy for him."
There was a letter waiting for Mitchell on Thursday evening. He opened it and read the first line with a smile: "If you are reading this, you're an All-Star."
It was from his mother, Nicole. She detailed all the times the two had shared car rides as they traveled across the East Coast to attend games, practices, and anything else. She chronicled all the sacrifices that he made to get to Thursday.
"She was describing the town we would go to practice on Friday, Saturday, or Friday night, just to come back Saturday morning," Donovan Mitchell said. "Drive about 45 minutes to an hour stuck in traffic, going back to playing the same weekend, going to baseball games, coming back, doing all that traveling between New Jersey, New York, Massachusetts — keeping everything in perspective and just remembering where it all started."
That's where it started, but Feb. 16 in Chicago is not where it will end for Mitchell or Gobert. It's a special accomplishment, one that Gobert said doesn't feel real quite yet, but playing in that game was never why he and Mitchell wanted to reach this kind of level.
Mitchell and Gobert want a happier reason to keep a playoff box score this time around.
"This isn't the end-all," Mitchell said. "This isn't the end goal. We have some really big plans for this season."
×
Related stories
Most recent Utah Jazz stories