OREM — TJ Washington will lead the Utah Valley men's basketball team into the UCCU Center in a Western Athletic Conference clash Wednesday night (7 p.m. MST, WAC DN) with Cal Baptist.
If history holds, he'll likely score — and score a lot; he currently averages 13.8 points per game, barely second on the team behind Isaiah Washington (14.0 ppg). He'll dish to his teammates, currently at a rate of 2.8 assists per game.
And if all goes well, he'll retire to the locker room as a winner, pull off his green-and-white jersey, and take a few days off while the Wolverines (9-14, 3-4 WAC) spend 10 days off until their next game, Feb. 8 at home against Seattle.
By Sunday, he'll trade in his Wolverine green for a very different color — Kansas City red. But Washington, who grew up in Tulsa, Oklahoma, didn't necessarily grow up a Chiefs fan.
He is now — thanks to former high school classmate and close friend Darwin Thompson.
The rookie running back from Utah State will play in his first Super Bowl at 4:30 p.m. MST Sunday (FOX), but 2,552 miles away, he'll have something more than a fan watching his every move.
"It doesn't really sink in, because I'll just be watching him with my teammates and I'll just see Darwin," said Washington, who met up with Thompson during the Wolverines' WAC game Jan. 4 at Missouri-Kansas City. "Even when I saw him in Kansas City, when you're so close to somebody that made it, you don't realize they are anything but your friend. It's amazing."
To Washington, Thompson isn't an NFL running back, or even a former Utah State running back who happened to go to school in the same state as the current UVU starter following two years at Northeastern Oklahoma A&M.
To Washington, Thompson is just a kid from Tulsa, a classmate who was a year older than the basketball standout who spent early mornings every summer running bleacher sets and auditioning for the NFL combine in the Jenks High weight room.
"Darwin was the hardest working dude I've ever seen," Washington said. "He's always working, always grinding.
"Ever since he was little, he said, 'I'm going to make the NFL.' He'd make combine numbers in the weight room, and tell himself he could do it. He bet on himself, and he could do it."
Even after high school, the Tulsa twosome didn't stray far from each other. While Thompson played two seasons at Northeastern Oklahoma A&M College, Washington was 56 miles across the Kansas border at Coffeyville Community College.
"TJ's been a homeboy since I can remember. He's a baller," Thompson said. "He's doing his thing at Utah Valley, and I'm glad he chose out there. … It was good to see him out there ballin'."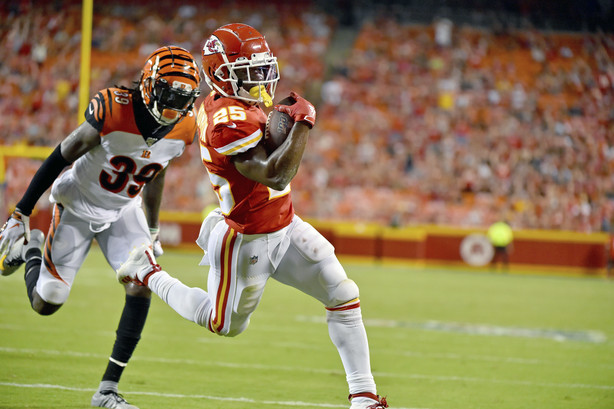 Two years later, the two were together again in the Beehive State, where the 6-foot Washington was helping Utah Valley to a school-record 25 wins in 2018-19 and Thompson was running for 1,044 yards and 14 touchdowns during the Aggies' 11-2 season in the fall. That sparked the 5-foot-8, 200-pound running back to declare early for the NFL Draft, where he was selected by the Chiefs in the sixth round before turning in a 128-yard, one-touchdown season while starring on special teams.
"A lot of people go four years, three years, two years, whatever it may be — and they don't get the chance to get drafted," Thompson said. "That's where I believe it was just a part of God's plan to leave school and follow my heart."
Utah helped build Thompson into what he is — and on Sunday, in the same state, Washington will be cheering him on, rooting in red for the hardest worker he's ever known — even if it were against the behest of his coach, Mark Madsen, a Stanford alum and longtime fan of San Francisco's Richard Sherman.
Washington has a good reason, though.
"It's crazy, man," Washington said. "Last year, I went to that Utah State game and he was the only person I knew in the state of Utah."
Contributing: Brandon Judd
×
Related Stories