This archived news story is available only for your personal, non-commercial use. Information in the story may be outdated or superseded by additional information. Reading or replaying the story in its archived form does not constitute a republication of the story.
SALT LAKE CITY — Former Utah State running back Darwin Thompson was selected No. 214 overall to the Kansas City Chiefs in the sixth round. of the 2019 NFL Draft in Nashville, Tennessee.
Thompson played just one season with the Aggies as a junior college transfer. The 5-foot-8 back rushed for 14 touchdowns and carried the ball 153 times for 1,044 yards, good for an average of 6.8 yards per carry.
Thompson's 6.8 yards per carry average ranked 13th in the country and first in the Mountain West Conference last season, helping the Aggies earn a record-breaking 11-win season. The running back was also dangerous as a receiver for the Aggies, hauling in 23 catches for 351 yards and two touchdowns.
Thompson has been an underdog since high school. The Tulsa, Oklahoma, native wasn't even a starter in high school, having to work to earn every carry he got. After not receiving any college offers, Thompson played two seasons at a junior college in Miami, Oklahoma. After recording 2,420 career yards and 17 touchdowns as a junior college back, Thompson transferred to Utah State for his junior year.
To add to his underdog story, Thompson wasn't invited to the 2019 NFL Scouting Combine after his standout season at Utah State. At Utah State's Pro Day last month, Thompson's numbers impressed NFL scouts.
The Tulsa native ran a 4.47 40-yard dash, posted 28 reps on the bench press and recorded a 39-inch vertical jump. The 28 reps would have been second-best among all running backs at the 2019 combine while the 39-inch vertical would have been third-best among running backs.
"I feel like I showed everyone that I'm one of the top guys in the draft," Thompson said after the Pro Day event.
Since the event, Thompson's name has been mentioned by NFL analysts and former players as a potential sleeper in this year's draft. Even former Jacksonville Jaguars star running back Maurice Jones-Drew complimented Thompson, saying he is "pure speed".
Thompson was the first Aggie picked in the 2019 draft.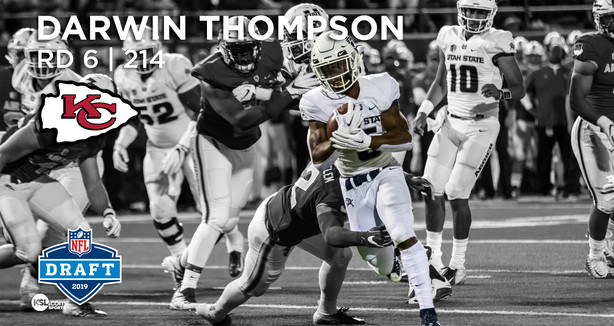 ×