Estimated read time: 3-4 minutes
This archived news story is available only for your personal, non-commercial use. Information in the story may be outdated or superseded by additional information. Reading or replaying the story in its archived form does not constitute a republication of the story.
SALT LAKE CITY — The lights went dark. The music stopped. And the fans — the heartbeat of Vivint Arena — seemed to hold their collective breath.
It was the silence before the silence.
Then a single shout.
"Kobe!"
A picture of Kobe Bryant and his daughter Gianna appeared on the arena screens, eliciting cheers from the Jazz crowd, before a video slideshow featuring some of Bryant's more famous moments.
And then, there were eight seconds of silence.
It was to honor the man that gave everything to the game and the man that was taken so shockingly Sunday, alongside his daughter and seven others, in a tragic helicopter crash.
Leading up to the game, the arena felt somber. Players had messages written on shoes, Georges Niang and Royce O'Neale strolled with shirts with Bryant's larger-than-life self on the front, and Jazz fans had created a vigil to Bryant on the J-note outside of the arena.
Basketball seemed to take a backseat. That's why Quin Snyder and Mike D'Antoni's pregame press conferences were both much shorter than normal. On this night, it just didn't seem right to talk about basketball.
"I wouldn't refer to it necessarily as a distraction, as much as reality," Snyder said of the challenges of playing the day after Bryant's death. "I don't think there is a lot that you can say or want to say. I think everybody understands the situation and you move forward, as difficult as that may be for a myriad of reasons for everyone involved."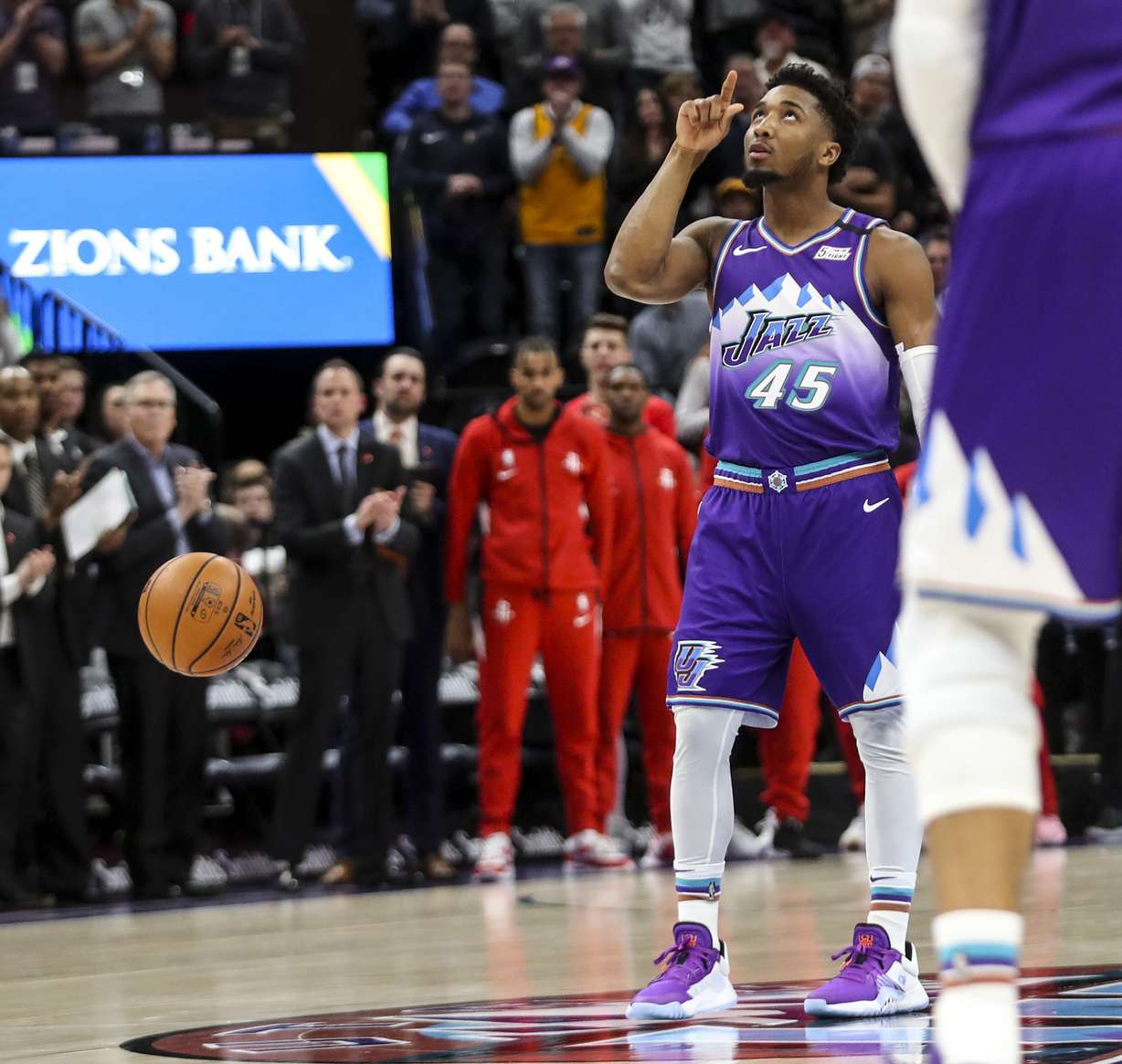 The game began with Mitchell dribbling just inside the half-court line, purposely dribbling out a 24-second violation. As he dribbled, the crowd rose to their feet and chants of "Ko-be," "Ko-be," "Ko-be" filled the arena.
Those chants continued as the Rockets took an eight-second violation — both violations to honor the numbers Bryant wore during his legendary career.
Mitchell then turned around and finished off the tributes by pointing to the sky.
It was an emotional scene. A show of respect from players and fans for a player that truly was larger than life.
"I think it was a no-brainer for us and Houston," Mitchell said. "It was a tough, tough day. It's going to continue to be a tough day, a tough week. I pray for his family, all the families involved."
"Those moments right there — being able to do something, to be able to contribute in some type of way, I think is huge. And I think we all can do it. It doesn't need to be holding the ball for eight seconds, whether it be a shoe or a shirt, whatever it may be. I think we all can do our part because he was a legend, not just on the court, but just as a human being."
An hour after the game, a group of fans stood in a half-circle around the fan-made vigil. They were silent, somberly starting at the jerseys, flowers, and candles that had been left to honor Bryant.
One man turned away before turning back to take one last look before walking away.
"He's a legend — he's a legend and we're gonna miss him," Mitchell said.
×
Most recent Utah Jazz stories