Estimated read time: 3-4 minutes
This archived news story is available only for your personal, non-commercial use. Information in the story may be outdated or superseded by additional information. Reading or replaying the story in its archived form does not constitute a republication of the story.
SALT LAKE CITY — For the second consecutive game, it was the Rylan Jones show as he led his team to a 76-64 victory over the visiting Washington State Cougars Saturday.
In back-to-back home games, the freshman Jones took the game into his hands and led Utah (12-7, 3-4) to a quality win over a Washington State program coming off a blowout loss to No. 23 Colorado. Jones weaved his way through traffic, drew fouls and hit clutch shots to earn the Utes another home victory and to give his team its first multiple game winning streak in Pac-12 play of the season.
Jones finished the game with a team-high 24 points, including a perfect 6-of-6 from the free-throw line, while adding four steals, three assists and two rebounds in the win.
Utah built up a 12-point lead at the halftime break, but Washington State (12-9, 3-5) quickly erased the lead on four 3-pointers over a 5-minute run, including three triples from the team's leading scorer CJ Elleby. The Cougars took a 1-point lead before Utah reeled off a 16-3 run to outpace the Cougars and to build up a double-digit lead that stay for the remainder of the game.
Elleby finished the game with 12 points and seven rebounds in the loss but was hampered by early foul trouble — he picked up his fifth and final foul of the game with 1:20 left on a Utah inbounds pass. Utah freshman Mikael Jantunen, who finished with 16 points and five rebounds, was switched to defend Elleby to add length and stop the scorer from becoming more of a threat late in the game.
"We had to start from the defensive end and just get our stuff together," Jantunen said. "And when we played good defense, it relates to the offense. And I feel like that was the focus point this week — just get back on track as a team."
The Cougars were led in scoring by Isaac Bonton, who finished with 21 points on 9-of-17 shooting but had little answers to combat a Utah team that locked in on defense and took away open looks.
Utah opened up the game slowly and trailed by as much as 9 points midway through the first half as Washington State took control of the game with a stringy defense that made it hard for the Utes to get open looks. The Cougars outshot the Utes early and were a perfect 3-of-3 from the 3-point line.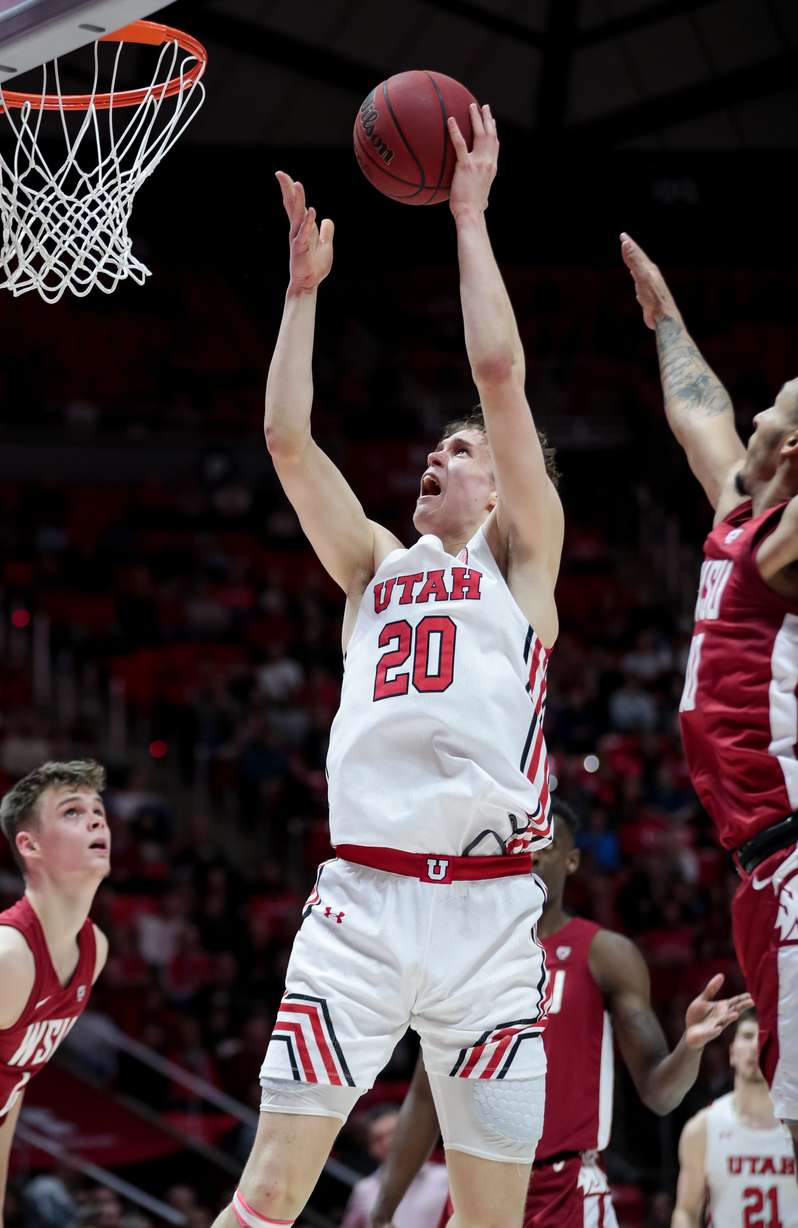 But Utah used an 18-2 run in the final 5:45 of the first half to take a 12-point lead into the locker room.
"It was that kind of weekend where we were getting punched in the mouth a little bit, got on some runs, but fortunately we made enough favorable runs on our part," Utah head coach Larry Krystkowiak said. "I thought the defense was really solid, with the exception of them lighting it up (in the second half)."
After starting perfect from 3-point range, Washington State went ice cold and missed their next 12 attempts and failed to work it into the paint successfully against a clamped down Utah defense. Meanwhile, Utah took advantage of Washington State's cold streak from three and used a pass-heavy offense to split the defense and get to the free-throw line.
Utah returns to action on a two-game road trip to Los Angeles, where they'll take on the USC Trojans on Jan. 30 at 7:30 p.m. MST in the Galen Center. The game will be broadcast on FS1.
×
Most recent Utah Utes stories