Estimated read time: 6-7 minutes
This archived news story is available only for your personal, non-commercial use. Information in the story may be outdated or superseded by additional information. Reading or replaying the story in its archived form does not constitute a republication of the story.
SALT LAKE CITY — The first-ever student safety summit at the University of Utah started on a somber note, with a moment of silence to remember "individual students lost on our campuses," said U. President Ruth Watkins.
Watkins said the event, convened by the Utah System of Higher Education, was a first for the state of Utah.
Friday's event included a keynote by Dr. David Reetz, president elect of the Association for University and College Counseling Center Directors and numerous breakout sessions that included the voice of students and discussions about mental health issues, campus public safety, Title IX, equity and healthy relationships, among others.
"All of our institutions, all of our campuses and all of us individuals have experienced acts of violence on our campuses. We have experienced suicides. We have experienced students with mental health concerns and we have experienced loss of life," said Watkins, asking attendees to take a moment to reflect on the issues at hand and the affected students.
Watkins said student safety is a top priority at the U.
Following the slaying of student athlete Lauren McCluskey in 2018, the university implemented multiple initiatives to enhance safety, including the hiring of a senior-level chief safety officer and a new police chief, clustering evening classes in quadrants, and serving those areas with security patrols and courtesy escorts and transportation options that include an on-campus on-demand ride service.
McCluskey, 21, was shot and killed near her campus dorm by 37-year-old Melvin Rowland, a convicted sex offender who was on parole at the time. The two had dated, but McCluskey ended the relationship after she found out Rowland had lied about his name and age.
Her parents later filed a $56 million lawsuit against the university alleging campus police and housing officials ignored their daughter's multiple reports of stalking, abuse, intimidation, dating violence and other behavior prohibited under Title IX.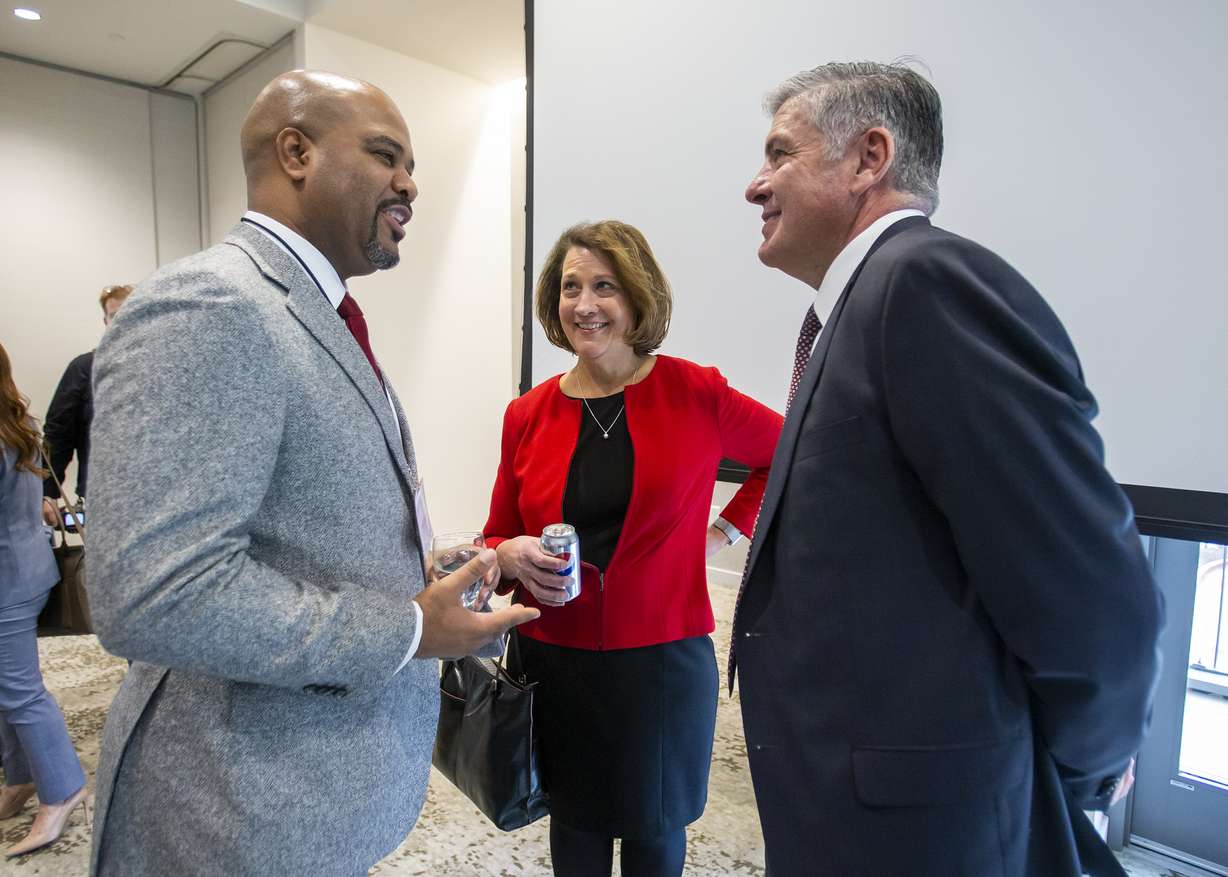 Watkins said the changes at the university are tantamount to "changing a culture, really creating a culture of safety on our campus in everything we do."
"This is not an easy journey. This is not a fast journey, but it is a very vital journey," she said.
The changes are a "continuous improvement effort. I don't think we'll ever be done but we'll continue to improve. We are far better off than we were a year ago, and a year from now we'll be better still," Watkins said.
Reetz, director of counseling and psychological services at Rochester Institute of Technology, told attendees that growing numbers of college students report that they are sad, lonely and anxious, according to results of national college health assessments.
Other instruments, such as UCLA's Incoming Freshman Survey, show fewer youth obtain driver licenses, hold part-time jobs, date or even hang out with friends compared to previous generations. Participation in youth sports is also on the decline.
When students have few face-to-face social connections, they do not have opportunities to interact with others, learn to engage in conflict or to reconcile with one another.
"That's what we're losing more and more of, the ability to navigate those situations," Reetz said. Consequently, face-to-face conversations "feel scary."
When youth are socially anxious, they don't engage, which can lead to isolation and depression and academic challenges.
Educators need to be aware of the prevalence of social anxiety and the expectations of college classrooms, and strive to create environments where students can succeed, he said.
All college classes require some level of social interaction, which can be highly difficult for students who struggle with social anxiety. If they are two minutes late to class, they may just skip the class instead of walking into a room when people are already seated because of their anxiety.
Anxiety is affecting graduate students as well, Reetz said.
A recent international study of 2,300 students seeking master's and doctorate degrees who underwent mental health screenings showed 41% experience moderate to severe anxiety. The rates were similar for depression.
By comparison, just 6% of the general population experiences severe anxiety and depression.
"There's something that happens in higher ed. It's the demands. It's the pressure. It's the social expectations," Reetz said.
Friday's summit also served as a welcome to the University of Utah's inaugural chief safety officer Marlon C. Lynch. Previously, Lynch was senior vice president for campus services and safety at New York University.
Related:
Lynch said one of his immediate objectives is to engage students and the larger campus community in fully implementing numerous safety initiatives set into motion following McCluskey's murder.
When he applied for the position, Lynch said he found the U.'s commitment to make meaningful changes "was very attractive for me to see as a candidate" because many large organizations are not nimble enough to quickly implement new practices or policies.
Lynch said administrators left some changes to the new public safety leadership. "There's some things that are needed right away, with regards to opportunities for a public safety advisory committee that would be comprised of students, faculty and staff, and health science leaders," he said.
His overarching goal is to implement best practices, ensure officers are well trained and considered part of the university community.
"There has to be trust that's involved. There has to be knowledge of what and how we can be a resource, and that we're not just there to tell them (students) what they cannot do. It has to be, 'We're here every day. Let's look just like they are, part of the community,'" he said.
Lynch said college campuses are communities unto themselves that have unique dynamics.
"I think our student enrollments is 33,000 and you look at the health system that's here, I'm not sure the statistical data on how busy that is on a day-to-day basis, but it's a pretty significant amount of people that are that are here all the time," he said.
Beyond that, hundreds of thousands of people visit the campus each year for sports, arts and community events.
The university is also home to students, some as young as 17 years old who are living away from home for the first time.
They're learning to be independent "but at the same time, those life experiences that they're confronted with can be a little overwhelming at times. That's why I think it's important for the role of, you know, public safety and student affairs to have that day-to-day engagement, not just when there is a critical incident."
Board of Regents Chairman Harris Simmons announced that all eight of Utah's colleges and universities will be participating in a JED Campus program to support student mental health and well-being. JED is a nonprofit focused on emotional health and suicide prevention for the nation's teens and young adults.
The initiative was made possible with funding from the J. Willard and Alice S. Marriott Foundation, Simmons said.
JED Campus guides participating schools through a four-year process intended to build upon existing student mental health, substance abuse and suicide prevention efforts.
The evidence-based program has been implemented at more than 290 colleges and universities nationwide but Utah is the first state to participate systemwide. The program supports the Board of Regents' mental health recommendations, which were revised last year.
"The Utah System of Higher Education is fully committed to developing solutions for our campuses in the areas of student mental health and well-being," Simmons said in a statement.
"We are appreciative of the commitment from the Marriott Foundation and look forward to utilizing the resources and expertise of JED in the years to come in supporting our students statewide."
×
Related stories
Most recent Education stories