Estimated read time: 6-7 minutes
This archived news story is available only for your personal, non-commercial use. Information in the story may be outdated or superseded by additional information. Reading or replaying the story in its archived form does not constitute a republication of the story.
GRANTSVILLE — Danny Haynie knows there will always be trials in life. But they are short in the overall picture of God's plan.
That's why Haynie said he chooses to be inspired by the joyful memories of his mother and three siblings who were tragically murdered in their own home, allegedly by his 16-year-old brother, rather than dwell on the sorrow.
"A trial won't change the good times and memories we had," he said, speaking at his family's funeral. "Families are eternal. And that's what's going to keep us going."
Haynie shared his memories Friday during services at the Grantsville Stake Center for Consuelo Alejandra Haynie, 52, Alexis Haynie, 15, Matthew Haynie 14, and Milan Haynie, 12.
The family was laid to rest one week after each was shot as they arrived home from school or work over a four- to five-hour period. Colin Jeffery "CJ" Haynie, 16, allegedly shot his mother and some of his siblings multiple times. He was charged Thursday with four counts of aggravated murder and one count of attempted aggravated murder for allegedly shooting five members of his family, killing four of them.
While at times emotional with many people wiping away tears, there were also moments of laughter during the 90-minute service Friday as the surviving members of the Haynie family, along with several friends and relatives who were asked to speak, recounted fond memories or funny stories of their loved ones while at the same time acknowledging that their faith and its teachings that families will be reunited in the afterlife have kept them going.
Family members also expressed love for CJ.
"We love him. We all want the best for him," Danny Haynie said at Friday's funeral, marking his first public comments since the tragedy. "He'll always be my brother."
Family, friends and members of the community filled the church meetinghouse, the overflow area, and some even stood in the hallways. Both adults and school-age children filled the room. Alexis' teammates from Grantsville High School's junior varsity soccer team wore their team jerseys in her honor.
A table was set up in the lobby with family pictures and other mementos, such as drawings from one of the children and a volleyball used by Milan.
Related:
Trays of cookies and other treats were set up throughout the church in honor of the mother who loved to bake. Several times during the service, speakers mentioned how Alejandra Haynie was renowned for her cooking.
The audience stood as four caskets were wheeled into the chapel, followed by Colin Haynie in his derby cap, Colin's parents, Danny Haynie, and other relatives.
Bishop Kory Clark of The Church of Jesus Christ of Latter-day Saints became emotional as he talked about the messages of condolence and support he has received.
"What a blessing it has been to see how much love we have for one another," he said, while also noting that love will help everyone get through the tragedy.
Danny Haynie concurred, "Your thoughts and prayers have kept us upright."
He then shared brief memories of his mother and siblings.
"They're such strong people. They loved life. ... They just genuinely enjoyed everything they did," he said.
Milan was sweet looking but "tough as nails," and emulated the strengths of the superheroes she loved, he said.
Matthew was a big "Star Wars" fan. Haynie said he also loved playing the video game Super Smash Bros. with Matthew, but both of them liked being the same character, Kirby.
"One day when I see them again, we'll have our rivalry again," he said lovingly of his brother.
Alexis had a "quiet confidence" about her, the older brother said. He said he also had a special bond with Alexis and looked forward to receiving texts from her after every soccer match, win or lose.
---
What a blessing it has been to see how much love we have for one another.
–Bishop Kory Clark
---
Before talking about his mother, Haynie talked about his brother CJ, saying it felt like the family had also lost a part of him. But he said he wanted CJ to know how much he loves him and he still wants to be there for him.
When speaking of his mother and her cooking skills, Haynie said he had always envisioned her telling celebrity chef Gordon Ramsay "what to do."
Haynie ended by saying that the good days triumph over the hard ones, and that his family will one day be reunited.
Others asked to speak about Alejandra Haynie and her children included a soccer coach, youth church leaders from their ward, and schoolmates.
One remembered Alejandra Haynie as a "mama bear" who did everything for her children.
Milan was described as a "fierce ninja," again reiterating how tough she was despite her innocent looking face.
Alexis was a great artist, her best friend said. Matthew was an impressive chess player, according to one of his friends.
"These siblings love each other fiercely. They took care of each other always," said a woman who attended a church youth conference with them.
When Colin Haynie, father and husband of the deceased, went to the podium to speak, he said he had been trying for days to come up with something to say, but the only thing that came to him were "a lot of feelings."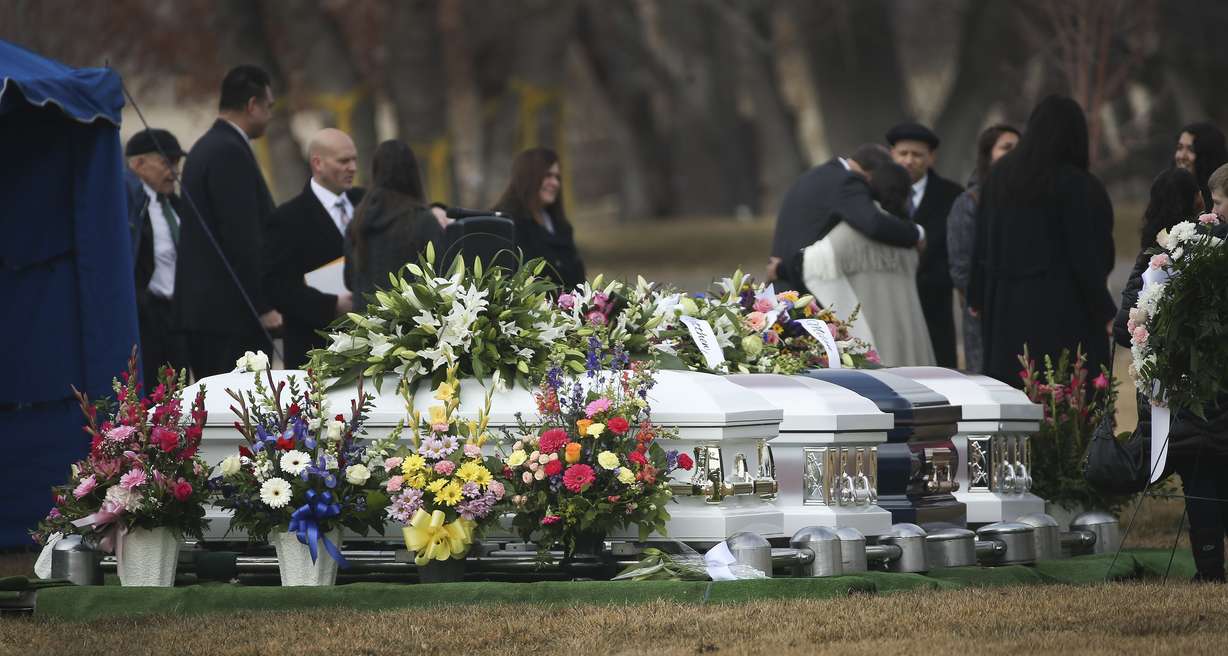 "Initially this felt like a hard thing for my family," he said.
But then Haynie said he saw the community support. He saw people tying yellow ribbons around trees leading to the cemetery. He saw the vigil held for his family and the comments that were given. He saw the extraordinary turnout for his family's funeral.
"This is not just a family matter, it is a community matter," he said. "This community has been so good to our family."
That's why Haynie said the pallbearers picked for the four caskets each represent different parts of the community, whether they were friends on his children's sports teams, or people they knew at church or at school.
Colin Haynie admitted his emotions have been "up and down" for the past week. But he said he has realized that he doesn't have to focus on the "bad thoughts and feelings. I can remember good thoughts."
He said his mother taught him as a child when they attended funerals that a person's body is not the same as before, but their soul lives on.
"This does not change my faith one bit," Haynie said of the tragedy. "I know that God lives."
He told those who may be questioning if they "should've" or "would've" done something that might have prevented the horrific events, to not dwell on that.
Moving forward, Haynie said he set personal goals at the beginning of the year with his children from the youth program of The Church of Jesus Christ of Latter-day Saints.
"I intend to work on my goals," he said, adding that his wife and children will be watching him and encouraging him.
President Jason Killian, president of the family's Latter-day Saint Grantsville Utah Stake, said Thursday that what happened may never be completely understood.
"There is so much about this that we may not ever understand. There are no simple answers," he said. "But through the power of Jesus Christ, we can choose what that change inside us becomes.
"Peace, hope and light are possible regardless of the surrounding circumstances. We can choose to love with sincerity, show concern for our neighbors, serve one another, mend relationships, deepen our faith and keep our covenants. These changes need to go beyond this week and this sorrow, to become a deeper part of who we are and how we live together."
Interment was held at the Grantsville City Cemetery.
×
Related stories
Most recent Utah stories