Estimated read time: 5-6 minutes
This archived news story is available only for your personal, non-commercial use. Information in the story may be outdated or superseded by additional information. Reading or replaying the story in its archived form does not constitute a republication of the story.
SALT LAKE CITY — Mike Conley has been described as many things over the course of his long NBA career: a bust, underrated, overpaid, a game manager, a conductor.
If you ask Conley, though, he's OK with them all; or at least, he's OK with who he is.
"I'm confident in what I do," Conley said. "I'm all of what they say. If you say I'm a game manager, or a scorer, or pass first — whatever they want me to be, they can have it. Because I'm comfortable with who I am."
Public opinion of the point guard has been all over the map since he entered the league in 2007 as the No. 4 overall pick in that year's NBA draft. He was drafted to be a franchise guard — and then was later called the worst starting point guard in the game by some national outlets. He was called overlooked —and then every time he signed a new contract, articles popped up wondering if Conley was really worth that kind of money.
Through all the praise and doubts, he led Memphis to multiple postseasons, including a run to the Western Conference Finals, and became a beloved franchise icon in the process.
The next challenge: making the Utah Jazz fan base — especially the faction that has come to believe the Jazz are better without him — forget about a poor first week.
"Trust me, this is nothing to have pressure from outside and fans, whether they think I'm worth it or not," Conley said. "I've been fighting that my whole life."
Conley will be the first person to tell you he didn't make the best first impression in Utah. In his first week, he had games where he shot 0-of-7, 3-of-11 and, of course, his infamous 1-of-16 debut.
With that start, it didn't seem to matter that Conley averaged 18.7 points, 3.9 assists and shot 43% from 3-point range over the next seven games as the Jazz rolled off wins against the LA Clippers, Milwaukee Bucks, Philadelphia 76ers and Brooklyn Nets; or that the Jazz's starting lineup featuring Conley outscored opponents by nearly 16 points per 100 possessions.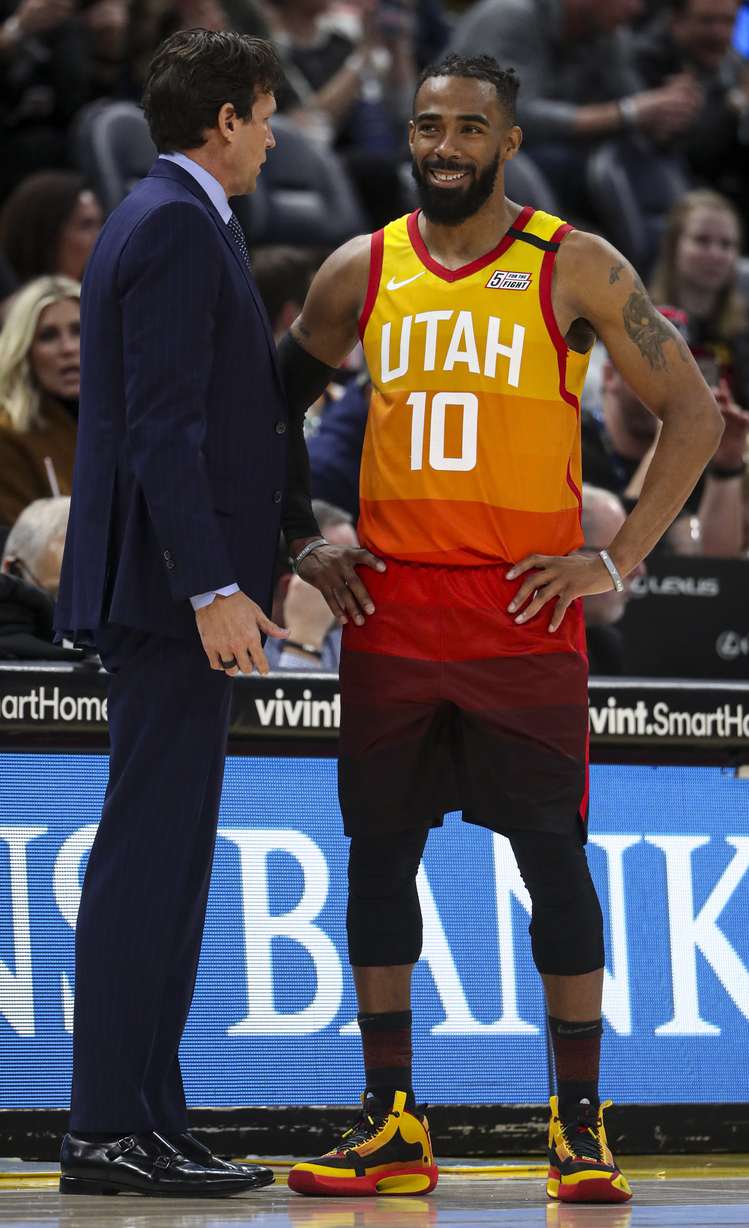 The narrative had already been set: he was struggling to fit in with the Jazz offense. And when the Jazz ripped off win after win as he recovered from a strained hamstring, that was all some needed to confirm that Conley wasn't needed.
First impressions seem to hold up. How an athlete plays in the early parts of his career, or at the start of a season, can help dictate the story surrounding them for months or even years.
Last season, Donovan Mitchell struggled to start the year as he worked his way back to health. In the final 44 games of the season, though, he averaged 26.5 points and 4.8 assists while shooting 41% from 3-point range. But, still, some of the national talk about Mitchell following the season was about how he took a step back in year two.
"If people want it to be a certain thing, they are going to make it a certain thing," Mitchell said. "There's nothing we, as players, can really control — we just go out there and do our job. If you go out there and try and change the narrative, you are starting to change how you play, starting to change your whole routine, just to try and prove this one thing."
It's part of being in the NBA. Stories happen.
One year, Mitchell was viewed as a future star; the next he's seen as going through a perceived sophomore slump. This season, with Mitchell on the cusp of being named an All-Star, it's clear which story was right.
"As a former fan, I understand that's the NBA — that's just sports," Mitchell said. "It's an entertainment business and people like to make stories and create things because it drives and sells, but I think that's what makes sports fun."
Related:
Mitchell shrugs at the outside perceptions of him, his teammates and his team — mostly because they aren't all that correct. Mitchell isn't a volume scorer like he was painted at times last year; Rudy Gobert is more than just a rim protector; Conley makes the Jazz better.
"It's an external perception that's usually grounded in something, but it doesn't always reflect day-to-day reality," Jazz head coach Quin Snyder said. "It doesn't take into account improvement and growth, either."
Players get better, teams become more cohesive units and, like in Conley's case, players get more comfortable.
"We need him," Gobert said. "Like I keep repeating: If you want to go as far as we want to go, which is winning a championship, he's a key piece of what we do."
He keeps repeating it because, oddly enough, the question keeps coming up. But Conley, who is averaging 8.3 points on 52% shooting in limited minutes since coming back from injury, knows that after missing more than a month he gets a chance to make a second first impression.
"Going through a lot that first half that a lot of people don't see," Conley said. "They don't see what you are dealing with at any point in your career. The second half is important. That's why I'm here to try to make a run in the playoffs and play into June. That's why it's a long year. People will forget about the first few months if you do what you're supposed to do on the back end."
×
Related stories
Most recent Utah Jazz stories