Estimated read time: 6-7 minutes
This archived news story is available only for your personal, non-commercial use. Information in the story may be outdated or superseded by additional information. Reading or replaying the story in its archived form does not constitute a republication of the story.
PROVO — Tough, humble and hungry. Those are the words the Timpview High School basketball team has chosen as its motto. That's because the team already has plenty to be confident about — and they are confident.
"After we get it this year, we have got to go get it the next year, too," Jaxon Santiago, a junior shooting guard, said.
The Thunderbirds are 13-3 as they approach the downhill stretch of the season after sweeping the opposition at the Tarkanian Classic tournament in Las Vegas, and have shown the 5A competition in state they are ready to make a statement come state tournament time in late February.
Timpview is young, talented and eager to accomplish something a Thunderbirds team has not done for 10 years. The team does not have a senior on their roster, and the entire starting unit consists of juniors, with two sophomores making contributions in the rotation.
"It's turning out to be a great advantage, because these guys can play ball. They're as good as any team in the state and I think we can play with anyone," head coach Kevin Santiago said. "We think we have a chance to win it two years in a row. There are some great teams … but we think we're in that mix."
On the court
Timpview is led by Jake Wahlin, the 6-foot-8 forward whose elite presence in the post is complemented by his ability to play off the dribble and shoot the deep ball. The recruiting website 247 Sports lists him as a three-star athlete, and he's already received offers from the likes of UC Santa Barbara and Steve Alford's Nevada.
Wahlin isn't an imposing force — his body has yet to fill out his lanky frame — yet he constantly affects the game with the threat to score or by blocking shots on the other end. His play is smooth, scoring 10 points in a quarter at times without raising an eyebrow in the crowd.
Coleman Ford is the spark plug for the Thunderbird offense. His 5-foot-10 listing is generous, but his lack of length doesn't hold him back. The point guard is an excellent passer, averaging 5.3 assists per game, has the speed to slash through the lane to the basket, and he doesn't take bad shots.
The Thunderbirds have a shooter in Santiago who, until going cold for a couple of games of late, was shooting a 45% clip from beyond the arc. Even with some scoreless games recently, he still provides a solid 38% from deep. Aside from shooting, he brings a defensive intensity to the floor.
Santiago's uncle, the team's head coach, has been leading the Thunderbirds for the past seven seasons and spent several years with the program before he took the reins from Perry Wildeboer in 2013.
Kevin Santiago, who was a guard at BYU in the late 1980s and early 90s, is the brother of current Cougars deputy athletic director Brian Santiago, who is Jaxon Santiago's father.
Team bond
Besides Wahlin, who joined the Timpview group of players when he moved from Dallas, Texas, in the eighth grade, this team has been playing together since they were in the third grade. It helped that Wahlin was already close friends with Santiago.
Before forming an AAU team in middle school, they got their start by playing in the Bantam Basketball league, which corresponds with high school boundaries. So for Ford, Santiago, and a number of other current members of the high school team, they've been wearing Timpview on their chest since they were 8 or 9 years old.
All those years together playing for Timpview has fostered strong relationships off the court and pride in representing their community.
"We have the best team chemistry in the state," Wahlin said.
"We've been best friends since third or fourth grade, so we have fun together," Ford added. "We hang out every single day."
"At football games," Wahlin said, "we always sit front and center of the student section, so Timpview is a pretty big deal for us."
Growing up, the Bantam Thunderbirds won their league championship three years in a row. Their final two years ended in heartbreak, however. Both seasons ended on buzzer beaters from the opposing team that sent them home before winning the top spot in the league — once in the semifinals and then in the championship game the following year.
Meanwhile, the high school hadn't fared much better over the last several years. The last three seasons for Timpview resulted in first-round exits from the state tournament; it's been four years since Timpview has made a run in the tournament, when Timpview lost to Olympus in the 2016 final.
"My older brother played on the (2015-16) team here that went to the championship and lost to Olympus," Jaxon Santiago said. "For me, that loss bothers me and it's frustrating that … we haven't been able to reach that goal yet."
The time has nearly arrived for the current crop of Thunderbirds to make their mark on the biggest stage of the state in high school sports. It's the time they've been waiting for and dreaming of since they were young.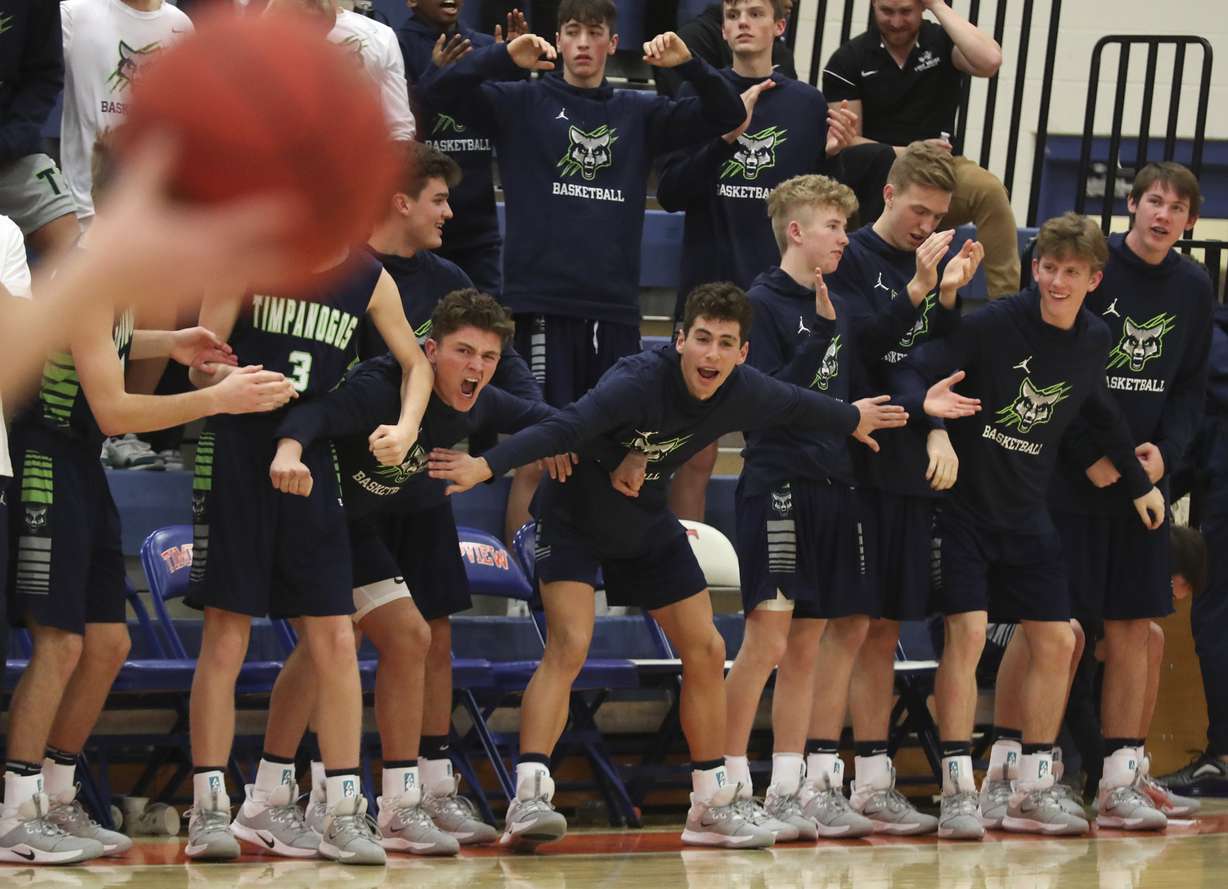 Unfinished business
But to make the finals, Timpview has to make sure they don't stumble before they even get the chance. Two of the team's three losses have come in the month of January — first to crosstown region rival Timpanogos in a Jan. 7 game not devoid of controversy. A foul called on Timpview in the closing seconds awarded the Timberwolves free throws that sent the game to overtime, where Timpanogos won.
It's the same Timpanogos team that knocked the Thunderbirds out of the tournament last season, which will add more weight to the chip resting squarely on their shoulders.
After narrowly losing in overtime to the Timberwolves, Timpview came out flat on the road later that week against Alta and was never able to gain control of the game, dropping its second loss in a row.
"We were all pretty emotionally drained," Ford said. "I think we went in thinking too much — in our heads a little bit, not playing our game and trusting each other."
"After that, Timpanogos game, everybody put the pressure on themselves to go out and just punch them in the mouth to try and win it ourselves," Jaxon Santiago said. "We got away from the team game and that hurt us."
Kevin Santiago admitted the team is still learning who to lean on in different situations, and it was the type of loss that can sneak up on a young team. But Timpview responded to the losses by handing Lehi its first region loss of the year and taking care of business against Mountain Ridge Friday night.
Against Lehi, Ford went off for a game-high 26 points and a red-hot 5-of-7 from 3-point range —the type of effort he knows he will have to bring if his team wants to accomplish what they've set out for.
"We have to bring our A-game every game, because everyone we play is going to," Ford said. "Everybody wants to beat Timpview."
×
Most recent High School stories