Estimated read time: 4-5 minutes
This archived news story is available only for your personal, non-commercial use. Information in the story may be outdated or superseded by additional information. Reading or replaying the story in its archived form does not constitute a republication of the story.
AROUND THE SHIELD — Former BYU offensive lineman and graduate assistant Andy Reid finally won a big one.
More than 15 years after his last Super Bowl appearance, the former BYU offensive lineman and graduate assistant is back on the biggest stage with the Kansas City Chiefs, who will face the San Francisco 49ers in Super Bowl LIV on Feb. 2 in Miami.
"I'm fired up to go to Miami. I need to get on a diet so I can fit in my clothes, so we can go do our thing," said Reid with his typical self-deprecating humor that speaks of a man always eager to heap praise on others. "But I'm very proud of everybody, and the job that they did.
"The guys came out and played with unbelievable energy. We had a few ups and downs early, but we were able to overcome those and get going in the right direction."
Reid, who last went to the Super Bowl in 2005 as head coach of the Philadelphia Eagles, helped ease 50 years of heartbreak by the community and family of legendary NFL owner Lamar Hunt with a 35-24 win over the Tennessee Titans. After playing in their second-straight AFC Championship game at home — the Chiefs were "inches away" from the Super howl a year ago, Reid exclaimed — the drought is finally over.
"I love Coach Reid, man," said Chiefs tight end Travis Kelce, who caught three passes for 30 yards Sunday. "He's definitely a part of our motivation. We're sick of hearing what the media says about him, how he can't get the big one done. We knocked one off the list … and we've still got one more goal to knock off the list."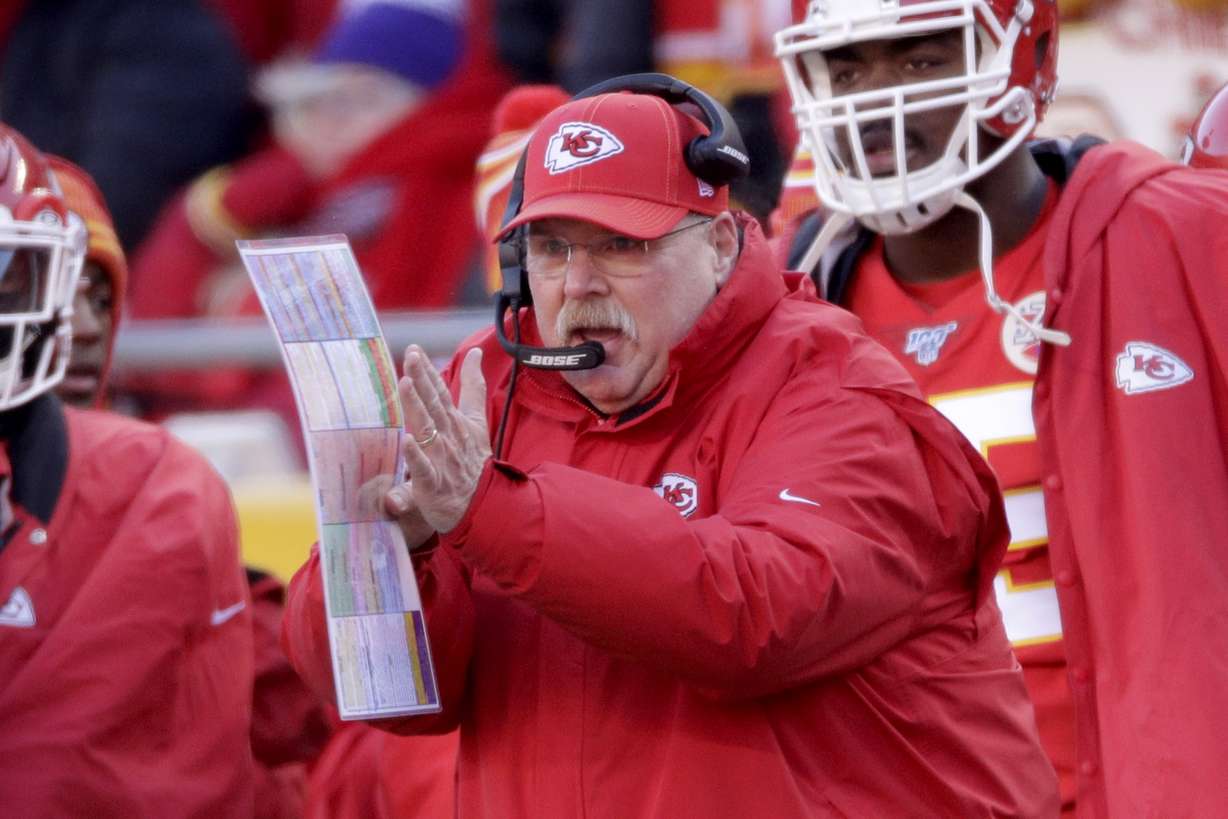 The man who counts legendary BYU coach LaVell Edwards among his top mentors got a little help from a fellow BYU alum, too. Former BYU safety Daniel Sorensen totaled eight tackles, a tackle for loss and a pass defended, helping the Chiefs to their first Super Bowl since 1969.
The former BYU safety was second on the team in tackles, trailing only Tyrann Mathieu by one stop. But No. 49 was everywhere.
"Dirty Dan" laid the lumber on Titans quarterback Ryan Tannehill, keeping the fleeing signal-caller to a six-yard gain on third-and-11 in the second half. Several minutes later, he struck Derrick Henry in the backfield for a six-yard loss.
On the next play, Sorensen nearly picked off Tannehill with a pass breakup on the other side of the field.
But this one is for Reid — even if the coach who also went to two Super Bowls as an assistant with the Packers wanted to give it to the fans, the Kansas City community, and the Hunt family, who took a chance on him before he could return the AFC championship trophy named in honor of the clan's patriarch, the late Lamar Hunt, Sr.
"We're just as happy for Andy and having a chance to get back to the Super Bowl," Chiefs CEO and part-owner Clark Hunt said. "He's one of the best coaches in the history of the NFL. He's a no-doubt Pro Football Hall of Famer and he's going to get to go to his second Super Bowl. And as a family, we're as excited about him getting a chance to get that victory."
Much like they did a week earlier in the divisional round, Kansas City turned a first-half 17-7 deficit into a 28-17 lead on Damian Williams' three-yard TD plunge on the first play of the fourth quarter.
Patrick Mahomes threw for 294 yards and three touchdowns, and ran for a team-high 53 yards and a score to help the Chiefs overturn a 17-7 first-half deficit into a 35-17 lead on Mahomes' 7-yard strike to Sammy Watkins with 7:33 remaining.
But this win, this title, this trophy named in honor of the Hunts is for Reid.
"Everybody says he's a player's coach," Chiefs punter Dustin Colquitt told the Associated Press, "and I don't think that exists. He's just a man that wants to make other men, and win a championship."
Former Utah State running back Darwin Thompson added a 7-yard rush for the Chiefs.
Former Southern Utah cornerback LeShaun Sims had two tackles on special teams for the Titans, the surprise team of the playoffs that stunned the Patriots and the Ravens to advance to the AFC championship.
San Francisco 37, Green Bay 20
At San Francisco, former BYU linebacker Fred Warner had six tackles for a 49ers defense that held the Packers scoreless until the middle of the third quarter.
Former Utah punter Mitch Wishnowsky punted just twice for 77 yards for San Francisco, including a 41-yarder in the win.
Former BYU running back Jamaal Williams ran three times for six yards, and caught two passes for the Packers, who trailed 27-0 until Aaron Rodgers hit Aaron Jones with a 9-yard TD strike with 8:44 left in the third quarter.
Former Utah State linebacker Kyler Fackrell made two tackles, including an eight-yard tackle for loss and a quarterback hurry, for the Packers.
×
Related stories
Most recent NFL stories