Estimated read time: 4-5 minutes
This archived news story is available only for your personal, non-commercial use. Information in the story may be outdated or superseded by additional information. Reading or replaying the story in its archived form does not constitute a republication of the story.
AROUND THE SHIELD — Football is a violent game, but the toll it takes on individual players is easy to get lost in the day-to-day bustle, the practices, and the hours on hours of film review.
For a player like second-year 49ers linebacker Fred Warner, a career's end can feel lightyears away. The BYU product has been at the heart of a San Francisco defense rated among the best in the NFL, and with Sunday's NFC Championship game against Green Bay (4:40 p.m. MST, FOX) on deck, there's no time to focus on anything beyond next week.
But there was a moment where Warner couldn't help but reflect — even briefly — on longevity, when Carolina Panthers linebacker Luke Kuechly announced his emotional retirement at the young age of 28 this week.
Kuechly, a Cincinnati native who played at Boston College, is just five years older than Warner. The two have comparable skill sets, too, though the now-former Panther has a considerable experience edge that makes any allusions between the BYU grad and the seven-time Pro Bowler and 2013 NFL Defensive Player of the Year premature, at best.
But Father Time waits for no man, and Kuechly's early retirement was a stark reminder of Warner's own career mortality this week.
"When you're young, you think you are going to play forever," Warner told Bay Area media this week. "The dream is to play in the NFL and to play for 20 years. But it's a violent game at the end of the day; your body takes a lot.
"I always just try to play one day at a time and not think too far ahead. Your career can be over in a matter of seconds."
That stark reality, however grim it may seem, has helped Warner stay in the moment of his second season. A year after finishing a dismal 4-12, the Niners are 14-3 and one win away from the franchise's first Super Bowl appearance since 2012. It may seem like a lot of pressure, especially for Warner, who has started every game of his sophomore season in the league and boasts a team-high 118 tackles with three sacks, three forced fumbles, and an interception returned for a touchdown.
He was named a Pro Bowl alternate when the votes were tallied back on Dec. 17, and some have argued that the only problem with that tag is the "alternate" label he's earned in an NFL All-Pro-caliber season.
But pressure is only what you make of it, and Warner and his teammates aren't making much.
"It's funny; last game (a 27-10 divisional-round win over Minnesota) felt like another week, even though the stakes were high," he said. "We don't treat it as such. It's just another week. Our routine doesn't change, our preparation doesn't change.
"The same can be said of this week. We're just going about business, but we're having fun doing it."
Warner's one of many in a defensive group that has come together in what some might call an unlikely fashion.
"I've been on some pretty tight teams, but this is right up there with them," defensive back Richard Sherman said. "This is a family atmosphere.
"Guys care about each other on and off the field. It's really cool, and it's really special to be a part of."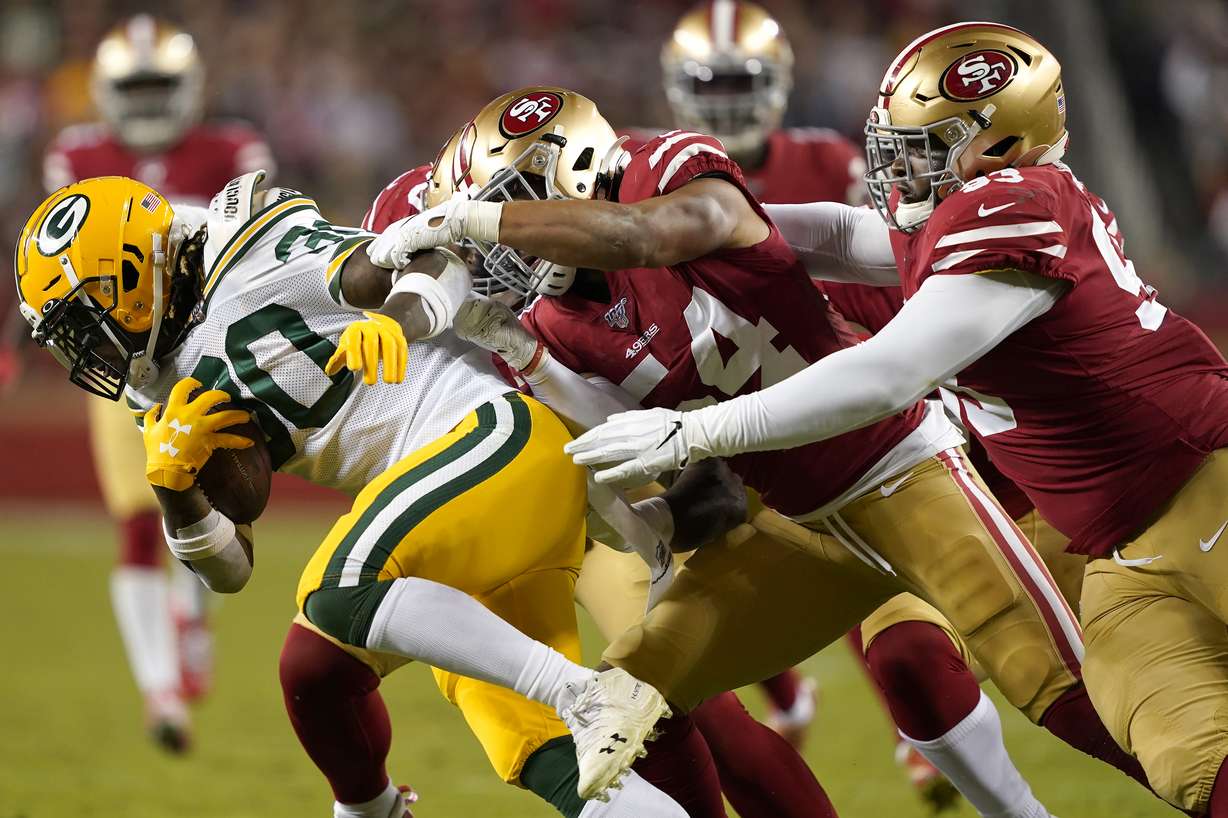 Much of the 49ers' turnaround can be attributed to such a mentality. But the turnaround can also be pinned squarely on the San Francisco defense, led by Warner and standouts like Sherman, Kwon Alexander and rookie Nick Bosa, to name a few. The list of names is too numerous to count, in some ways, and it will take every one of them to slow down an offense directed by Aaron Rodgers that includes Aaron Jones and former BYU all-time leading rusher Jamaal Williams in the backfield.
"They don't stop working," Niners head coach Kyle Shanahan said of his defense. "They don't point fingers. When you go 4-12, a lot of places do that. So it says a lot about our guys.
"I feel like our team has been this way from the beginning; and when you do that and win, it only makes you stronger."
Stronger because of the likes of Warner, though he won't take credit for his fast start in the league.
So we'll leave it up to his proud little brother, BYU senior-to-be defensive back Troy Warner, to toot his horn. The two still face off almost weekly over Call of Duty, and the younger Warner is unfazed about big bro's success.
"It really doesn't surprise me because I know how he works," Troy Warner said. "I know the potential and talent that he has.
"Just to see him actually performing on the highest level like that, I'm happy for him."
×
Related stories
Most recent NFL stories