AROUND THE SHIELD — A lot has been going right for the San Francisco 49ers through the first five games of the 2019 season, including a defense that has just 13.6 points per game.
Defensively, Fred Warner has been at the center of it.
The former BYU linebacker totaled 6 tackles, including a tackle for loss and a quarterback hurry to lift the 49ers to a 5-0 record with a 20-7 win over the Los Angeles Rams.
Warner was part of a defense that held Rams quarterback Jared Goff to 78 yards on 13-of-24 completions, and limited the LA ground game to 109 yards.
"You don't hold an offense like that to under 100 yards passing without playing outstanding football in the back end. Ja'Quan (Gardner) and Fred have done a great job, too," said 49ers cornerback Richard Sherman, who had 4 tackles.
"We came in here without both starting tackles, without our starting corner, lost our nickel in the middle of the game. We could make every excuse in the world, but we don't. We just go out there and execute at a high level."
Former Utah punter Mitch Wishnowsky averaged 39.8 yards on 4 points for the Niners, who are one of just two remaining unbeaten teams in the league (and the only one not named the Patriots).
Former Utah star Eric Weddle made 10 tackles for the Rams (3-3), and former Utah State wide receiver JoJo Natson had four total returns for an average of 20.5 yards apiece.
Denver 16, Tennessee 0
Former Westlake High, Snow College and Utah lineman Garett Bolles started at left tackle and finished with just one declined holding penalty as the Broncos rolled to a shutout win over the Titans.
Former Utah running back Devontae Booker saw time on special teams for the Broncos (2-4).
Former SUU defensive back LeShaun Sims played on punt coverage for the Titans (2-4).
NY Jets 24, Dallas 22
Starting in place of former Logan High quarterback Luke Falk, Sam Darnold threw for 338 yards and two touchdowns in his return to lead the Jets to their first win of the year.
Former Bingham High and BYU standout Harvey Langi made one special teams tackle for New York (1-4).
Former Bingham tight end Dalton Schultz had a six-yard catch for the Cowboys (3-3), and Timpview alum Xavier Su'a-Filo rotated into the offensive line.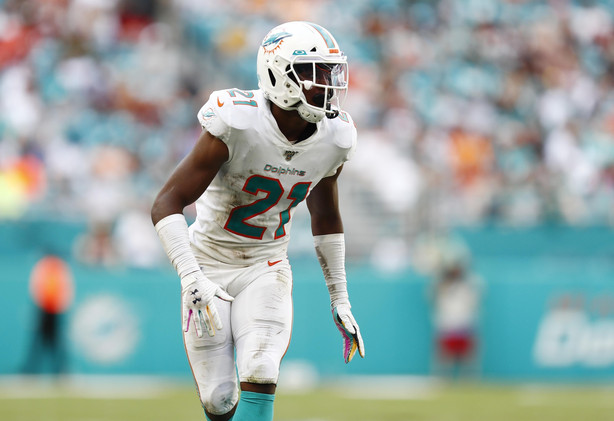 Washington 17, Miami 16
Utah State grad Donald Penn started at left tackle, and former Utah and Skyline High lineman Tony Bergstrom came on in relief as Washington (1-5) posted 145 yards on the ground to Miami's 84 in a win.
Dolphins starting cornerback Eric Rowe, a Utah product, had six tackles and a pass deflection for Miami (0-5).
New Orleans 13, Jacksonville 6
Former BYU quarterback Taysom Hill ran for 17 yards on three touches at Wildcat quarterback, including a 19-yard run in the Saints' victory.
Former Utah safety Marcus Williams had five tackles and a pass deflection for New Orleans (5-1).
Houston 31, Kansas City 24
Former BYU safety Daniel Sorensen made three tackles in the Chiefs' loss to the Texans (4-2), while former Utah State running back Darwin Thompson came off the bench without a carry for Kansas City (4-2).
Seattle 32, Cleveland 28
Utah State star alum Bobby Wagner led the Seahawks' defense with seven tackles and a tackle for loss in a win over the Browns.
Former BYU defensive end Ziggy Ansah added two tackles, and recovered a fumble for Seattle (5-1), former Utah defensive standouts Marquise Blair and Cody Barton saw time on special teams for the Seahawks (5-1).
BYU grad Sione Takitaki filled in at reserve linebacker for the Browns (2-4), but did not register a tackle.
Carolina 37, Tampa Bay 26
Former Utah State offensive lineman Tyler Larsen helped the Panthers (4-2) to the win over the Buccaneers.
Former Utah kicker and Orem High grad Matt Gay drilled a 54-yard field goal in the loss for Tampa Bay (2-4).
Baltimore 23, Cincinnati 17
Utah State and Fremont High grad Nick Vigil had a team-high 13 tackles to go along with a pass deflection and a fumble recovery in the Bengals' loss to the Ravens.
Pittsburgh 24, LA Chargers 17
Former Utah offensive lineman Sam Tevi started for the Chargers in their loss to the Steelers (2-4) on Sunday night. Former BYU defensive back Michael Davis had five tackles, including two solo stops, for Los Angeles (2-4).
Thursday Night Football
New England 35, NY Giants 14
Kyle Van Noy returned a fumble 22 yards for a touchdown in the Patriots' rout of the Giants (2-4).
With shades of BYU's Poinsettia Bowl win, Van Noy also had two tackles, a sack and two quarterback hurries for New England (6-0).
×
Related Stories