SAN ANTONIO — As Utah started its bowl preparations for Texas, Kyle Whittingham announced that backup quarterback Cameron Rising would be eligible to play in the Alamo Bowl should the team need him.
The possibility of Rising playing against his former team, a year removed, was hard to pass up. Additionally, established backup quarterback Jason Shelley switched to the defensive side of the ball and started practicing with the safeties, which seemingly gave Rising a real shot to play his former team.
But on Sunday, offensive coordinator Andy Ludwig tempered expectations a bit and said Rising would be the team's third option in the depth chart for the bowl game, and that Drew Lisk would be the No. 2 option should senior quarterback Tyler Huntley go down with an injury or for any other reason.
"Cam Rising has been in redshirt mode the majority of the season, becoming eligible here in the month of December for the bowl game," Ludwig said. "He has repped predominantly with the scout team throughout the majority of the year. He has not had great exposure to the Utes' offensive system in terms of taking actual reps, so he will be the third quarterback in this football game."
Ludwig's job, and the offensive strategy as a whole, isn't to get caught up in the storylines; it's to win the game. And with Rising having only three weeks of real game prep, Utah is sticking to its game plan and keeping the established quarterback that worked with the offense all season as the team's next best option, even if Rising has looked "very, very good," according to Whittingham a week ago.
But whether Rising gets some game action or not, his former teammate and starting Texas quarterback, Sam Ehlinger, is happy to see Rising back.
"Cam is a great dude and I really miss having him around," Ehlinger said Sunday. "It's really cool that we get to get back together and see each other again. Having him at the facility every day, it was always fun to be around him. He's a hard working, great dude. I think it's really, really cool that we get the opportunity to meet up again and I'm looking forward to what he can do further on in his college career."
Ehlinger, who won the starting job over Rising last season, said the two still text each other from time to time to see how they're both doing, and he plans to meet up with Rising sometime before the bowl game Tuesday night.
Should Rising be needed in the game, though, Ehlinger said Rising has a "special arm."
"And on top of that, he might not look like he's extremely athletic in the run game, but he can get moving," he added, noting "his athletic ability," "his accuracy" and "his arm strength."
"He does a really good job of putting the ball in places that his receivers can go get it."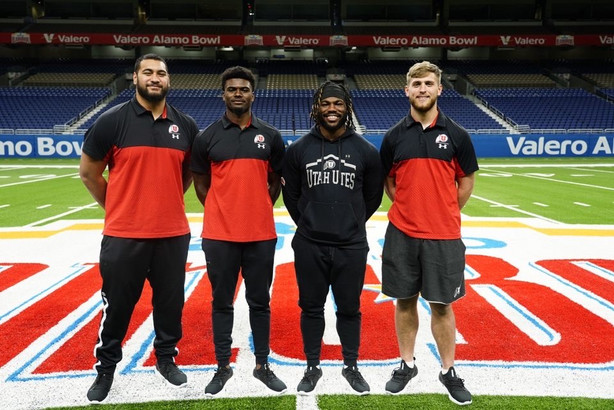 Attacking the No. 1 rush defense
For much of the season, Utah's defense has been incredibly difficult to run the ball against. The Utes lead the country in run defense and only allow 70.3 yards per game, even after their uncharacteristic performance against Oregon in the Pac-12 Championship Game. Only two teams, Arizona (111 yards) and Oregon (239 yards), have rushed for over 100 yards in a game against Utah's defense.
Texas running back Keaontay Ingram hopes to be the next player to try to break through that defensive line and pick up some big yards. And though he recognizes the Utes' talent, he believes the defense is "nothing special."
"They've got real good defensive linemen up front, front seven, especially with the coverage that they do," Ingram said. "I feel like it's nothing special, nothing that we haven't seen before, but the only thing that I can do from my standpoint is just do my job, play my role and stay on the same page and the path that we need to in order to win the game."
Texas averages 172.0 rushing yards per game, but hasn't played a team in the top 20 of rushing defense all season. Ingram added that Utah is "the real deal."
"Stats say it, they know it, we know it. Hats off to the defense, man. They've got all 11 guys swarming to the ball; they're not ranked for no reason," he added. "We've got to come out there and show that we can run the ball. It's going to be a long, physical game. If you want to win the game, we've got to be able to run the ball, so it's gonna be a fun game; interesting game."
×