Estimated read time: 6-7 minutes
This archived news story is available only for your personal, non-commercial use. Information in the story may be outdated or superseded by additional information. Reading or replaying the story in its archived form does not constitute a republication of the story.
HONOLULU — Kalani Sitake hates these kinds of "big picture" questions.
Nevertheless, when a reporter asked the fourth-year BYU head coach what a win in the Hawaii Bowl would mean for the program, guaranteeing an eight-win season for the first time since going 9-4 as a rookie head coach in 2016, he politely and diplomatically addressed the topic Monday during his pre-bowl game press conference.
"I just need our team to perform at its best, and to have fun," Sitake said. "I know Hawaii will be ready, and we'll be ready as well.
"Whatever happens, happens."
About 36 hours later, whatever happened — whatever that was at Aloha Stadium during the Cougars' 38-34 loss to the Rainbow Warriors, their first loss in the series since 2001 and only the second loss in the last 13 meetings — well, it happened.
Cole McDonald threw for 493 yards and four touchdowns, including the game-winner with 1:17 on the clock, and the Cougars departed a redeye flight from Daniel K. Inouye International Airport immediately following the game to be home in Utah by Christmas morning.
McDonald, one of four quarterbacks with more than 8,000 career passing yards in Hawaii's prolific history as a QB factory, will return to his hometown in La Mirada, California, for the holidays with a decision to make: whether the redshirt junior should bypass his senior season and enter the 2020 NFL Draft.
The Cougars, meanwhile, will return home to a less-merry Christmas. Losses have a way of ruining holidays. That's just the business of the game.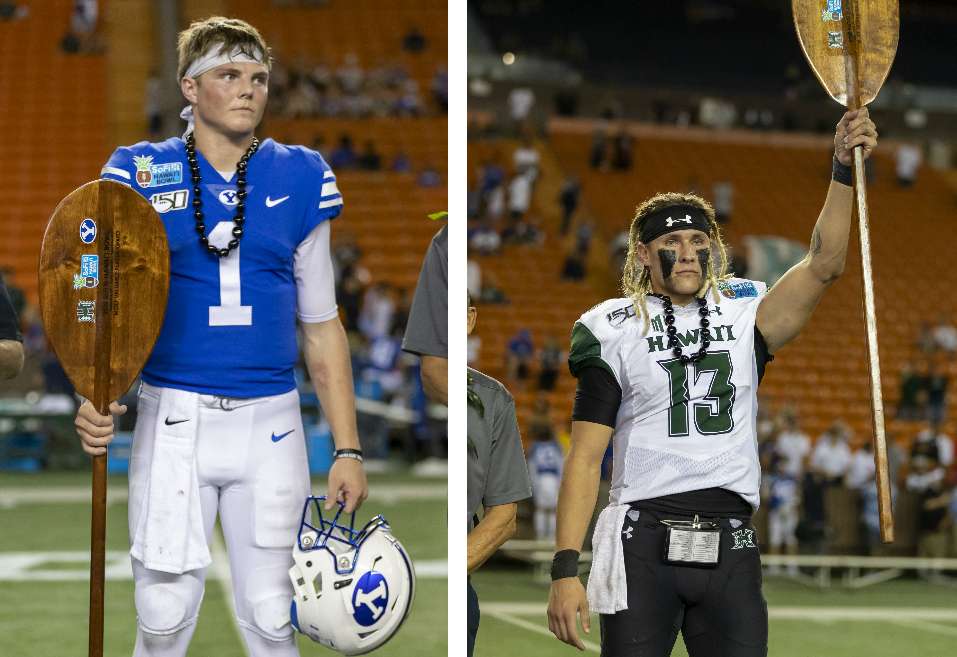 Both McDonald and BYU's Zach Wilson, who threw for 274 yards and added 72 yards and two scores on the ground, were named Most Valuable Players after the game. But while McDonald ebbed buoyantly with his MVP oar and raised the pineapple-shaped trophy high above his head in front of the announced crowd of just over 21,000 people in the cavernous Aloha Stadium, Wilson was a symbol of defeat.
Again, it's not that Wilson performed badly; losses do that to a player, as well. But though the sophomore signal-caller led a valiant comeback effort after trailing by as much as 21-7 in the first half — even taking a 34-31 lead in the fourth quarter — the final result is all that matters.
For as much good as Wilson accomplished, he also threw two interceptions to Khoury Bethley, and added a critical goal-line fumble when he attempted to dive into the end zone from 5 yards out.
With the touchback and subsequently short review, the Cougars' hopes at an eight-win season went spinning out of control in much the same way Wilson helicoptered away from Hawaii defenders Eugene Ford and Donovan Dalton.
So how do you categorize this season? Much the same way as BYU's bowl-game loss.
The Cougars had their high moments in their ninth season as an FBS independent. A ninth straight loss to archrival Utah, which rose as high as No. 5 in the CFB Playoff rankings and came within a Pac 12 championship game win over Oregon at its first playoff bid in school history, gave way to a thrilling 29-26 double-overtime victory at Rocky Top, over a Tennessee team that finished the season at 7-5 before the Gator Bowl against Indiana on Jan. 2.
BYU moved up to 2-1 with another overtime win, this win 30-27 over Southern California — the lone team to beat the Utes in the regular season, as many fans will remind Utah fans over and over. Even a blowout loss to then-No. 21 Washington a week later did little to dampen the optimism of the Cougars' 2-2 start, when many would have predicted much worse.
Then came the downfall. Perhaps the only thing worse than the 28-21 loss to Toledo and 27-23 loss to South Florida was that the Cougars also lost both starting quarterbacks in those games — first Wilson, then Jaren Hall. BYU was down to 2-4 and looking at a lost season.
Doubts in Sitake, in the coaching staff, and in the program's direction as a whole began to creep in.
But something happened a week later, when BYU was forced to thrust then-walk-on redshirt freshman Baylor Romney into the spotlight. The Cougars started to win.
Romney's first career start yielded a 28-25 victory over then-No. 14 Boise State — the Mountain West champion that won every other game, but likely had a berth in the New Year's Six bowls ended by one rainy night in Provo.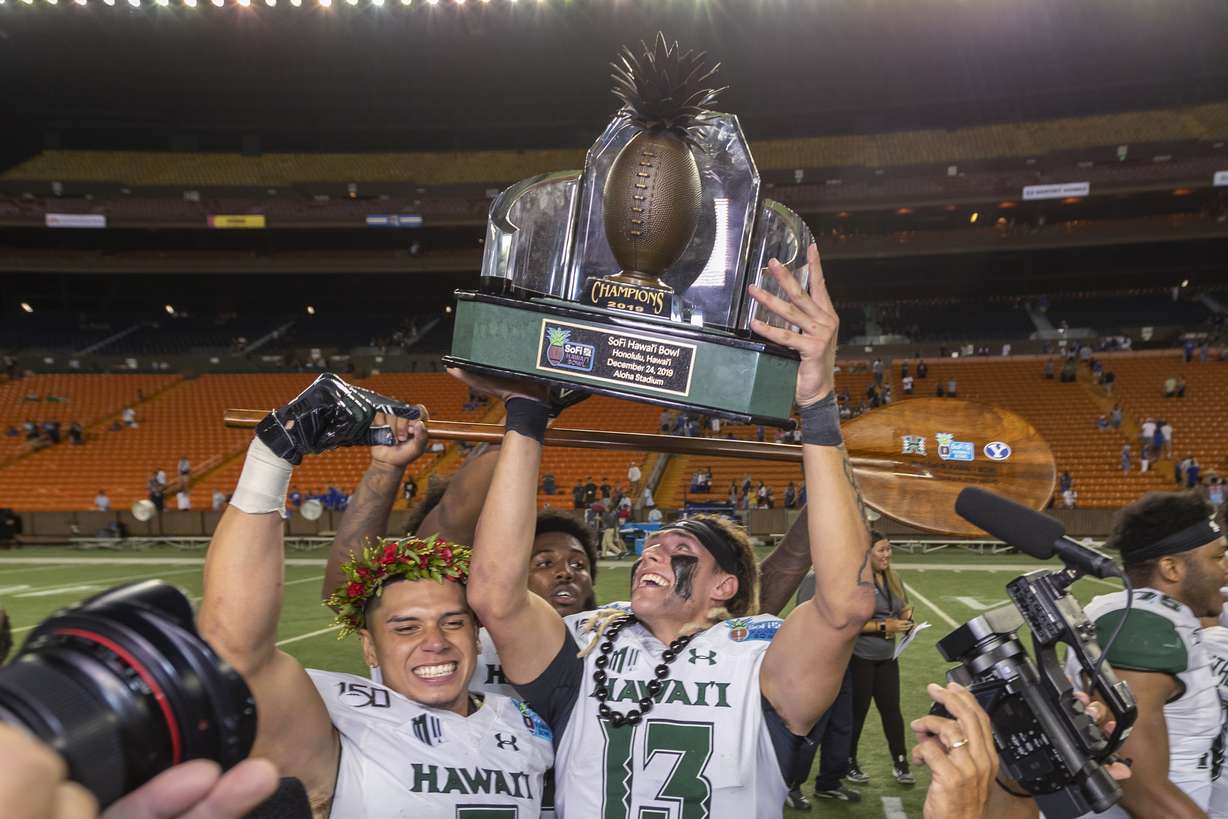 The Cougars earned bowl eligibility, and then some, by collecting scalps from in-state rival Utah State, FCS Idaho State, FBS newcomer Liberty and woeful UMass to improve to their seven-win standing — matching last season's high mark.
It was enough to earn Sitake a contract extension, a feat that every player openly lobbied for and even more openly celebrated when athletic director Tom Holmoe revealed in a postgame locker room setting that Sitake was "your coach, and he's our coach," in speaking from a university perspective.
For four more seasons, Sitake will be guaranteed a deal that will keep the first-time head coach in Provo through 2023. Hopefully, more wins like the previous month would follow, the administration seemed to argue.
And then, they didn't.
BYU's offense was proven inept against arguably one of the better defenses on the west coast, falling to San Diego State 13-3 in the regular-season finale that re-opened a lot of wounds and brought back several questions to the surface for further examination.
But the Cougars still had one game left — one final chance at win No. 8 and more juice to carry a relatively young squad (remember, Wilson is still just a sophomore) into the offseason with brimming passion.
Anxious to open up their Christmas gifts in Oahu, all the Cougars got on their trip to the island was Cole (McDonald, that is).
"Just last year's record to this year, winning this game would be an improvement. That'll make it a successful season for us," said senior wide receiver Micah Simon the day before exiting Aloha Stadium following his final game in royal blue. "Going to a bowl game is a great accomplishment. But like Kalani's been saying ever since we got here, it's about winning the game. That's what we are going to go out here to do."
So was the 2019 football season a success? There are as many answers to that question as there are BYU fans in North America. But maybe more important is the question: where does BYU football go from here?
To a 2020 schedule that features six Power Five opponents, plus Boise State, Houston and Utah State, beginning with the Sept. 5 opener against the Utes at Rice-Eccles Stadium.
And while a good chunk of the team returns — Wilson, Romney, Hall, leading rushers Sione Finau, Lopini Katoa and Jackson McChesney, to name a few — there will be plenty of holes to replace as pass catchers.
Joe Critchlow is already in the transfer portal, and leading receivers Simon, Aleva Hifo and Talon Shumway are graduating. Matt Bushman has a decision to make, if he wants to forgo his senior season and enter the NFL draft (so, too, does junior defensive tackle Khyiris Tonga). The defense will try to replace Kavika Fonua, Dayan Ghanwoloku, Austin Lee and JJ Nwigwe, among others.
And all of these question marks will follow BYU into the offseason.
Can Sitake answer them?
×
Related links
Related stories
Most recent BYU Cougars stories