This archived news story is available only for your personal, non-commercial use. Information in the story may be outdated or superseded by additional information. Reading or replaying the story in its archived form does not constitute a republication of the story.
PROVO — There was an extra level of importance in BYU's first women's basketball home game in over a week Saturday afternoon — and it wasn't just for the rivalry series against a team on the other side of University Parkway.
Brenna Chase Drollinger poured in 19 points on 5-of-9 shooting from 3-point range to help the BYU women's basketball team to a win over crosstown rival Utah Valley 71-57 Saturday afternoon at the Marriott Center.
Shalae Salmon added 14 points and six rebounds, and Paisley Johnson supplied 11 points and six assists against a team they knew well — and not just because former BYU assistant coaches Dan Nielson and Ashley Garfield were on the opposing sidelines.
The Cougars snapped a three-game losing streak, with losses to in-state rival Utah, Arizona State and Boise State, to improve to 4-4 overall and 10-0 all-time against the Wolverines. Utah Valley dropped to 1-8 on the season.
"I think we really took it to heart that this game was really important," said Salmon, who finished just two points off a career-high. "It wasn't because we had ex-coaches on that team, but because we had lost three in a row. It's hard; we go through trials sometimes.
"But I'm happy for my team, to win this game and prepare us for Hawaii, for some big teams that we have to face."
Maria Albiero supplied 10 points, five rebounds and five assists for the Cougars, who shot 53% from the field and 11-of-18 from 3-point range.
BYU used a 10-2 run to start the third quarter to turn a 37-36 halftime edge into a 47-38 advantage on Johnson's jumper with 5:58 left in the third.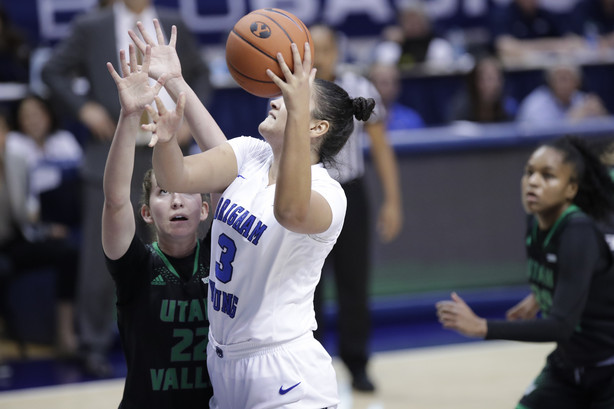 Maria Carvalho had 10 points, nine rebounds and five assists to lead the Wolverines, and teammate Eve Braslis added nine points and seven rebounds. Jordan Holland and Josie Williams each chipped in seven points for a Utah Valley squad that shot just 32 percent from the field.
"Early on we were able to execute our game plan, and I thought we did a good job in the first half, but we got away from that in the second half for a stretch," said first-year UVU coach Nielson, who served as Judkins' associate head coach as recently as a year ago. "When you know everybody (on the other side) it's a little more involved — but it's fun. I'm proud of the way we continued to fight. I think it bodes well for the future. Our goal has been to get to WAC play and be ready, and I think we're on the right track."
BYU will open the Maui Classic next Wednesday, Dec. 18 against San Jose State in the Lahaina Civic Center, with No. 4 Oregon State a day later.
"We've got to be focused," Salmon said. "We've got Oregon State, the fourth-best team in the country, and I'm excited to see them."
×
Related Stories