SANTA CLARA, Calif. — Everything that could go wrong did for the No. 5 Utah Utes on Friday in the Pac-12 Championship Game.
Trailing 20-0 at halftime, Utah staged a second-half comeback to make it a one-possession game going into the fourth quarter. Senior quarterback Tyler Huntley connected with Samson Nacua for a 25-yard touchdown pass and then completed a two-point conversion to outscore the No. 13 Oregon Ducks 15-3 in the third quarter.
But the effort wasn't enough as Oregon's CJ Verdell escaped a couple tackles for a 70-yard rushing touchdown in the fourth quarter to lift the Ducks to a 37-15 win. Oregon ended Utah's hopes of a College Football Playoff berth and first-time appearance in the Rose Bowl with the win.
Verdell added to his fourth-quarter score with a 31-yard rushing touchdown with nearly three minutes left in the game. The running back finished the night with an impressive 208 rushing yards and three touchdowns as the Ducks claimed the Pac-12 title.
For his effort Friday night, Verdell was named the Pac-12's most valuable player of the game.
Coming into the Pac-12 title game, Utah led the nation in rush defense and held opponents to only 56.3 yards per game. The Ducks, though, finished the night rushing for 239 yards in an uncharacteristic effort against Utah's defense.
"That's something we've been doing well all year," Utah senior safety Terrell Burgess said. "I guess tonight we just didn't do it well. I mean, there were some gaps that were there. We didn't make tackles, we didn't hold them to what we thought we should have."
The Ducks won the game early when they scored a quick touchdown on their opening drive, which was capped off by a 3-yard rushing score by Verdell to set the tone of the game. Oregon would go on to score 13 more points in the half to take what appeared to be an insurmountable 20-0 lead.
Oregon quarterback Justin Herbert controlled the offense for the Ducks and finished the night throwing for 193 yards and one touchdown on 14-of-26 passing. Herbert struggled to complete passes in the second half, but his offensive line opened up ample space for Oregon to run to pay dirt.
Defensively, the Ducks looked like the more physical team and limited Utah to several turnovers on downs after failing to convert on fourth-and-short inside Oregon territory. The Utes managed to get inside Oregon's 40-yard line, but struggled to advance the ball.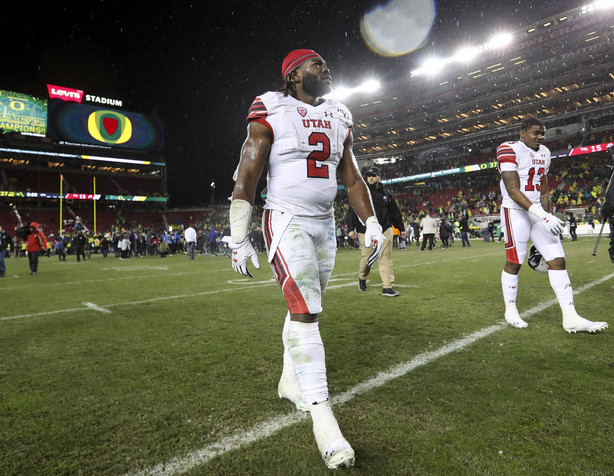 "Unfortunately we came up short tonight," Utah head coach Kyle Whittingham said. "Disappointing thing is we lost in the one area we've been undefeated this year: Line of scrimmage. We didn't win the line of scrimmage for the first time all season, which is, like I say, disappointing."
"Really at a loss of words," senior running back Zack Moss said. "We just lost the battle in trenches where we have been good at all year. We felt confident coming in that we were going to do that again. … Things didn't shape out that way. But this one definitely hurts"
Utah quarterback Huntley threw two interceptions in the loss, including a forced ball to the end zone into triple coverage in the first half on what was at the time Utah's most successful drive. Moss escaped on the previous play for a 42-yard rush to set up the touchdown attempt.
Huntley finished the night throwing for 193 yards and two touchdowns on 17-of-29 passing in the loss.
"It sucks," Burgess said. "I mean, no one wants to lose. Nobody wants to lose any game. Nobody wants to lose a championship game."
In the win, the Ducks locked up a Rose Bowl appearance, where they'll be matched up with a Big Ten opponent that will be announced on Selection Sunday. Utah, however, could manage to claim a Cotton Bowl appearance or drop as far as the Holiday Bowl in San Diego.
×
Related Stories