Estimated read time: 4-5 minutes
This archived news story is available only for your personal, non-commercial use. Information in the story may be outdated or superseded by additional information. Reading or replaying the story in its archived form does not constitute a republication of the story.
SALT LAKE CITY — As winter sets in along the Wasatch Front, Utah's homeless advocates pledge that anyone seeking shelter will get help — and they want Utahns to know there are more options available than emergency shelter.
Even though capacity concerns around the three newly opened homeless resource centers prompted protesters to demand the Road Home's downtown shelter remain open, that shelter shuttered officially last week with state and local leaders reiterating their promises that anyone seeking shelter in Salt Lake County will be kept out of the cold.
With the closure of the downtown shelter — and some homeless refusing to relocate out of downtown into the new, smaller centers scattered in Salt Lake City and South Salt Lake — homeless providers aim to dispel confusion about the new centers' intake processes.
There are still plenty of ways for the homeless to access service, both downtown and in the new resource centers in Salt Lake City and South Salt Lake, said Patrice Dickson, chief operating officer of social services at Utah Community Action, the organization that is coordinating the homeless intake process in Salt Lake County.
"We want everybody to have an option to have a safe, warm place," Dickson told the Deseret News in a recent interview. "We don't want anyone turned away."
Officials for all three of the new resource centers and advocates with the still-open St. Vincent de Paul Dining Hall and Catholic Community Services' Weigand Homeless Resource Center downtown have all adopted a "no wrong door" approach, Dickson said, meaning people can go to any of those centers for assistance.
Those seeking services can also call 801-990-9999 for help and to be directed to shelter or housing assistance.
Salt Lake County homeless service centers and their locations are:
South Salt Lake Men's Resource Center: 3380 S. 1000 West, South Salt Lake, 300 beds for men only. Operated by the Road Home.
Gail Miller Resource Center: 242 W. Paramount Ave., Salt Lake City, 160 beds for men, 40 beds for women. Operated by Catholic Community Services.
Geraldine E. King Women's Resource Center: 131 E. 700 South, Salt Lake City. 200 beds for women only. Operated by Volunteers of America-Utah.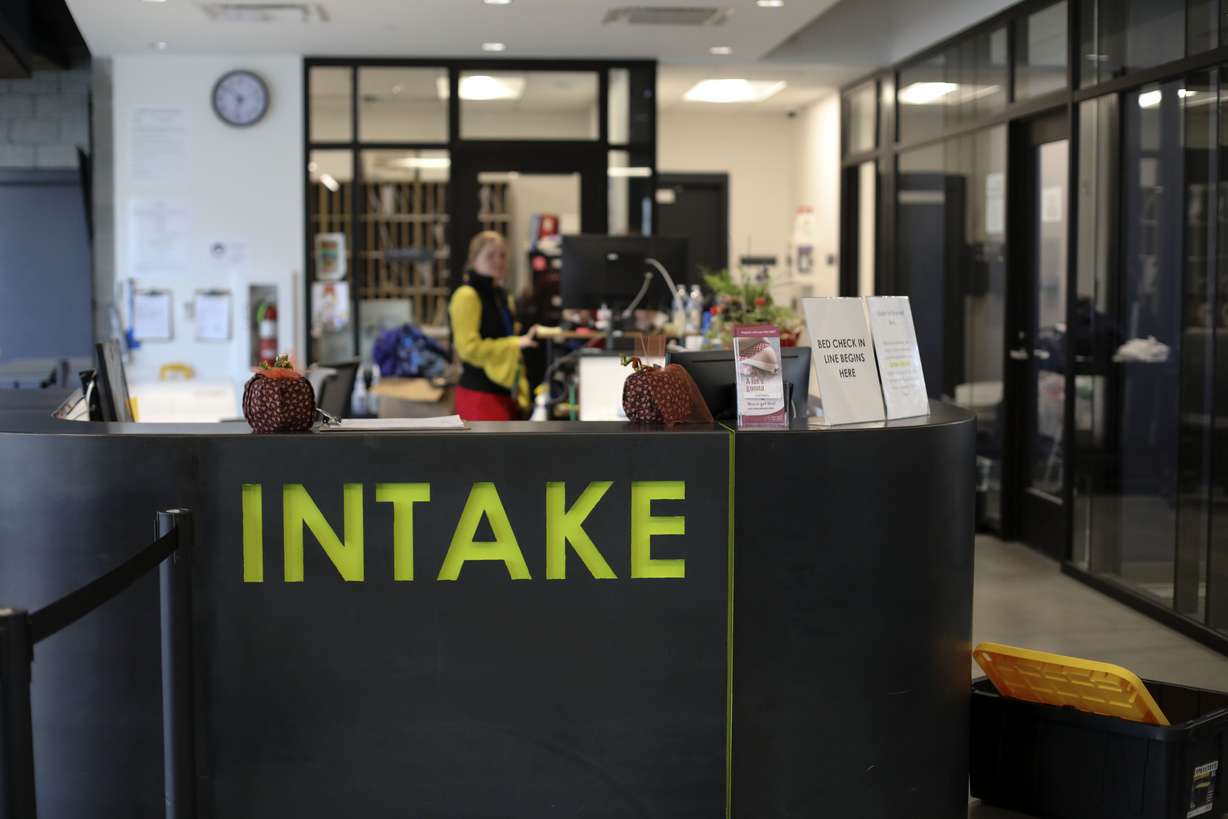 Midvale Family Resource Center: 529 W. 7300 South, Midvale, 300 beds for people with children. Operated by the Road Home.
St. Vincent de Paul Dining Hall and the Weigand Homeless Resource Center: 437 W. 200 South, Salt Lake City. Soup kitchen and day center with shower and laundry facilities during the day. At night, 58-mat overflow and 100-chair "warming center." Operated by Catholic Community Services. The Road Home operates the "warming center" at night.
Whether someone is living on the streets and needs to be out of the cold, or if someone is about to be evicted but not homeless yet, Dickson urged Utahns to come to one of the centers or call the number for help — don't wait.
About 30% of people seeking services have been diverted from shelter altogether, Dickson said, using methods including family mediation, grocery assistance, rental assistance or other "diversion" options to keep people out of emergency shelter.
"They never have to hit the homeless system," Dickson said.
But for those who need shelter, Dickson said come in or call, even if they've heard the new homeless resource centers have hit capacity. She said those capacity numbers change on a daily basis. At 8 p.m. every night, providers "refresh" the bed tally, or take a count of any empty beds that may have freed up for anyone waiting, Dickson said.
In addition to the homeless resource centers, which have lingered at- or near-capacity since their openings, service providers can also free up space by diverting people out of shelter with motel vouchers, which have mostly been used for women or families with children, Dickson said.
Men — some of whom have refused to go to the new South Salt Lake center — have been flowing into the 58-mat capacity St. Vincent de Paul Dining Hall, sometimes hitting that building's capacity.
The Weigand Center, now open 24-7, operates similar to a waiting room, particularly for people who need to get out of the cold at night, Dickson said. The center has up to 100 chairs for people to wait for services, as well as showers and laundry services, but is not intended as a place to sleep overnight.
A shuttle, operated by Advantage Services through Salt Lake County, runs multiple trips daily between the resource centers and the Weigand Center downtown. Homeless clients can access the shuttle's schedule from center staff.
While some have expressed skepticism of whether the resource centers will provide enough capacity, state and local leaders say they have not found it necessary to open up additional overflow space.
"We have state, city, county, all the providers on a daily phone call where we're looking at the numbers every single day and we're talking about options, looking at what's open," Dickson said. "It's fluid, but I think the goal is we're going to make it work so no one is left out."
×