PROVO — BYU coach Mark Pope has said it before, and he said it again — in fewer words — after the Cougars' 71-56 loss to No. 4 Kansas in Tuesday night's semifinals at the Maui Invitational.
Kolby Lee is coming along, and he's going to be good.
Of course, he's not there yet. But the 2017 Gatorade Idaho Player of the Year showed flashes of his potential against one of the top teams in the country.
None of that matters for Lee, though. Like a seasoned veteran, he turned all of the attention of his breakout tournament toward the loss to the Jayhawks — who measured 6-foot-8, 6-foot-10 and 7-foot in Tristan Enaruna, David McCormack and Udoka Azubuike, respectively, in players the 6-foot-9 Lee was tasked to guard in the post.
"They're really good at keeping it on one side of the floor," said Lee, who had 13 points against Kansas. "And I thought we did a good job trying to work it and get our players in position to make plays. And unfortunately, there were some times where we got good looks and just couldn't hit those shots, those shots that you need to hit to beat a top five team like that. But they're really aggressive, they're really intense defensively, and they're a really good team."
Lee has quietly come into his own seven games into the season, filling in admirably for the suspended Yoeli Childs while playing between 20 and 30 minutes per night. He's averaging 9.14 points and 3.7 rebounds per game, which is fine. But more importantly, he's been coming along recently.
Lee has had two of his most productive offensive games of the season at Lahaina Civic Center, erupting for 13 points each against UCLA and the Jayhawks. Both nights just trail the 14 points he poured in during a 72-71 win at Houston on Nov. 15 for season highs.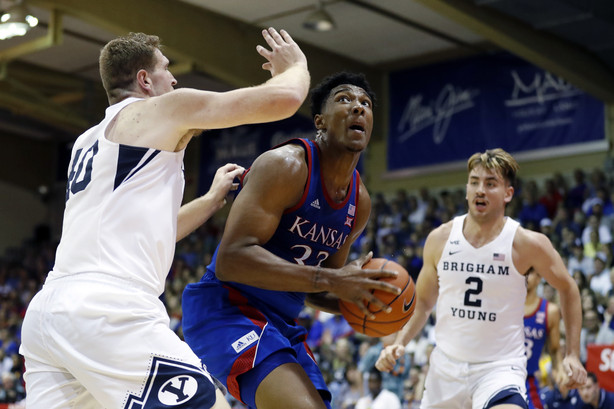 The former Rocky Mountain High School standout in Meridian, Idaho, shot 6-of-8 from the field against the Jayhawks (5-1), including 1-of-2 from 3-point range, and added three rebounds and an assist in 27 minutes.
And he's only a sophomore.
"He's been fantastic," Pope told BYU Radio after Tuesday night's loss to the Jayhawks. "He's going to continue to grow, and get better and better. We missed him a bunch today, too. We're in such a tight rotation right now. He's playing with some fatigue on the floor. But when he gets rolling and ghosting around the rim, he's really developed a skill to get the ball out of his hands quickly and finish."
Even when Pope says the Cougars "missed" Lee all night, it's not the sophomore's fault. He's speaking to the rest of the team, learning to play with a post incredibly different than the ones they've had in the past — Childs, Luke Worthington, and even 2019 co-starter Dalton Nixon.
On several occasions against the Jayhawks, Lee was open under the basket, the product of a stingy defense from a top five team focusing on well-known standouts like Jake Toolson, Alex Barcello and TJ Haws, who still had a team-high 16 points and five assists in the loss.
"We just couldn't get the ball to him … because of their length and size and arms," said Pope, whose team shot 9-of-33 from the field. "We're excited about what he is going to grow into."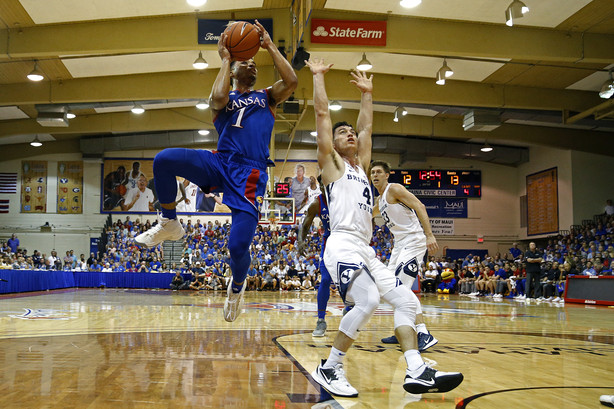 That growth will come shortly with the re-insertion of Childs, who has served seven of his nine-game NCAA-mandated suspension. He'll miss the Cougars' Maui finale against Virginia Tech (9:30 p.m. MST, ESPN2), as well as a contest Saturday afternoon against NAIA Montana Tech in the Marriott Center.
But then, he'll be back; and how BYU plays with Childs, Lee, Nixon and a healthy number in the post could define its season against an in-state run that includes a trip to rival Utah next Wednesday, Dec. 4, and No. 15 Utah State on Saturday, Dec. 14.
But first, the tournament, and a chance to finish third in the prestigious Maui Invitational with a good showing against the Hokies (6-1), whose unbeaten start included a win over Michigan State before falling to Dayton in Tuesday's semifinals.
"We're in the 3-4 game in Maui. It's hard to get to the 3-4 game in Maui," Pope said. "This is an unbelievable opportunity for us to continue to grow.
"Hopefully we'll put forward a great effort and a great performance tomorrow."
×
Related Stories