PROVO — Kolby Lee was feeling the pressure the morning that he found out fellow BYU sophomore forward Gavin Baxter had suffered a shoulder injury.
It was the second hit to the Cougars' frontcourt under first-year head coach Mark Pope, and left Lee — the 6-foot-9, 240-pound forward from Meridian, Idaho — in a precarious spot. He's one of just two scholarship forwards on the roster, along with senior Dalton Nixon.
Midway through the Cougars' next practice, though, assistant coach Chris Burgess pulled Lee and Nixon aside and offered them a helpful piece of advice: Your roles won't change, and neither will your game.
No pressure needed.
It was exactly what Lee needed to hear.
"They believe in us so much. It's like family, and we are a family," Lee said. "When they tell you 'You're a great player, now go do it' — that makes you feel better."
Amid a span that still includes two-a-day practices, the Cougars on Wednesday held the first media day under Mark Pope, allowing all 18 players on the roster to meet the press in the BYU Broadcasting building.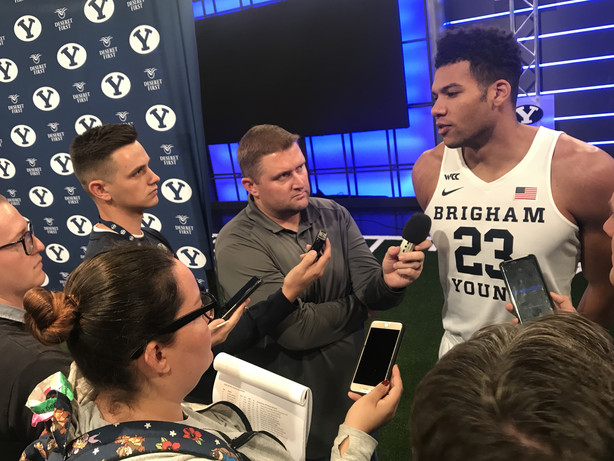 That includes Colby Leifson, who reportedly entered the NCAA transfer portal Wednesday but was available in full uniform by the afternoon. It also included TJ Haws, who missed the first week of practice after arthroscopic knee surgery, but has been working into full participation in recent days.
More new faces: Utah Valley transfers Wyatt Lowell and Richard Harward, as well as Arizona's Alex Barcello — flashing the No. 4 jersey that many BYU fans in recent memory will remember well.
Even Yoeli Childs, who will miss the first nine games of the season as punishment from NCAA headquarters in Indianapolis, was present. And he was all in on supporting his teammates — including Lee, now tasked with replacing the first-team all-West Coast Conference forward for the opening month of his senior year.
"He's a really great guy," Childs said of Lee. "That's something that's amazing about this team, is that it's full of great human beings. But he (Lee) has been working his butt off. The improvement I've seen from last year to this year — confidence, skillset and directing traffic — it's been incredible. He's just working hard and he's getting better every day. He's going to help us a ton."
Lee has the confidence of his teammates, as does fellow starting post Nixon — and both have the full confidence of their first-year coach, who has been dealt several setbacks since replacing legendary head coach Dave Rose in April.
"Dalton Nixon is a freak; this kid is awesome. There isn't a college coach in America that wouldn't want to have him on their team," Pope said. "What he's done this summer and this fall has been incredible. He plays with so much energy and intensity, and so much confidence right now.
"He just cares about winning. I'm really confident in him."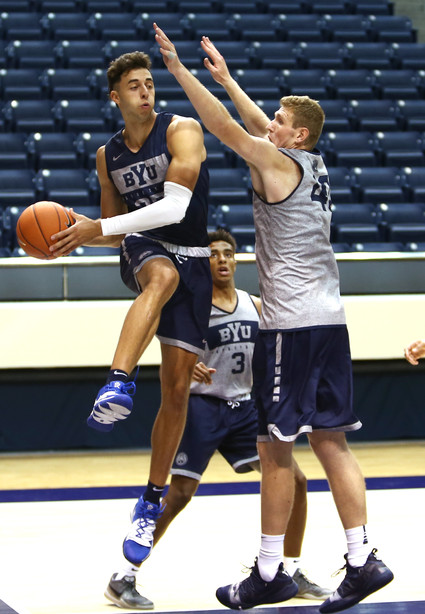 So who is Kolby Lee?
For starters, he's the post player BYU fans may need to get to know the most. While Nixon played in 25 games a year ago, including eight starts as a junior, Lee has been seen sparingly on the court in his year with the program. The 6-foot-9 forward averaged 1.4 points and 1.0 rebounds in 3.2 minutes across 17 games last year as a freshman.
But the 2017 Gatorade Idaho Player of the Year has a game that can benefit the Cougars, as well.
"I can shoot from outside, but my bread and butter is down low," said Lee, whose mother, Jill, played basketball at Utah State. "I feel like I'm a really good passer out of the post, and I can make plays for myself and for my teammates."
He's learning from his leaders, too — not just the coaches, but even the six seniors on the roster.
"Yo is definitely a phenomenal leader," said Lee. "He's always talking to us about working on something, focusing on something.
"Obviously, the biggest thing is when you go against him. He's one of the best bigs in the nation. So if you're going up against him and those talented guys, it's just going to push you to be better."
Lee has battled injuries since stepping foot on campus, coming first midway through the 2016-17 season (which he grey shirted as a recently returned missionary). But he's healthy now — thankfully, with the rash of injuries to happen to the Cougars in the offseason — and hopes to contribute as much as possible in the absence of Childs and Baxter.
Good thing for the Cougars, who expect big things from Lee — at least for nine games.
"Kolby Lee is going to shock everybody," Pope said. "He's shocking himself right now every day in practice with what he's doing.
"Those two guys have got to shore up that frontline."
×
Photos
Related Stories