SALT LAKE CITY — A steady stream of fans exited Arizona Stadium Saturday as Utah dominated the home team. The longer the game lasted, the fewer the fans there were in the stadium — until it turned into a de facto home game for the visiting team.
For even the most die-hard Arizona fans, optimism was a fleeting pipe dream in a game where Arizona failed to cross the 200 total yards threshold and Utah totaled more than 500 yards.
"Well, that's what we expected," one Arizona fan could be heard saying as he rode the slow elevator down the stadium's facade. "We had some hope, but that's what we expected."
The expectation is that Utah is the collective human embodiment of a boa constrictor. Utah lets its victim play around just enough in the early part of the game — an opening drive touchdown here or there or a field goal — as it slowly circles and closes in. By the time opposing teams notice, it's too late and suffocation is imminent.
Saturday was just the latest example of the defense holding teams to one score or less — its sixth time this season — and the offense putting up more than 500 yards against an opponent for the fifth time this season. In total, Utah has outscored opponents in its seven Pac-12 wins 263-61 (strip out the Washington game and it's 230-33).
Utah's offense consumes the clock with time-sucking drives and scores — over 30 points in its last four games, and in six of its last seven games — while its defense forces teams into near submission early. The end result is opposing teams left frustrated and defeated on both sides of the ball.
It's a strategy that has worked well for the Utes in conference play as the team handily takes care of lesser opponents and lives to see another week with a win. As a result, Utah remains the Pac-12's last hope of breaking a two-year drought in the College Football Playoff after Oregon lost to Arizona State Saturday.
Consistently winning is hard, particularly in a conference that continues to schedule nine conference games and watches as its teams beat up on one another on a weekly basis. But Utah has seemingly made winning an art this season and appears destined to close out the regular season with an 11-1 record and its second-consecutive Pac-12 South Division title.
"It's very difficult, especially in a conference like the Pac-12 where it's very balanced and you've got a lot of depth in this league," Utah head coach Kyle Whittingham said. "It's a tough task."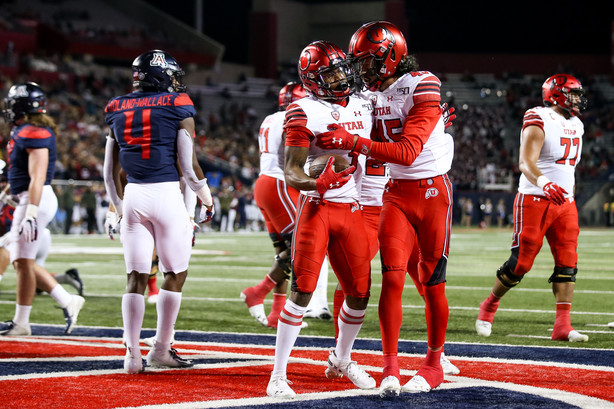 But make no mistake, even in a game where Utah is favored by 28 points against a defense that ranks near the bottom of the nation, winning is not a guarantee, particularly with all that's riding on a win. A loss against Colorado Saturday could immediately alter a program-defining season to one where Utah doesn't even qualify for the Pac-12 Championship game.
With that in mind, Utah isn't looking ahead to a Pac-12 Championship meeting with Oregon, or a potential College Football Playoff berth, or even a trip to Pasadena, California, to smell the roses in the "granddaddy of them all." It's all focus on Colorado and what Utah can do to make the Buffaloes submit like the opponents before them.
"I think it's another illustration of what can happen in this league if you're not ready to play and you're not completely focused. I'm not accusing Oregon of not being ready to play, but you better be ready to play each and every week," Whittingham said.
So while teams like Oregon faltered at the end of the season, Utah is focused on the same preparation that has gotten them to 10-1, 7-1 this season.
"Our mindset is all consistent, and I think that's how you need to be. You need to be consistent or otherwise the players are: 'Why are we doing this this week but not another week?' Every game is important, every game has the same value. This game wouldn't be as important if we had slipped up somewhere earlier; so every game is equally important."
And to their credit, the players have completely bought into the culture and preparation mindset of the coaching staff. Every player on the team recognizes the season's success could be wiped out in an instant. An early-season loss to USC was the perfect remedy to show the players a loss can come at any time.
"It's up to us to go out Saturday and execute what has been presented to us," senior quarterback Tyler Huntley said. "I feel like our coaches are doing a great job of putting us in great position. It's all about us finishing it. We could definitely do better, but the Pac-12 is a hard conference to be in; you never know who's gonna win."
"We do it every drive for the most part; it's our mentality, for sure," senior Zack Moss added. "We understand that we want to be the most physical team in the pack each and every time we come out here. When you put us on TV, we want to make sure that we're going to dominate for every play for the next four quarters."
Utah closes out the regular season at Rice-Eccles Stadium on Saturday at 5:30 p.m. The game will be broadcast on ABC. Because it will be senior night, Whittingham asked fans to be in their seats early, approximately 5:15 p.m., to send off the seniors in the "right way."
"I'd like to have a little shoutout to our fans to please arrive early and make sure those stands are full for when those seniors get introduced prior to kickoff," Whittingham said. "I think it's important that if we can get the people in the stands and honor those seniors the right way, that'll be a big plus for us and a boost for them."
×
Related Stories