Estimated read time: 2-3 minutes
This archived news story is available only for your personal, non-commercial use. Information in the story may be outdated or superseded by additional information. Reading or replaying the story in its archived form does not constitute a republication of the story.
SALT LAKE CITY — New Utah Valley coach Mark Madsen did everything right in taking his team to play at top-10 Kentucky and expect a win over a blue-blood college basketball program.
The Wolverines even got a warmup win over Alabama-Birmingham leading up to the game.
Everything was going right.
Except the final score.
TJ Washington scored 22 points to go along with five assists, and UNLV transfer Trey Woodbury supplied 17 points, including three 3-pointers, for Utah Valley as the Wolverines fell to No. 9 Kentucky, 82-74 Monday night at Rupp Arena in Lexington, Kentucky.
Jamison Overton supplied 10 points for the Wolverines (3-2), who were outrebounded 46-27 by the host Wildcats.
"I was proud of TJ, and I was proud of every single man in our locker room," Madsen told reporters after the game. "Because at one point, we were down 16 points in the second half, 17-18 minutes left in the game, and these guys battled. They scrapped. That's kind of a mantra on our team — scrappiness, toughness, intensity — no matter who we are playing; I think we saw that tonight and so I was really pleased with our guys.
"Obviously, we put the Wildcats on the free-throw line too much, and we didn't get to the line enough. But it was a great game (with) every player contributing."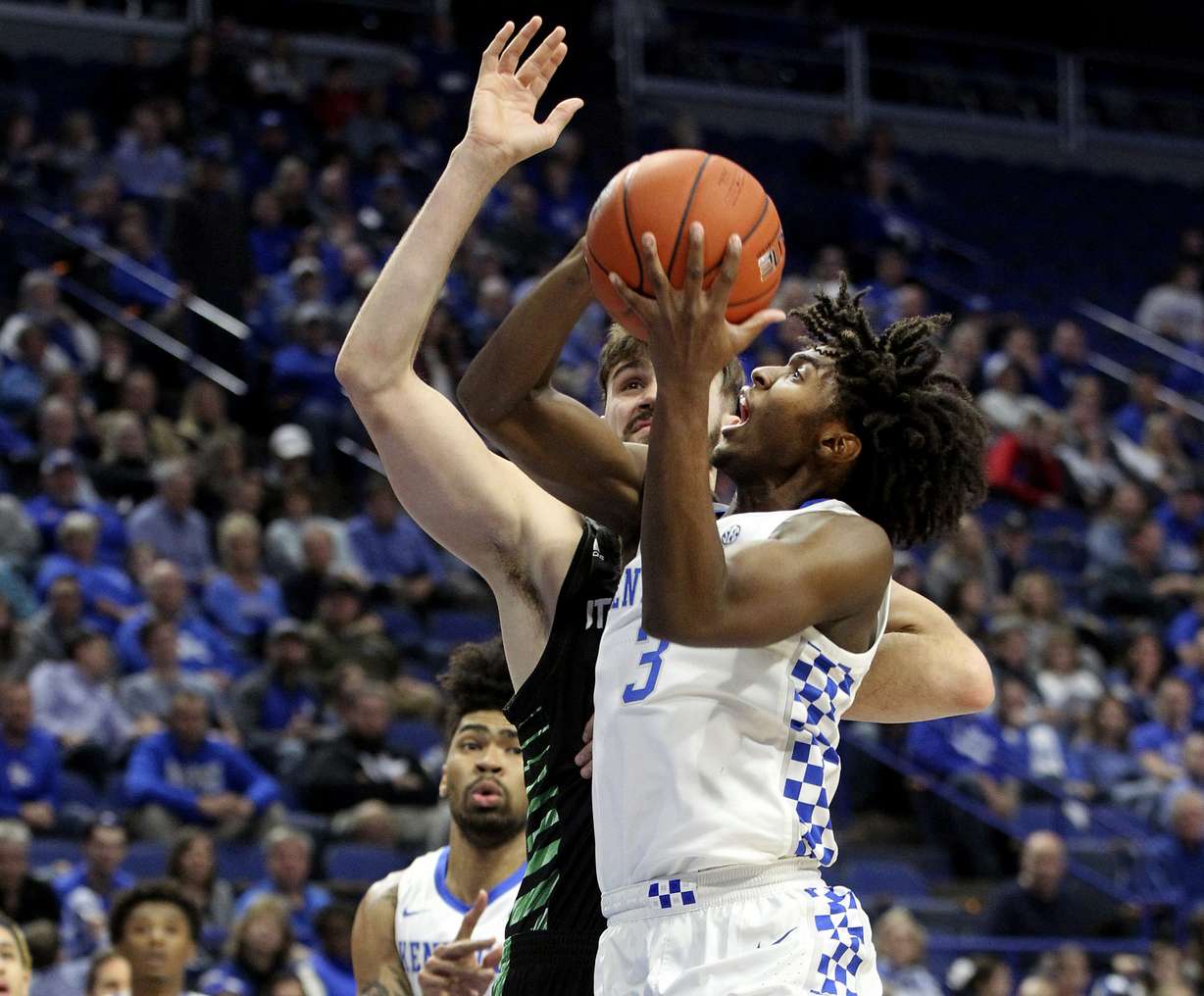 Nick Richards had 21 points and 10 rebounds to lead Kentucky, and Ashton Hagans added 26 points, five rebounds and five assists, including a 12-of-12 effort from the free-throw line, for the Wildcats.
Tyrese Maxey supplied 14 points, five rebounds and four assists for Kentucky, which improved to 3-1 on the year with their only loss coming at home to Evansville.
Yes, Evansville. The Purple Aces. The team from the Missouri Valley Conference that stormed into Rupp Arena on Nov. 12 and walked out with a 67-64 upset of the then-No. 1 Wildcats.
So why not Utah Valley?
"We knew that after the Evansville game, that Kentucky was beatable," Washington said. "But we knew it was going to be tough, no matter what, playing at Rupp Arena.
"We really didn't pay too much attention to Evansville, we just kind of tried to stick to what we know, what we could do. We just tried to come out here and play as hard as we could."
Utah Valley trailed by as many as 16 points in the second half but pulled within one, 68-67, on Washington's 3-pointer with 3:26 remaining.
That was as close as the Wolverines would get. Nate Sestina turned Woodbury's missed triple into a three-point play on the other end, and the Wildcats used a quick 5-0 spurt to pull away for good.
After a pair of road games, UVU returns home to play Lamar in the Wolverines' third game of the BBN Showcase. Tipoff is scheduled for 7 p.m. MST Thursday on the WAC Digital Network.
×
Related stories
Most recent Sports stories