Estimated read time: 3-4 minutes
This archived news story is available only for your personal, non-commercial use. Information in the story may be outdated or superseded by additional information. Reading or replaying the story in its archived form does not constitute a republication of the story.
SALT LAKE CITY — Last Friday, for the first time this season, Dante Exum was active for a game.
But he didn't see any playing time.
Exum has had to be patient as he's worked his way back. And now, he'll have to be patient to try and earn a role on a Jazz team that has started the season with an 8-4 record. But Jazz head coach Quin Snyder knows Exum's time will come.
"Dante's doing great," Snyder said. "Dante makes our team better. Roles change throughout the course of the year, they change, frankly, game to game — balance and chemistry, continuity, all those things. You know, some of them are impacted by things you can control; some of them aren't. The main thing with Dante is that he's worked so hard to get back. And there's no question in my mind he's going to help our team."
The question is when and how.
Friday's absence should be seen as more of a precaution than a grand statement about where the Jazz see Exum within the rotation. There is still belief in the still-young Exum, but it has been almost a full calendar year since he was healthy and playing consistently. A high ankle sprain sidelined him during the best run of his career. And when he returned from that injury, he was soon back on the sideline after partially tearing his patellar tendon in his right knee.
That length of time — especially with new teammates all around him — means it could be a slow transition into full-time play.
"Sometimes you just have to be patient and wait for a window to open," Snyder said.
The Jazz have mostly played a nine-man rotation this season. That's a fine playoff rotation, but with the demands of an 82-game season the Jazz wouldn't mind cutting some minutes from Mike Conley and Donovan Mitchell and the like.
So with Exum's versatility, there are minutes to be had — especially with the way the Jazz bench has struggled at times this early season.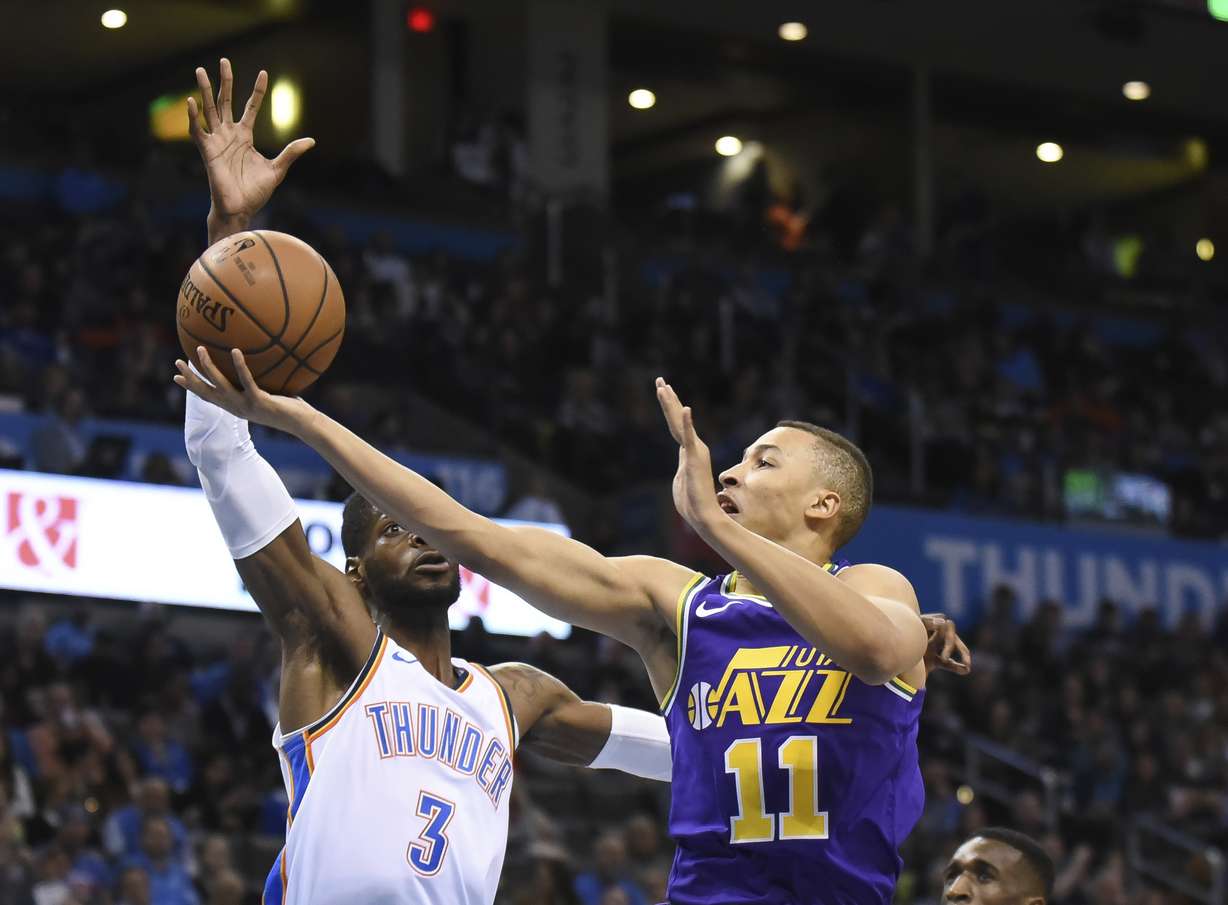 Before the season started, Jazz executive vice president of basketball operations Dennis Lindsey said the Jazz saw Exum as someone who could play at the point or out on the wing. And what he does will be determined by matchups, by how he is playing, and even how his teammates are performing.
"How that evolves is the same way how it evolves with Rudy (Gobert) and the way has been playing lately, changing how people interact on the floor based on something a player's doing," Snyder said. "I'm thrilled that he's back and know that he's gonna help us."
So, for now, Exum's role is to be determined.
"I don't know what the plan is in terms of when he gets in and when he doesn't or whatever," Joe Ingles said. "But he'll stay ready and then, obviously, when we get this chance, I think he'll be great."
But it's not just Exum that will have to be patient as he makes his way back into the rotation. Snyder admitted that the team does as well. It could take time for Exum to feel fully comfortable again. There will likely be runs of bad play, some poor turnovers and decisions, but that's all part of finding his rhythm again.
"You don't judge someone in the immediate moment," Snyder said. "More than anything, I think guys have to find a rhythm and confidence and all those things."
And once he does, the Jazz think they'll have another solid weapon.
"I think he can bring a lot with his versatility," Ingles said.
×
Related stories
Most recent Utah Jazz stories