PROVO — BYU quarterback Zach Wilson had a big ol' smile, his trademark headband, and the green non-contact jersey as he walked off the practice field the past few days.
Noticeably absent both days? A thumb cast — the one that has encumbered him since going down with an injury in the Cougars' 28-21 loss to Toledo.
He's ready, he's practicing, and he's even meeting with the media for his once usual post-practice question-and-answer session.
How he fares on the field is yet to be determined. But for all intents and purposes, Wilson is back.
"Ready to go. I'm feeling good," he said when asked about his potential availability this weekend. "A broken bone is the best thing you can ask for sometimes. It's nothing you can't come back from."
It may not matter who starts at quarterback for the Cougars' home finale Saturday afternoon against FCS school Idaho State (1 p.m. MST, BYUtv). Baylor Romney is 2-0 as a starting quarterback, with wins over Boise State and Liberty, and he — along with fellow backup Jaren Hall — led a 42-14 rout of Utah State, as well.
But getting Wilson back healthy and able to contribute in time for the final road games of the season, at UMass and San Diego State, may be vital to the Cougars' late-season success. Just don't expect to hear anything about "who's starting?" between now and Saturday afternoon.
"(Wilson) and Baylor are both taking a lot of reps. Jaren is making progress moving forward," said BYU offensive coordinator Jeff Grimes, adding he expects Wilson to be available for Saturday's game. "We have a pretty good idea of what we are going to do. But there isn't really any advantage to us saying, just like in the past few weeks, so that's all you (the media) are going to get."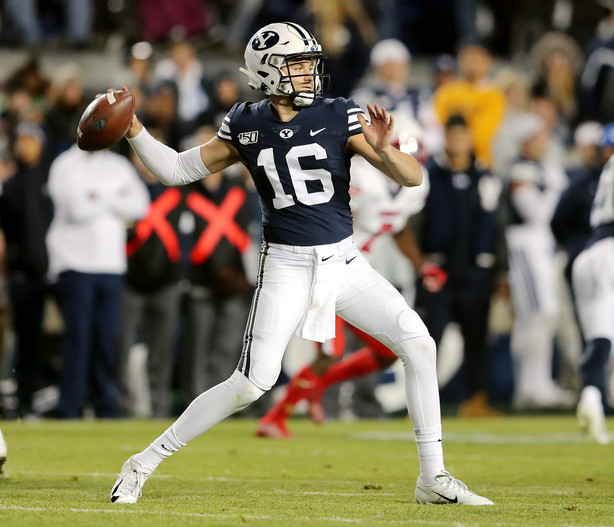 Fair enough. In the end, Saturday's result shouldn't come down to who starts at quarterback. The Bengals are just 3-7 in head coach Rob Phenicie's third year and have never beaten BYU in five all-time meetings (including two in Pocatello, Idaho). Guaranteed "buy" games against FCS opponents aren't usually ones that FBS opponents have had to out-scheme to win, though a handful of big-name lower-subdivision squads have pulled off notable upsets (looking at you, North Dakota State, James Madison and current Sun Belt member Appalachian State).
BYU is 12-0 against the FCS in the past 30 years, including 3-0 under current coach Kalani Sitake after last year's 30-3 victory over McNeese State. But Saturday's game should be about celebrating out a tremendous senior class — one that numbers 19 in all, including graduate transfers Ty'Son Williams and Emmanuel Esukpa, among stalwarts like Dayan Ghanwoloku, Moroni Laulu-Pututau and Austin Lee.
Truthfully, the Cougars should be able to beat Idaho State with Romney under center. They've won with him before, and they'll probably win with him again.
"I knew my opportunity would come," Romney said. "I didn't know when, but it's been what I've been preparing for."
It should also be about winning a sixth game, thereby qualifying for BYU's third bowl game in Sitake's tenure, and preparing for the future.
That's where Wilson's availability comes in. And that's where quarterbacks coach Aaron Roderick has been in practice, dividing up reps between Wilson and Romney while Hall has been in the school's concussion protocol.
"Whenever A-Rod says I'm going in, whenever he says Baylor is going in, that's how we're splitting up," Wilson said.
×
Related Stories