This archived news story is available only for your personal, non-commercial use. Information in the story may be outdated or superseded by additional information. Reading or replaying the story in its archived form does not constitute a republication of the story.
AROUND THE SHIELD — The Tennessee Titans needed a local product in Week 11 perhaps more than ever before.
LeShaun Sims, the fourth-year cornerback from Southern Utah, was set to start when cornerback Malcolm Butler was placed on injured reserve this past week with a wrist injury, and coaches and teammates were confident Sims would make the most of his opportunity.
"He was the best corner in training camp this year," Titans defensive back Logan Ryan said. "He didn't let up a catch for 25 straight passes. I've never been a part of that. I've never seen anyone that good at that. So, he's a good player."
Sims buoyed that confidence in Sunday's win over former BYU graduate assistant Andy Reid and the Kansas City Chiefs.
The Las Vegas native made 11 tackles — the second-most on the team — in the Titans' 35-32 win that boosted Tennessee back to .500 on the season with a 5-5 record.
Sims had 76 tackles, two interceptions and 12 pass breakups in 51 games since the Titans selected him in the fifth round of the 2016 draft. Now he'll likely be the guy Tennessee turns to as it tries to keep pace in the AFC South. The Titans are just 1.5 games behind Houston (6-3) for the division lead, with the Indianapolis Colts a half-game back, as well.
"I think there's a strong belief that, no matter what happens, as long as we're within a scoring chance, that we are going to find a way to win," Titans quarterback Ryan Tannehill said. "A lot of credit goes to everybody, just believing as a team and finding a way to win."
Former BYU safety Daniel Sorensen had a team-high nine tackles to lead the Chiefs, and Utah State running back Darwin Thompson caught his first career pass, an 8-yard reception from Patrick Mahomes.
Here are other standout performances from Utah's former high school and college football standouts in Week 11 of the NFL season.
Oakland 26, LA Chargers 24
Former Herriman High offensive lineman Andre James came off the bench at center in the Raiders' win.
Former BYU cornerback Michael Davis had four tackles for the Chargers.
Baltimore 49, Cincinnati 13
Fremont High and Utah State grad Nick Vigil collected four tackles and a sack in the Bengals' loss to the Ravens.
Cleveland 19, Buffalo 16
Former BYU linebacker Sione Takitaki made two tackles in the Browns' win over the Bills.
Ex-Weber State star Taron Johnson supplied four tackles in the loss for Buffalo.
NY Jets 34, NY Giants 27
Former Bingham High and BYU linebacker Harvey Langi had three tackles and his first tackle for loss wearing a green jersey in the Jets' win over their Big Apple rivals.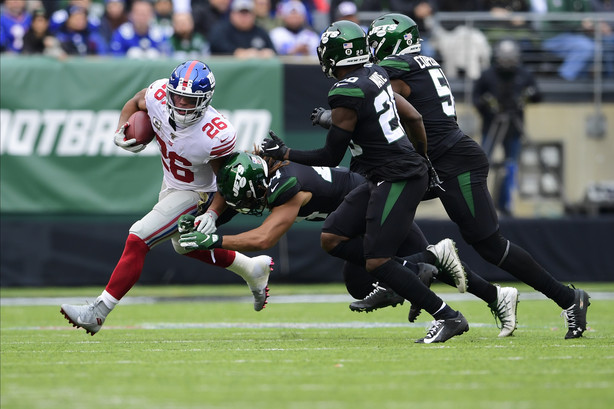 Atlanta 26, New Orleans 9
Former Utah safety Marcus Williams had seven tackles and an interception in the Saints' loss to the Falcons, and ex-BYU quarterback Taysom Hill had an 11-yard run, a 3-yard catch and a 17-yard pass for New Orleans.
Tampa Bay 30, Arizona 27
Orem High, Utah Valley and Utah alum Matt Gay went perfect on the day with field goals of 30, 45, 41 yards, and also nailed three extra points in the Buccaneers' win over the Cardinals.
Miami 16, Indianapolis 12
Former Utah defensive standout Eric Rowe had seven tackles and a pass deflection as the Dolphins (2-7) put together their first two-game winning streak of the season.
Green Bay 24, Carolina 16
BYU all-time leading rusher Jamaal Williams ran for 63 yards on 13 carries — the same number of touches as leading rusher Aaron Jones — in the Packers' win over the Panthers.
Utah State's Kyler Fackrell added a quarterback hurry for Green Bay.
Pittsburgh 17, LA Rams 12
Former Utah standout Eric Weddle made seven tackles in the Rams' loss to the Steelers, and former Utah State receiver JoJo Natson averaged 7.0 yards on three punts for Los Angeles.
×
Related Stories