Estimated read time: 5-6 minutes
This archived news story is available only for your personal, non-commercial use. Information in the story may be outdated or superseded by additional information. Reading or replaying the story in its archived form does not constitute a republication of the story.
PROVO — It wasn't always pretty, and it wasn't always easy.
But BYU clinched its fifth win of the season late Saturday night with a 31-24 victory over fellow FBS independent Liberty at LaVell Edwards Stadium.
The win means a couple of things for the program in a season that has seen highs, lows and everything in between.
It also brings up a few questions.
Here are three things learned from a closer-than-expected visit from the Flames.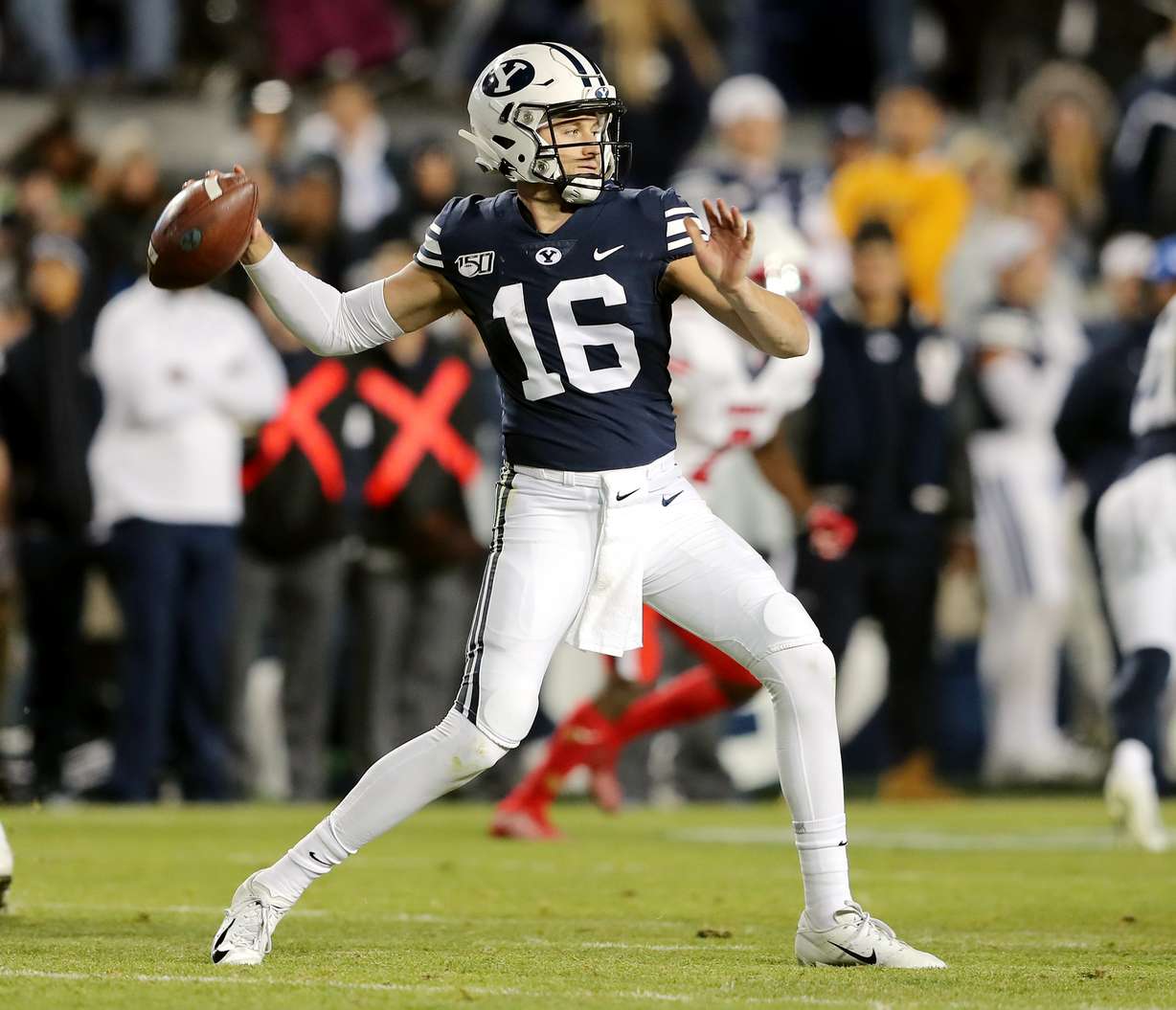 One win away
From the highs of USC and Boise State to the lows of South Florida and Toledo, BYU's 2019 season was always going to be measured by its ability to to get to the islands, to clinch its contracted Hawaii Bowl berth with a minimum of six wins.
After nine weeks, the Cougars are one win away.
Yes, BYU has everything left to play for in the final three weeks of the season — and with a chance to reach that six-win mark with remaining dates against FCS Idaho State, UMass and former Mountain West rival San Diego State.
Most will expect BYU to capture that sixth win against the Bengals next Saturday, Nov. 16 on Senior Day at LaVell Edwards Stadium (1 p.m. MST, BYUtv). Micah Simon, who threw his first career touchdown pass against Liberty, is even lobbying to start at quarterback.
"It's is Senior night next week, so …." Simon joked in a rare post game experience sitting next to head coach Kalani Sitake.
"He wants to remind you that he threw a touchdown, too," Sitake quipped back later in the press conference. "I've got to brag about him, because Micah's too humble to talk about himself."
Either way, at least one more win seems like a reasonable expectation, and one that would send BYU to spend Christmas Eve in the Hawaii Bowl.
Is Romney the QB now?
On a night when backup quarterback Jaren Hall wasn't eligible (concussion) to compete, BYU warmed up four quarterbacks: Romney, Joe Critchlow, Rhett Reilly, and Zach Wilson, who is returning from a thumb injury.
But Romney got the start — and made a statement about his potential future going forward. Does a player deserve to lose a starting spot due to injury? Probably not, but Wilson might test that theory for the BYU coaching staff.
Romney has guided an offensive surgence — with no small aide from a new play-calling scheme by Jeff Grimes and Aaron Roderick — and when Aleva Hifo was caught sprinting into the end zone for Romney's second touchdown pass of the game, the redshirt freshman with roots in the Mormon Colonies in Mexico became the Cougars' season passing leader with six touchdowns.
"He's poised, and he's ready," Sitake said of Romney. "The preparation he put in this week is the same as we've always seen from him. He's always been ready to go.
"I feel really confident with all those guys."
He has multiple touchdowns in each of the past two games, both wins against Utah State and Liberty, and was a key player in snapping that three-game losing skid of a month ago.
"It really starts in practice," Romney said. "Ever since that USF loss, we've really come together as a team. It's made us closer and we've all worked harder for each other, day in and day out."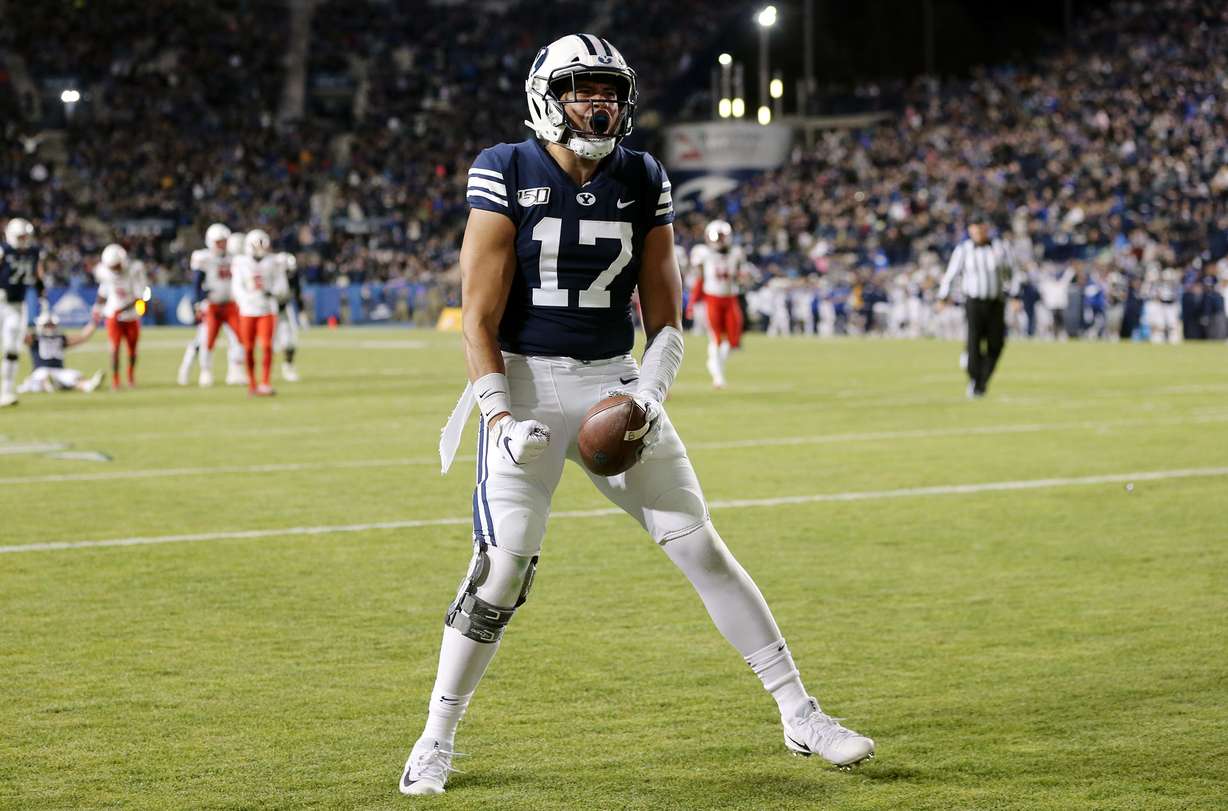 Moroni's return, and a prayer
BYU had four different players score touchdowns against the Flames, a slight decrease from the five scorers in last week's 42-14 win over Utah State.
But one player got back on the score sheet for the first time in a long time.
Senior tight end Moroni Laulu-Pututau caught his first touchdown of the year, hauling in a 17-yard strike from Romney in the fourth quarter that put the Cougars up 31-17. It was Laulu-Pututau's first score since he caught three passes for 33 yards and a touchdown in a win over Wisconsin last Sept. 15, 2018.
Laulu-Pututau, who has been hobbled in his recovery from a season-ending knee injury suffered after five games last year, has played in four games in 2019. The most productive outing of the Mountain Crest High graduate's career came last week, when he caught three passes for 44 yards.
But to get the end zone in his penultimate game at LaVell Edwards Stadium? That was special.
His return wasn't the only cool from a more-than-football perspective, either.
Immediately following the game, Sitake and Liberty coach Hugh Freeze shook hands at midfield, and then brought their teams together to kneel in prayer. The two Christian schools are unique in that they are both forging ahead in independence, and also unique in the religious mission of the school — BYU for The Church of Jesus Christ of Latter-day Saints, and Liberty as a fundamentalist Christian school that espouses Baptist theology.
"Playing football is fun. Playing a faith-based team shows that there is more to football," BYU safety Austin Lee said. "Just the type of guys that they were and how they were able to hold themselves to high standards, but still compete and have fun. There's more to life than football."
×
Related links
Related stories
Most recent BYU Cougars stories