Estimated read time: 2-3 minutes
This archived news story is available only for your personal, non-commercial use. Information in the story may be outdated or superseded by additional information. Reading or replaying the story in its archived form does not constitute a republication of the story.
SALT LAKE CITY — Downtown Salt Lake City has seen an infusion of murals and public art over the past several years, and now the city is partnering with an app that will let residents and visitors learn more about the pieces that line the streets.
The Blocks, a city and county initiative to highlight the cultural activity in downtown Salt Lake, hosted a block party Friday to unveil a new Edison Street mural and introduce the app, Liiingo, that now catalogs more than 40 art pieces downtown.
With Liiingo, a Boise-based company, users can scan QR codes on plaques near the artworks to learn more about them and their creators. The newest piece, celebrating historic Edison Street on 150 East between 200 and 300 South, is by local artist Chris Peterson.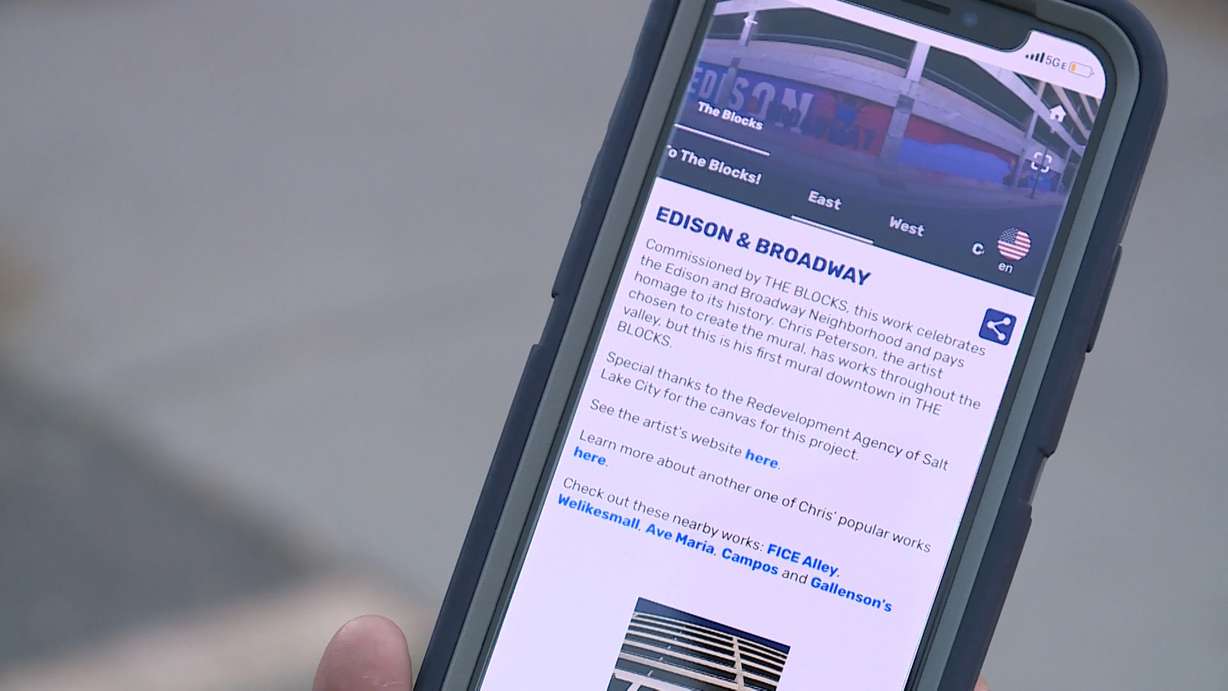 Peterson said Edison was the first street in Salt Lake to get electricity, which informed his mural. "I was sort of captivated by the idea of what the experience must have been like for Salt Lake City folks at that time," Peterson said. "That served as a pretty good point of reference for me to design this thing.
"It also helped me unify the wall," he said, "because it's 100 feet long, four different panels, 25 feet each, and the struggle with the design was something that read as one for that entire length."
The mural also includes Utah imagery like a bee and a buffalo.
Peterson said he has been working intensely on the project since getting the go-ahead less than a month ago. "I spent, I think, 15 days on the wall, and each of those days was at least 10 hours," he said. "Some up to 17-hour days."
But he said the project and opportunity have been worth it. "I am really honored for the opportunity to paint on this wall," Petsrson said. "It's a pretty historic street with a lot of other amazing art, and I hope people will come down and check it out."
At the Friday block party, nearby businesses helped celebrate the new piece while Liiingo representatives told people about the app.
The Liiingo app is available on Apple and Android app stores.
×
Photos
Most recent Utah stories